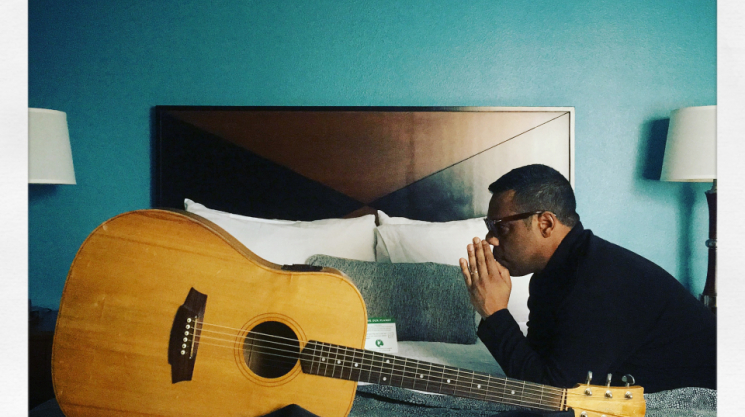 "I'm used to bombast: guitar solos, lights, sweat, that kind of thing. Here was me and my guitar, and that's it." This is Murray Lightburn, longtime frontman for Canadian rock outfit the Dears, on the stripped-down nature of a recent performance in New York to promote his spectacular sophomore solo LP, Hear Me Out. He confesses that being up onstage without a full band makes him nervous, but an Instagram video of the singer-songwriter delivering new tune "I Give Up" with spare strumming and his royal velvet baritone reveals that it's the audience that's frozen in their tracks this night. On the record proper, the ballad additionally simmers with buttery doo wop backups and a purring organ melody, playing well alongside the overarching vintage soul flavour of Hear Me Out. Thing is, the songs hadn't always been this smooth.
"Originally they didn't sound anything close to what it sounds like on the record. It was a little more on the electronic side, like my first record [2013's Mass:Light]," Lightburn tells ION over the phone from Toronto, ahead of another solo concert. He adds that while the early demos for Hear Me Out were a "synth-fest," gently plucking an acoustic guitar in his studio back in Montreal one night while prepping lyrics for album closer "When They See Me" made him reconsider his approach.  "It hearkened back to the music I liked when I was growing up, but also that I still listen to— I listen to Al Green weekly. [I thought] 'What if I just embrace this and move forward with this'? I don't regret it at all. It was the best decision I've ever made."
At least for the moment, Lightburn is pivoting from synth-heavy solo work and the more-distorted elements of past Dears releases to focus on intimate arrangements. This includes the heart-aching Motown push of "Centre of My Universe", the creek-rippling six-string fluidity of "Belleville Blues", and the flute-employing bossa nova "Changed My Ways". Like its sonic palette, the lyrics across Lightburn's latest likewise hint at an evolution, with the singer confirming, "The subtext of the album is definitely about making your case for your own personal growth." It's a complex and vulnerable release involving, at various points, communication breakdowns, admitting one's faults, making amends, and understanding true devotion. While Lightburn notes that Hear Me Out is not wholly autobiographical, it is an ultimately inward-looking experiment that has him contemplating how we treat the people in our lives. In light of a broader societal shift away from traits of toxic masculinity, it's something he's keeping in mind as a parent, too.
"I'm working towards having a different interaction with people," he says. "It's just something that I'm trying to teach my six-year-old son, who is a boy who will one day be a man. This generation of men that I'm a part of...I feel like in a lot of cases, and why we're seeing this sort of stuff that's been going on the last couple of years socially, it's a failure of the previous generation of fathers. It's so easy to repeat that failure if you don't examine your own way of interacting with people."  
Lightburn has redefined his approach in various ways via Hear Me Out, and is hopeful that that the gamble pays off big. Early on in the conversation, a friend texts over a congratulatory note, which has Lightburn both grateful and excited, but he also wonders if going solo puts him back on the ground floor.
"It's like a season in baseball," he theorizes about having a music career. "You've got a long season, 162 games. You're not going to win every single game, you know? You hope to make it to the pennant; you hope to make it to the World Series. But every day you get out on the field and you give your 110%. That's kind of how I look at it— no matter what the attendance is, whether it's a full house or ten people that show up."
Objectively, Lightburn has just released the softest album of his career, but damned if he didn't just crush it into the rafters with Hear Me Out.
Tour Dates:
04/17 Victoria, BC @ Save-On-Foods Memorial Centre  
04/18 Vancouver, BC @ Pacific Coliseum 
04/20 Calgary, AB @ Stampede Corral  
04/21 Edmonton, AB @ Edmonton Convention Centre 
04/22 Saskatoon, SK @ SaskTel Centre 
04/23 Winnipeg, MB @ Bell MTS Place 
04/26 Toronto, ON @ Scotiabank Arena
04/27 Ottawa, ON @ TD Place Arena 
04/28 London, ON @ Budweiser Gardens 
05/02 Halifax, NS @ Scotiabank Centre 
05/03 Moncton, NB @ Avenir Centre [tickets]
05/05 Montreal, PQ @ MTelus [tickets]