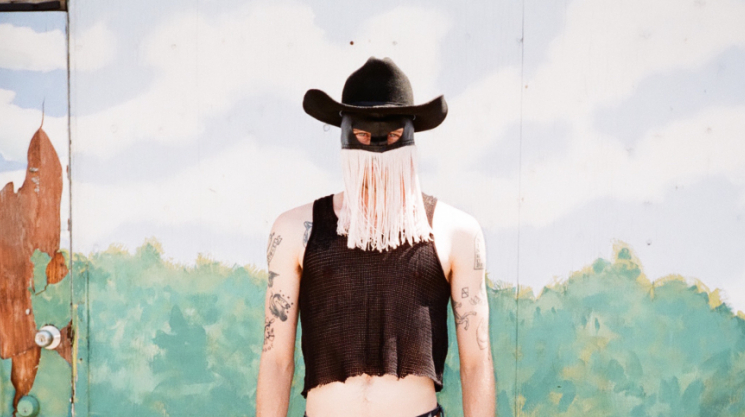 Thu, 09/20/2018 - 09:49 by karyn
While the growing legend of Orville Peck says he's laid his hat down all over North America,  it's a solid fact that Gabriola Island, British Columbia, holds a special place in the mysteriously-masked country crooner's 10-gallon heart. It's here at this coastal locale—specifically at the Noise Floor Recording Studio—where the baritone-voiced enigma cut his first two romantic, reverb-popping singles , "Big Sky" and "Dead of Night", in 2017. When ION catches up with the musician over Skype, he's back on the Island, mixing his debut LP—when not, of course, exploring Gabriola's idyllic surroundings. Between takes at the studio, Peck often live-streamed himself walking across cliff faces and ocean scenes. Turning the camera on himself, the tassels connected to his black leather mask blew wildly in the wind, exposing light stubble and a wry smile.
"It's nature everywhere," Peck sighs sublimely of the setting.  "Lots of deer, a couple turkeys. We went swimming in the bioluminescence the other night. It was really nice, real magical. I didn't know [bioluminescence] was a thing...I'd never seen that before. It was just cool, that's all."
Not much has been revealed about Orville Peck in the public sphere, but the guarded persona we're given is nevertheless magnetic. He's a self-professed "psychedelic outlaw cowboy" singing about all the love and loss he's experienced across the continent, whether via the clenched-knuckle boxers and highway riders of "Big Sky", or the boys that still stain his sleepless mind in "Dead of Night".  While presently working under a pseudonym, he concedes that he previously performed in punk bands in the Pacific Northwest. Speaking out of character, Peck notes that, for the time being, he's stationed in Toronto, and confirms that his live back-up band currently comprises all of post-punk quartet FRIGS; guitarist Duncan Jennings made the trip out to Gabriola to join Peck in the studio.  
Though apparently drawing from a gentler sonic palette than his past, Peck feels  there's a thorough line between punk and the rebellious spirit of the country outlaw. The project ultimately brings together the artist's lifelong interest in country artists like Dolly Parton and Johnny Cash ("I was never really into Porter Wagner that much, or anything like that," he clarifies) with the textured washes of shoegaze. Considering the striking visual aesthetic and narrative world-building surrounding Orville Peck, it's not surprising to learn that the artist comes from a theatre background, but he developed his overall love for buckaroos in his youth.
"I think the kind of cowboys that I grew up liking when I was a kid , they were always misfits," the performer notes. "They were, for some reason or another, born on the wrong side of the tracks and ousted from society. But some of them come in and save the town! And even the bad ones have an anti-hero, likeable quality to them."
He adds of constructing his own character: "It culminates, for me, in the word 'cowboy'. There are a lot of different ways to be a cowboy. And I think I know a lot of different kinds of cowboys, even if they're not necessarily wearing a hat and riding a horse. I think [Orville's] someone that's on the fringes of society, you know? He's just a typical love-struck desert hustler!"
The details on the debut album are still TBD, with the artist still negotiating a record deal and release date. Peck has, however, cut 14 songs to choose from. Of them, he teases "Buffalo Run" as being both "heavier" and "weirder" than his earliest ballads, though "it all fits into the world of Orville." Just like that island view, whatever he's willing to reveal should be breathtaking.
Photos: Carlos Santolalla