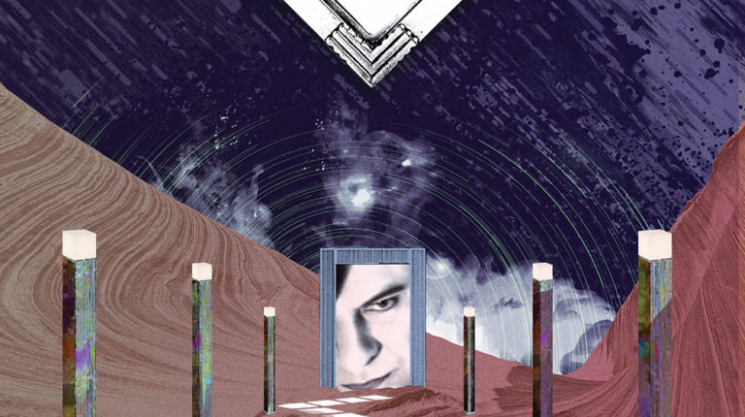 Thu, 04/12/2018 - 14:48 by karyn
Of the reviews that have popped up so far for The Outsider in the Mirrors, the latest full-length release from Glasgow-based darkwave solo project Soft Riot, none are quite as awkward as a YouTube clip from a bespectacled, "self-employed electrician, TV repairman, and part-time paranormal researcher" named Bob Hatchett. After explaining to the camera that he lives next door to Soft Riot synth-manipulator Jack Duckworth, Hatchett admits that he hasn't actually heard his neighbour's new record, but deadpans that he can often hear Jack practicing through the walls of his workshop— He adds, self-aware, that these same sounds will soon be added to the very video you're watching. Instead, he gives his impressions of the on-the-nose album art, which features Duckworth's face framed in a mirror. "I think he looks a bit sad, don't you? Or maybe thinking about something very deep, or important," the reviewer notes dryly, adding of the introspective nature of it all, "Heavy stuff!"
Thing is, Hatchett looks suspiciously like Duckworth, as well as Derek Laser, a wry evening newsman who occasionally pops up in Soft Riot videos.  Over a Skype call with ION, Duckworth explains that while he's busily self-promoting his third LP, issued through the Possession Records imprint he recently started with a couple of friends, he's the first to poke fun at his own artistic ambitions.
"You start feeling like you're under a microscope when you're promoting your own record and trying to convince other people to do stuff with it. I do take what I do seriously, and I put a lot of energy and emotion into it, [but] I'm also very aware of how other people would see my position. It's not like I live in a bubble, like, 'oooh, this is the best thing ever,'"  the musician explains. "I think at that point, everyday hitting people about promoting this record, I just kind of did it as a piss take of myself."
It turns out a dark sense of humour is threaded throughout The Outsider in the Mirrors. At its most extreme is "Waiting for Something to Terrible to Happen," a sweat-beading synth-pop piece which pairs whipcrack drum machine patterns and nervously tapped-out Korg lines with the melodrama of people preparing for the end times at an internet cafe; The sinister  plod of "He's Gone Underground" has Duckworth's moody baritone detailing the many reasons to avoid the outside world in favour of something subterranean. "The Eyes on the Wall" taps into the paranoia of a "constant filming of everything said and done," a relatable feeling when everyone around you has their smartphones ready to 'gram. That track's music video also finds Soft Riot plugging "Voidamol," a pill for coping with existential nihilism. Duckworth admits that the dread he's dredging up on the LP is real, but he's got to have a laugh about it in order to get by.  
"These feelings are prevalent in my life, but I'm having fun with it on this record. There's a lot of puns and lines that make it more lighthearted," Duckworth reveals.  "A lot of themes in my music, they're quite serious, or whatever, but for me to kind of process it and deal with it, I have to have a bit of a sense of humour about it. It's not a lot of doom and gloom and 'poor me,' that sort of thing."
Despite its darker themes, The Outsider in the Mirrors is Soft Riot's poppiest set of songs yet. Duckworth all but abandons the uncomfortable whisper approach he flexed throughout 2013's Fiction Prediction, while his latest sinewave soundscapes are more direct and danceable than the skeletal, spooked-out offerings of Soft Riot's early days. And the album's lone slow jam, "The Saddest Music in the World", has the kind of cavernous snare production and bittersweet keyboard melodies that lands somewhere between '80s radio favourites like The Cars' "Drive" and Mr. Mister's "Broken Wings".
"It's obviously a bit more synth pop than the other ones," Duckworth says of this latest direction. "I'm not saying it's going to say there, but that was the creative process." As it stands, an earful of sweetened synth sounds and a Voidamol or two will help Soft Riot's subversiveness go down smooth.
Soft Riot is playing Vancouver this Saturday, April 14th, @ At The Waldorf (Verboden Festival).