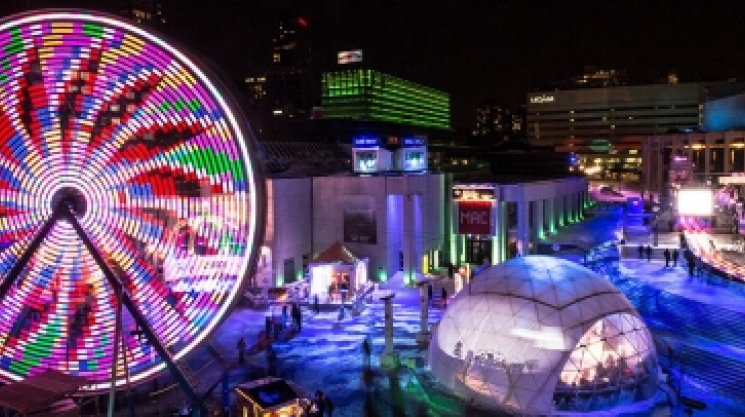 Fri, 02/26/2016 - 13:19 by karyn
Tomorrow, February 27th, is Nuit Blanche in Montreal -- an epic night where Montrealers crawl out of their caves and frolic around the city for an arts & culture smorgasbord of an all-nighter. There are literally hundreds of events taking place all across the city (that you can check out here), but here are a couple of general ideas in case you're the wandering type.
Olympic Stadium's Mammoth Village: an NHL-sized skating rink, slide, restaurants, a bar, music by DJ Ian Key (7 PM), and DJs Mike Robia and Sandy Duperval (10 PM) accompanied by fireworks. Don't forget to pay your respects to the Big O while you're there. 
Quartier des Spectacles: A ferris wheel and 110-metre urban slide, zip-lining, restaurants and bars, acrobats and street entertainers... the list goes on and on. 
Museums: Take a flashlight tour of Redpath, visit the  MAC (Musee d'art contemporain) (for free until 2 AM) or go see Les Handclaps perform (9:30 PM) at the McCord while checking out the Vittorio exhibit (museum access for free until 1 AM). 
Art Souterrain: if you get cold, grab a coffee and wander the underground city while checking out the numerous art installations that will be set up along the way.
In case all that wandering around makes your thirsty, nine bars in the Quartier Latin area will be open until 6 AM: Pub Quartier Latin, Bistro à Jojo, Saint-Bock Brasserie artisanale, Saint-Houblon, En cachette, Cinko, Café Hookah Lounge, Patrick's Pub Irlandais and L'Île noire.
One thing to note: the STM will be running all night, but it won't be free. If you're planning on going to multiple areas of the city and don't have an OPUS card, go ahead an purchase an "unlimited evening" pass for $5. It works from 6 PM to 5 AM. There will be free shuttles from different Nuit Blanche zones, but expect lineups.
Bonne Nuit Blanche!
Photo: MONTRÉAL EN LUMIÈRE