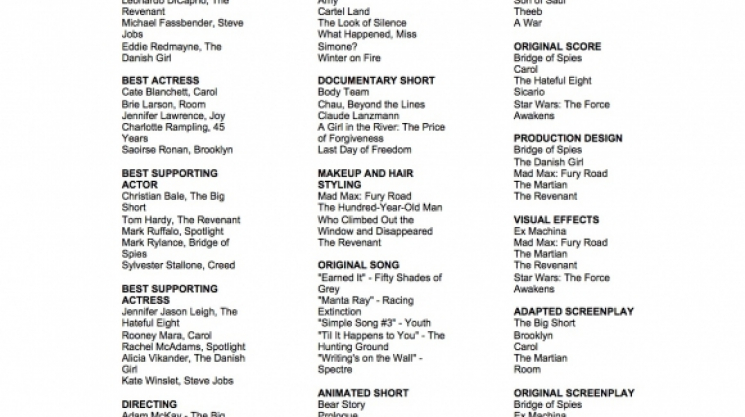 The nominees for the 88th Academy Awards were announced this morning, and unsurprisingly The Academy is already receiving criticism for the lack of diversity amongst its top picks, catalyzing yet another deluge of #OscarsSoWhite hashtags. Will Smith ("Concussion"), Idris Elba ("Beasts of No Nation") and Michael B. Jordan ("Creed") were all left out of the Best Actor category, as were "Creed" and "Straight Outta Compton" from Best Picture. These are among the tweets on the subject that have been #lolsob worthy.
On the plus side, "The Revenant" -- a truly powerful and intense trip of a film--  is set to sweep, "Mad Max: Fury Road" got a nod, which is pretty groundbreaking for sci-fi nerds like me, and thanks to her appearance on "Colbert" the other day, we can finally properly pronounce the name of the lovely Saoirse Ronan!
The Oscars, hosted by Chris Rock, are going down on February 28th.