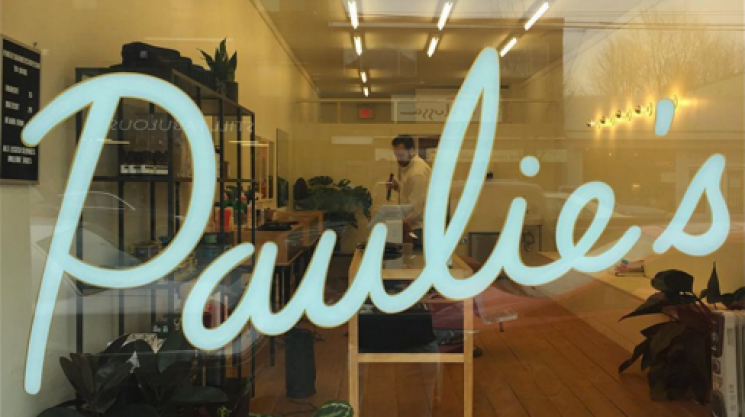 Mon, 01/25/2016 - 11:22 by vanessa
Paul Donnici, formerly from The Belmont, has opened up a traditional barber shop in the Vancouver neighborhood of Little Mountain, and we couldn't be any more excited about it. Paulie's Barbershop focuses on great traditional cuts and male grooming, as well a carefully curated, high quality range of self care products and grooming tools from California, Italy, England, Victoria, Spain, and Australia. We sat down with Paul and his wife Molly to find out about what inspired them when developing the concept for the store, products, and design elements. Here is what they had to say.
What was your inspiration for the aesthetic when designing Paulie's? Where did you draw your inspiration from?
We both love the look of really lived-in barbershops, but also a really minimal, utilitarian aesthetic. Donald Judd, Corbusier are design influences. Also late 60's, early 70's italian design in general. Really, though, we built it to have all the recognizable bones of a barbershop, just very pared down. We tried to find the balance between minimal and welcoming, and I think we've achieved that. Barbershops are places with lots of people coming and going, hanging out, over years and years. They develop these great personalities as they go...we're excited to see what it looks like in 1, 2, 10 years.
What kind of products do you sell?
Product is really important to us. Molly has been a buyer focusing on self-care products for a bunch of years and it's important to her that everything be of very high quality, but still approachable. I think guys get scared away from taking good care of themselves because it seems fussy or complicated. Good products with good ingredients can solve so many complaints and concerns we hear on a regular basis. Got ingrown hairs? The right skincare can help. Want your hair to be like *insert celebrity photo*? There is hair product that can help you get there. We carry hair creams and pomades from California, beard care and shaving products and tools from Italy, England and Victoria, a really beautiful, original fragrance line from Spain, as well as some natural, organic skincare from Australia. We plan to expand our offering in the future, but still to keep the collection of products on the small side, and to make sure everything we provide in shop is top-notch.
Any interesting artwork in the shop?
Just a few pieces at the moment. We have a couple of prints of Dmitri Kessel photographs from the set of "2001: Space Odyssey", because it's a great movie and also one of the shots looks a little like a haircut poster from the sixties. We also have a poster from "Human Being Journal", because it looks a little like HAL.
What separates your barbers from the rest?
There are a lot of great barbers, and a few great barbershops in this city, and every one of them has something to offer. We offer a friendly, neighbourhood place that gives great haircuts. We want everyone to feel welcome here and the shop to be reflective of Little Mountain, the neighbourhood we live and work in, hence our shop motto - "Best Hood Feel Good".
You can check out Paulie's Barbershop at 4326 Main Street, Vancouver.