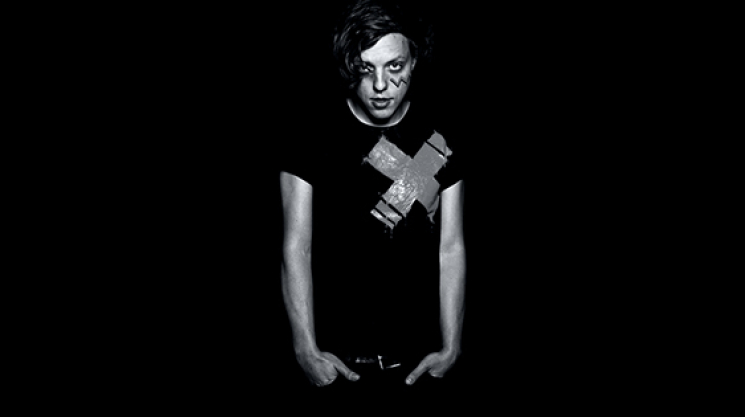 Thu, 03/28/2013 - 09:52 by vanessa
So there's this guy covered in face paint using vintage video game controllers as midi instruments, while playing drums and a keyboard all at once. It's not entirely electronic, and it's not completely indie rock. Regardless of description, the ultimate goal is good old-fashioned fun. Meet the universally talented Robert DeLong. We can't really label him with a particular genre, and he probably couldn't either. But that's okay, because at the end of the day, it's simply best to dance, and not worry about what to call it. The Washington-born singer-songwriter came a long way before he evolved into the highly energetic one-man band he is today, but it seems as if he's only getting started now. One of Robert's most impressive aspects though, is his immaculate style, especially considering his young age. He knows exactly what he's all about and has defined a sound of his own that no other can replicate. Robert's blend of electro-beats, and rock-n-roll approach to songwriting has become a unique art, mastered on the most technical level. Currently living in Los Angeles, Robert has been keeping himself occupied with the hype of his newly released album, "Just Movement", while preparing for a full run of summer festivals, after, of course, he headlines our 10 year anniversary parties! This is music for the open minded and you cannot help but wonder how something like this is broken down to a science in one's mind. Fortunately for you, we asked Cooper Saver to speak to the man himself to fill us in.
What's up Robert, how have you been?
Things are great! These are exciting, and very busy, times.
So, let's start from the beginning. You were born and raised in Seattle. What were some of the first tastes of music culture that the city provided for you as a kid?
Growing up in Seattle was wonderful, as far as experiencing music goes. I was interested in music from a young age, and listened mostly to contemporary jazz - Pat Metheny and the like. As time went on, I became more involved in the local and independent music scene, going to shows like Pedro the Lion, Crystal Skulls, United State of Electronica, Minus the Bear, and Death Cab for Cutie in the early 2000s. It was a good time for music in Seattle I think, and a lot of great, gloomy folk artists followed that mid to late decade. I haven't lived in Seattle for almost nine years though, so I can't comment on the scene it is now. Either way, I was certainly influenced by the vocal stylings and melodies of a lot of these artists.
What originally got you into learning how to play music? Your family has a musical background; tell me about your dad introducing you to the drums. Were they the first thing you learned?
I was always fooling around with singing, and playing piano and drums, from an early age, so when I was about 10 I started playing drums formally. My dad had been a drummer and gave me his kit. His musical tastes definitely influenced me early on. He introduced me to jazz and fusion. I also independently began studying music theory in junior high, and writing songs around then.
I don't think many musicians consider themselves serious about playing until later in their early twenties when they discover what is actually possible with music, but you seemed to have a moment in high school where you felt like you could really do something with your passion. Explain how the idea of pushing your skill clicked, and why you chose to work as a solo artist rather than forming a band.
It wasn't until my junior or senior year of high school that I became aware I was going to be a professional musician. Up until that point I thought I would go into science or something. But, I realized that pretty much all of my free time was devoted to recording, practicing, playing, or writing music, and it was then I decided to pursue music as a career. As far as performing as a solo artist, that came years later. I was playing in a bunch of indie and folk bands as a drummer, and was also independently writing lots of songs. I wanted to figure out how to perform them, but I felt as though there were not enough people I could find that would be as committed to my project as me. So, I spent hours in my garage alone with different toys until I had a way to perform some songs, and then went from there.
What kind of records were you brought up on and how did they affect your writing today? Did you go to many shows growing up, and if so, can you name a few concerts that you found particularly inspiring?
I grew up on a shotgun collection of records. Some of the most influential records to me were Pink Floyd's "Dark Side of the Moon", Radiohead's "Amnesiac" and "Kid A", Boards of Canada's "Music has the Right to Children", Death Cab for Cutie's "We Have the Facts and We're Voting Yes", Pedro the Lion's "Winners Never Quit", and early on, Moby's "Play". Radiohead, Floyd, and BOC were groups that really influenced my use of unique sound design and field recordings, while groups like Pedro the Lion and Death Cab informed my sense of melody and lyrical composition. Moby was of course my introduction to electronic music, and I think that paved the way for my future entry into the EDM world. I went to lots of shows in high school, although they were mostly tiny shows at halls and school cafeterias. They were a lot of fun because they taught me the importance of putting on a good, high energy show no matter what, and the importance of having a music community around you.
What led you to experimenting with computer-based production programs and making electronic sounds? It's so interesting, as you come from an indie rock mindset and don't consider yourself a pure electronic artist. How do you explain the balance to both sides of your sound spectrum?
I was always a bit of a computer nerd, and spent a lot of time doing basic programming and working in 3D software as a kid. When I discovered Acid Pro and Fruity Loops I became hooked, even though I had not been properly introduced to dance music at this point. I write songs that I hope can transcend genre—almost any folk or pop song can be molded to fit any genre, so the genre-mash of EDM and indie pop was a fun experiment that connected in a positive way. But who knows what I will write in the future.
Were you playing around with digital methods of production prior to your move to Los Angeles?
I was messing around with digital production from the moment I discovered software, when I was around 14 or 15. I moved to L.A. for that reason.
You currently live in Echo Park, which is a staple location for the L.A. music bubble. Have you got to know some good local bands living there? Who are some of your favourite musicians there?
I used to live in Echo Park, now I live a couple of miles away in Mt. Washington, but it is a wonderful place to check out new music and hang with other artists and musicians. I have met a lot of great bands, like HOTT MT, Races, Youngblood Hawke, and have heard lots of great new music at venues like the Echo and Echoplex.
L.A. is a hub, where you can become educated in so many different kinds of music without even realizing it. Can you say that living in this city has progressed your art and helped you grow in many ways?
L.A. has opened my eyes to a whole variety of music. It has taught me to be more egalitarian in my musical tastes, which I think has influenced me to be more open to writing, and listening to different types of music.
Dance music in particular is in the spotlight in L.A. more than ever. Did L.A. originally expose you to the house, trip-hop, breaks, and electro sounds that you work with today? Can you name any parties or artists that helped these genres grow on you?
L.A. was most definitely my introduction to EDM, and events like HARD, Fresh, and Insomniac were my first steps into electronic music. Now I go to a lot of dark techno and house events, hosted by underground companies like Droid Behavior and Incognito, and I think some of those textures will slowly seep into my writing as well.
From what you've learned so far, being part of several worlds of music, which would you say is most comfortable to consider yourself in?
I actually find that the electronic world has a much more friendly and open audience these days, and the indie world can be a bit pretentious and closed. But, I find myself equally comfortable in both scenes for different reasons. I find that the electronic community is very self-supporting, and people are generally intrigued by the strange things I am doing in their worlds.
Let's go over your current live setup. What are you running at the moment, and can you tell me about your decision to use game controllers to trigger midi? Is the set hectic as a one-man band? How do you work around random technical fails?
I run a mash of Logic Pro, Ableton Live, and this software called "Junxion." I use drum pads, a midi keyboard, MIDI sliders and knobs, a MIDI Fighter, a gamepad, joystick, Wii-remote, and an array of percussion, and an acoustic drum set. I started using the game controllers mostly as an experiment, and when I realized they could be an intriguing performance anomaly, it seemed natural to integrate them into the show. The show feels pretty controlled, given that I practice and troubleshoot a lot, but when there are so many moving parts that something inevitably fails. Fortunately, I have practiced enough that I am prepared for almost every difficulty! When I have a bad problem I usually have temporary solutions to ride it out until I fix it.
Do you plan on keeping your setup the same for the majority of the year, or will it be changing here and there?
My setup will most likely be consistent as far as the instrumentation this year, but we are always adding production elements such as video and sound reinforcement.
You must be stoked for Coachella, especially since you've never been before. How do you like the festival circuit compared to the normal shows you're used to doing? I feel like the true experience of your music is best heard loud and live, so something big like Coachella should be very you…
Club shows and festival stages are very different experiences, and I love them both in different ways. It is really cool how people can see all the things I am doing on stage at a club, but I enjoy the power you have while on a festival stage.
What is your lyrical song writing process? Where do you seek lyrical content, or does it come to you as life unravels?
My lyrics are generally derived from what I have been thinking or reading about currently. I mostly read pop-science non-fiction, and "social" science fiction. I think that is reflected directly in the lyrical content. Still, my personal emotive life is always the framework that the song is laid upon, and that is a little harder to talk about.
So, what's in the near future for you?
This year is looking to be quite busy with lots of travel and shows, and I am very excited about that. But, I am always working on new tunes, remixes, as they come in, and you should see an array of releases from me as the year goes on.
And before we wrap this up, how about some words of wisdom for all the aspiring artists out there?
For anyone looking to pursue a career in music or art: do it! But you have to really do it—it takes four to five hours of work every day to really begin to master an art form. Remember, not everything you make is going to be great. Make a whole bunch of stuff, and if something isn't good you don't have to worry, you still have hundreds of things on the back burner.
Photos: Mark Maryanovich
Robert DeLong will be playing the ION Magazine 10 year anniversary parties in Montreal ( April 4th), Toronto (April 5th), and Vancouver (April 6th). For more details on the parties, go here.