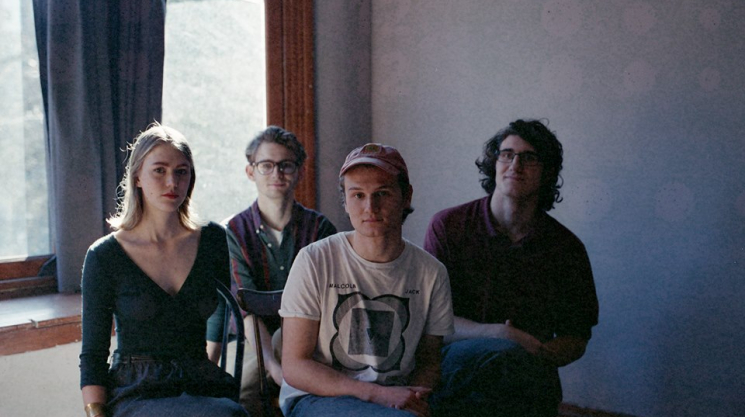 From the opening moments of the Lucas Hrubizna directed video for Sam E. Tudor's newest single "Truthful," the viewer is struck by a simmering sense of dread. The feeling of waiting for the other shoe to drop while watching a man aggressively do some yard work is overwhelming. The clip's big twist, which deals with the fringe activities of adult babies, turns out to be something much more sensitive, a little bittersweet and handled with the kind of care that most music videos of its ilk would eschew for a more ominous climax. Sam and Lucas sat down to discuss the idea behind their first collaboration, that was done with producer Madeleine Davis, cinematographer Blake Davey and production Designer Patty Facy, and what it has meant to them as artists to be approaching their crafts in a "boldly uncomfortable" direction.
How did you come up with the concept behind the "Truthful" video?
Sam: "Me and Lucas both went to film school at UBC. He was a year ahead of me but I had seen some of his work and was a fan of what he was doing. Lucas is good at taking these subjects, that in society would be labeled as weird or uncomfortable and show their beauty. He handled them with a care that would highlight the humanity and sensitivity of it."
Lucas: "I had heard Sam's music prior and his new work was very different. When he approached me about doing a video that reflected that. I had these images in my head already of a man doing this kind of aggressive, cathartic lawn maintenance and also the same time I had been doing some research into adult babies..."
How did you get interested in this topic?
Lucas: "I just thought it was interesting. Many people immediately think fetish but I was more interested in the type of person, like a CEO of a big company or something that would revert to this infantile state to sort of avoid and relinquish these responsibilities they have to deal with everyday to find some sort of peace."
Sam: "I wanted to work with Lucas on this and when he pitched the idea I immediately got nervous. We were trying to get funding from MUCH Fact and I thought, okay let's do the pitch for this, we're probably not going to get the funding and so that way we can move onto another idea. When we ended up getting the funding, it was great but the realization of us actually having to do this was frightening. I had a lot of trust in Lucas. We didn't want to seem like we were making fun of this character or exploiting anything.  I'm always a little afraid to tackle taboo subjects. There's always an element of uncertainty while translating that to film."
Lucas: "The video we made as a bit of a departure to the thing Sam had been doing before and it turned out we have similar sensibilities. It felt like a real collaboration. Half his and half mine and I am excited to do more stuff."
Sam: "The one thing that is great about this partnership is, having that first reaction to hearing about adult baby stuff was uncomfortable, but while making this new record I had this motto and that was to be boldly uncomfortable. To really step out of my safe zone and with this goal of trying to be more uncomfortable when Lucas proposed the idea, I had that feeling and that encouraged me to move forward with him. With this new album I have spent the last four years working with a band who are all amazing players, who don't shy away from being experimental and that has really stepped up my ability to be better and to have this video it feels like a nice re introduction to the band. I had previously been the one and only person who had complete creative control over everything that I did, musically and visually. It was really interesting to give that up and to let that go out of your control and to allow someone else to have to their own interpretation of what that is that you do."
That didn't create any conflict between the two of you?
Lucas: "When it was agreed that I would have complete creative control of the visuals that was something I really took to heart and wanted to make this as good as I possibly could. I wasn't afraid to ask Sam for his input if necessary. There were no conflicts at all, it really just worked."
Any thoughts on future collaborations?
Sam: "I am much less scared now to look into those weirder parts of my brain and Lucas's aesthetic really seems to work well with that. Excited to do more."
 Watch out for Sam Tudor's new album Quotidian Dream this summer.