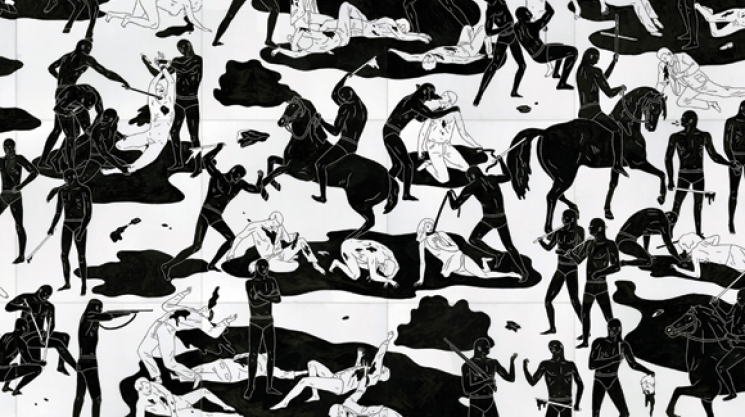 Fri, 01/18/2013 - 15:23 by vanessa
THE INTANGIBILITY OF A CRAFTED, CURATED ART SHOW IS OFTEN PART OF ITS BEAUTY. YOU GO, YOU OBSERVE THE WORKS, YOU REFLECT, AND YOU GO HOME ARMED WITH YOUR MENTAL IMAGES AND YOUR OPINIONS. FOR LOS ANGELES BASED ARTIST AMIR H. FALLAH, CREATOR OF THE PRINTED BOOK SERIES AND DAILY ART BLOG BEAUTIFUL/DECAY, THE ART GALLERY EXPERIENCE IS NO LONGER SOMETHING YOU HAVE TO LEAVE BEHIND. WHAT BEGAN AS A DIY 'ZINE PROJECT WHEN FALLAH WAS A 16-YEAR-OLD HIGH SCHOOL STUDENT IN NORTHERN VIRGINIA, HAS BECOME A LEADER IN THE ART/DESIGN WORLD, CHAMPIONING THE UNDERDOG AND RETAINING THE EXPERIMENTALISM THAT FIRST DREW FALLAH TO GRAFFITI AND LATER, TO ART IN THE ACADEMIC SENSE. THEIR BIGGEST AND MOST DEFINING PROJECT IS A BOOK SERIES THAT BEGAN AS A CONTEMPORARY ART MAGAZINE. IT RAN FOR 26 ISSUES BEFORE TRANSITIONING INTO A SERIES OF COLLECTABLE BOOKS THAT ARE ADVERTISEMENT-FREE, AND COME WITH A SPECIAL COLLABORATIVE INSERT.
"We do three books a year, and they're almost triple the size of the magazine version. They're all limited edition - we only print 1,500 to 2,500 copies - and are hand numbered on the back, so it's more of a collector's item," explained Fallah. "It's something that I want people to have on their bookstands for like, 20 years, so it's kind of a book/magazine hybrid." The upcoming "Book 9" aptly has the theme of The Seven Deadly Sins - a motif that has been challenged and depicted by artists for centuries - and has been compiled by Fallah, and guest curator Nathan Larremendy. Both fans of the experimental, and equally never afraid to take risks, the duo's take on the classic theme may not be what you expect. The book features 21 artists and seven writers who explore the theme – lust, gluttony, greed, sloth, wrath, envy and pride - through a contemporary lens. In the introduction to this curated book, Larremendy references the need for change, and his hope that the work within its pages can be a platform for some serious ideas and conversations. "I think the book has a lot of work that has a political slant to it. All these artists - I wouldn't necessarily call them political artists, but there's a certain point of view - point out things that we don't necessarily want to pay attention to," says Fallah.
The Seven Deadly Sins, as with the books that came before it, aims to showcase a variety of talent working in a number of mediums. The content is a juxtaposition of artists who have never met or been in a group show together, but whose work is represented as a unit and creates a dialogue. The themes are interpreted loosely, and several of the artists employ more than one of the sins in their work.
Libby Black, for example, is a San Francisco based artist dabbling in ideas of lust and greed. "She actually creates luxury items – so imagine a Gucci purse, or Louis Vuitton luggage - but she creates everything out of cardboard," says Fallah. "So she's making a really high-end luxury item out of the cheapest materials possible - she's using acrylic paint and cardboard. And so from far away they look like luxury items, but then you get up closer and there's a really interesting transformation that happens."
Also featured is other impressive work, too. Like that of James Gobel, who re-appropriates craft materials in an extremely masculine way, creating bold, graphic portraits out of felt, dye and airbrushing, depicting big burly gay men in a dandy style. Or Branden Danielsson, who shows us delicate images of the grotesque. He creates the obese and hairy, with growths and tumors, but rendered in a way that the observer immediately notices Danielsson's beautiful painting style, rather than the stereotypically disgusting figures he portrays.
For Fallah, the most interesting part about the work is this kind of contrast, the human struggle between acknowledgement, and repentance of our sins and our own sinful desires. "[Black] points out some of the silliness in spending $20,000 on a purse, but she also acknowledges the beauty in these objects as well - trying to reach a balance between excess and a beautiful object. Or with James Gobel's work, he's bringing attention to this flamboyant type of homosexuality, but he's celebrating those things as well."
Beauty and ugliness often go hand in hand, and much like how this idea of seeing the beautiful within the decaying brought Fallah to name his brand Beautiful/Decay, so too does it lend to the idea and presentation of the Seven Deadly Sins within this book: the dark and the light.