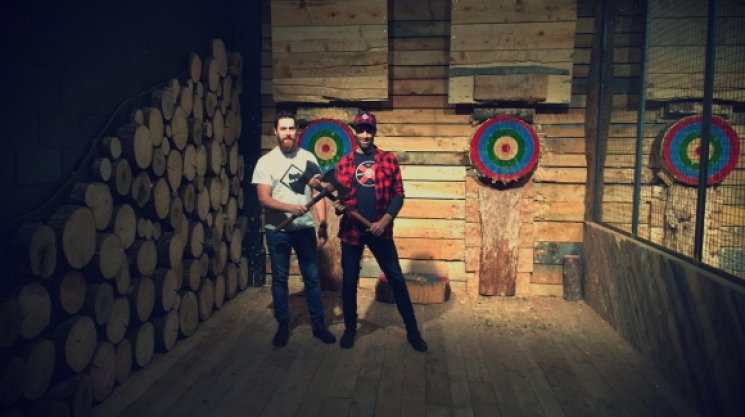 Mon, 01/16/2017 - 11:09 by karyn
"We are actual lumberjacks," Darren Hudson, co-owner of Halifax's Timber Lounge says. We're on a tour of his facility. There's a ruggedness in the air. It smells of pine and spruce. There's flannel and tuques and most importantly, people have a good time. Scratch that, a great time.
The Timber Lounge, tucked away on the part of Agricola Street that's home to mostly furniture stores, is a place where anyone can be Joseph Montferrand or the dude from The Log Driver's Waltz. It doesn't matter which lumberjack you're trying to be because for 90 minutes you and your friends get a taste of the woods. You get a piece of our Canadian heritage. You learn how to correctly throw an axe at a stable target, you have the option to log waltz and there's (regulated) drinking. "We have a warm atmosphere and cold beer," Hudson says as he demonstrates his impeccable log-running skills. No really, he's running on a moving log while carrying on a conversation without breaking a sweat.
When Hudson and his business partner, Mark Chisholm, opened the Timber Lounge in mid-2016, they wanted to create an environment where people could have a drink and see what axe throwing is all about. Unlike other axe throwing facilities, Timber Lounge is not BYOB. Instead, they have a fully-staffed bar complete with their own brew, Wild Axe Pilsner, curtesy of Boxing Rock Brewing Company. The decision not to let patrons bring their own booze wasn't done so that the Lounge could make more money with a full bar. It's actually to have trained bartenders on staff who are able to reach someone before they become over-served. When you bring your own liquor, there's no one to police you and tell you to drink slower or less. When you're at the Timber Lounge and have to go up to the bar to purchase your own drinks, you're less likely to chug them. Plus, you only have 90 minutes to throw and you'll be having such a great time that getting wasted won't even cross your mind. "If someone doesn't have all their faculties, we will say, 'Please enjoy the time with your friends but you are no longer allowed to throw axes," Hudson states about their safety policy. According to him this happens rarely because when people visit the Lounge, they get so into what they're doing with the axe that being drunk isn't on their radar. That's not to say you can't enjoy a victory beer or glass of wine when you hit the target.
Axe throwing is a sport and it requires concentration and skill. Because of this, we non-lumberjacks are not allowed to walk into the Lounge and start throwing axes around willy-nilly. We must work with a coach and each throw is heavily supervised to ensure our form is correct. We're in the hands of professionals the entire time and we've signed a waiver. There's a mandatory safety talk that we must pay attention to and a few practice throws are imperative before things get real.
Compared to other sports, axe throwing is pretty innocuous. Football and hockey have concussion potential, baseball and basketball have their fair share of associated injuries and even golf is more dangerous because your cart could tip over or you can bruise your ribs with an overzealous swing. Basically, axe throwing is a cake walk compared to what PK Subban does on the ice every day. "When you're ready [to throw your first axe], you're like, 'Okay, this is serious stuff and I want to think extra hard on this unknown task'," is how Hudson describes what goes through your head before you launch that chopper. The axes aren't razor sharp because they don't need to be. You're only throwing 20 feet so there's no need to give 'er. The axes move well through the air without maximum effort.
If you don't want to get your Paul Bunyan on, there's also live music and a relaxing bar area with a fireplace and handmade tables and chairs. For those who fall in love with axe throwing and want to up their game, the Timber Lounge has a league. "It's better than a dating app," Hudson chuckles. "You're meeting new people and creating new relationships." Now, that'd be a great story to tell. You and your significant other first locked eyes across the throwing lanes. You released your axe, they released theirs just as Cupid's arrow hit both of you making for a most axe-cellent romantic moment.
The Timber Lounge
2712 Agricola Street, Halifax
In photo: Darren Hudson (red flannel dude) and Zach Feener (white shirt dude)