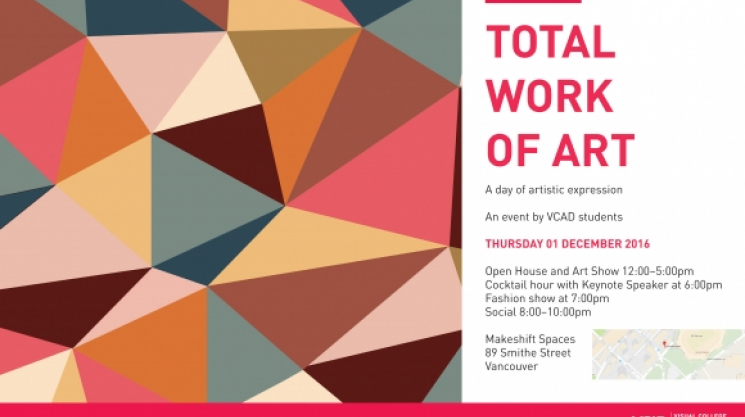 Wed, 11/30/2016 - 12:05 by karyn
Vancouver's Visual College of Art & Design (VCAD) is having an open house tomorrow, December 1st, called Total Work of Art. With a variety of activities lined up from 12:00 pm -10:00 pm, the event aims to showcase the school's talented artists from the Interior Design, Fashion Design, Graphic Design, and Game Design programs, through a gallery setting, fashion show and social. The event is aimed toward those who are creative and have a strong interest in contemporary art, supporting local artists, and exploring different artistic options.
Here's the lineup:
Open House Art Show - 12:00 pm to 5:00 pm
   -Featuring VCAD student art works presented and for sale; all pieces are      under $200.
Cocktail Hour - 6:00 pm
   - Featuring a special beverage with special alumni guest.
Fashion Show - 7:00 pm
   - With current and alumni designers.
Social - 8:00 pm - 10:00 pm
   - Mingle to music while enjoying local beverages.
Total Work of Art
Makeshift Spaces
89 Smithe Street, Vancouver