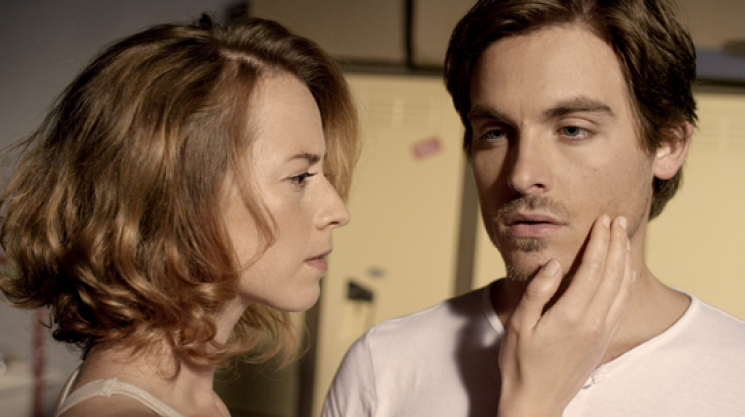 Wed, 11/27/2013 - 12:15 by Natasha Neale
After what was surely a great deal of deliberation among the judges, it was announced at TIFF back in September that the 2013 Grolsch Film Works Discovery Award, and the $10,000 cash prize that accompanies it, was to go to Canadian director Gia Milani for her poignant feature debut All the Wrong Reasons, starring the late Cory Monteith. 
The film, an independent comic drama about the intersecting lives of four people working in a department store, was a tumultuous five years in the making and beat 27 other exceptional films that were also contending for the honour. The intention of this award is to give spotlight to emerging talent, by focusing not just on the film itself, but on the backstory—the passion, struggle and tireless effort involved in getting the film made—and Gia Milani certainly deserves all the credit given to her. 
I read that All the Wrong Reasons was five years in the making and had a lot of ups and downs. You even mentioned at the premiere that the film was about 24 hours away from being pulled. Why such a struggle?
I think it is the gauntlet you have to run through when you're new and unproven, and working in an area of the country without a filmmaking infrastructure. There are also factors like dancing between funding deadlines, finding financing, producing partners, honing the script, and attracting (and keeping!) cast. They are hurdles all filmmakers face, but the stakes are higher when it is your first film, and there isn't anything else on the horizon. This was all I had, and I had put every ounce of my life into it to get it made—money, time and energy.
The plot of the film revolves around how different individuals cope with trauma, including PTSD. Why did this subject matter speak to you?
Originally, the main theme of the film was body image. But when my best friend returned from serving in the military overseas, he came home with PTSD. The more time I spent with him as he struggled through it, the more I realized that everyone's lives were shaped by traumas—large or small. From that teacher that yelled at you as a fourth grader that resulted in you never speaking up again, to perhaps being a passenger in a car accident who is now forever afraid to take taxi. Being scared affects us. It is the lack of security that interested me. I did a lot of research on it, how traumas shape our lives.
How do you think winning the $10,000 prize will change things for you? Do you have an idea of what you'd like to do for your next project?
I have been working on a new feature about a girl aging out of foster care. Usually I get paid far, FAR down the line. There are a lot of deferrals when you produce your own work! So this will help so much. It will let me relax a little bit, and after working flat out for five years, it will be nice to not have to wonder about money for a few months.
Did you have a particular moment of validation for this film? A moment when you truly felt all the hard work you put in finally paid off? 
There have been many moments of validation. Being greenlit, having the programmers at TIFF—Steve Gravestock and Agata Smoluch del Sorbo—tell me how much they liked my film, notes from my cast saying how much they liked the script, my crew telling me what a great set we had and what positive energy hung around it, any time I got a "yes" for anything I asked for (which wasn't as often as I wanted), getting into TIFF and other amazing festivals, watching the film for the first time in a huge theatre to test out the last bit of everything, introducing the film at TIFF, and definitely the Grolsch Award! There have been so many moments!
What's your favorite memorable moment from this five-year journey?
Sitting on the rooftop of my hotel in Halifax, having just hung up the phone with Cory. He said "yes." The short few steps over to the group gathered up there to tell them we were a "go." That was the best moment, ever.