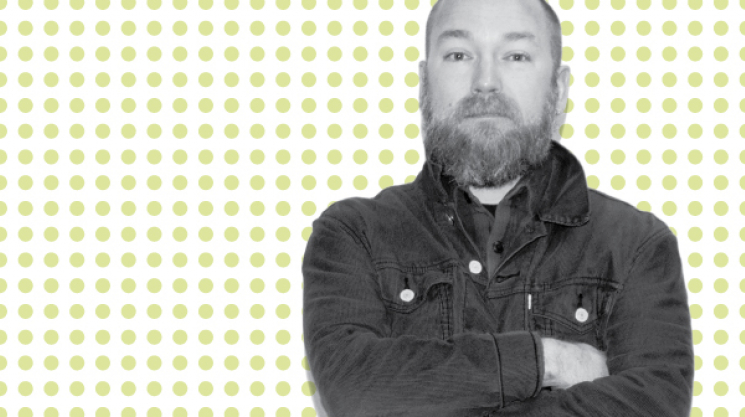 Mon, 03/30/2015 - 21:39 by Natasha Neale
Kyle Kinane's newest special I Liked His Old Stuff Better features bits about burning his laundry, hitting pistachios with the back of his cell phone while driving, and the embarrassment inherent in your mother being impressed with you for actually owning plates. He would rather talk about Bigfoot than comedy, though. But, he was kind enough to discuss his perspective on it and his career, as well as the time he threw up while broadcasting on a popular cable network, with ION writer Kellen Powell.
Do you see yourself as an "alternative comic," and is that still a useful designation? 
I don't think there really is an "alternative comic scene" as much as there's just a generation of comics now, where they're people who aren't married and have student loan debt, and these are the just the relatable topics to this generation. Whereas in the eighties, the relatable topics of stand up were, you know, wife, and kids, and suburbs. People talk about Blue Collar Comedy, but they're all millionaires. I don't know what's so blue collar about that. I guess it's trying to describe a sensibility…
I mean, we're gonna shoot a comedy special but it's not gonna be forced on somebody. We're not gonna do a big over produced sparkly, shiny thing. That's not the type of aesthetic that would go with the comedy that I'm doing. 
But you're playing more in rock clubs and non-traditional comedy venues? 
Yeah, I'm trying to, but mainly you just want to get everybody that wants to see the show out on that night. Previously you would work at a comedy club for four nights, go home for a couple days, go back out at another comedy club for three or four nights, and come home for two days. It was kind of running me down.
I would like to do it like this current tour, where I can see a big part of the country but then be back at my apartment and be able to understand why I'm paying rent at a place instead of just having a storage locker. 
When you're at home in L.A. are you pretty active in the comedy scene? 
Yeah, that's the whole thing about being back home. That's where I can write good material. That's where I can go, "oh it's a free show and it's only 16 people and they're all comics." They've all seen me bomb. That's why I live there, to be able to work on this stuff and get feedback from my peers. 
I don't really like doing brand new stuff on the road. People paid money to come see a show and they're seeing a bunch of half-cocked bits. I mean new stuff does work its way in, but that's why I like being back in L.A.. I can just run around to small shows and work on stuff without someone feeling like they got ripped off. 
That sounds in line with what seems to be a well-adjusted attitude toward work ethic. Do you think that's important to your comedy? 
Yes, in the sense that the comedy is honest. I'm not trying to use any trickery to get ahead, or manipulate social media, or get numbers up on Twitter or anything. I did finally hire a publicist, but that was like, "I've been putting the work in, now let's try and do this properly." 
The only proof I need of my success is if I can keep making jokes that people want to listen to. That's it. That's what got me here, and that's what I'm gonna keep doing. I've seen people that have been like, "I'm going to go on tour and if you donate this much to my Kickstarter campaign I'll wrap my car in your company's logo," and all that kind of shit. You're a comedian! Just tell jokes!
A lot of comedians promote with a podcast, but I don't see you doing your own. Is that by design? 
I've thought about it, but every comedian has a podcast whether the world wants them to do it or not—they have podcasts. It's just a clawed flooded mess of comedians thinking that they're so delightful that the world needs to hear their every thought.
There still might be one in the works but I don't want to just do comedy, I want to talk about Bigfoot and ghosts because that fascinates me. So, if I'm going to enter this overwrought world of comedians yammering on, I want the subject matter to be slightly different. I have to ask, "Is what I'm going to do offering anything new?"
The topic of comedians getting scared is hilarious! That's a slightly untapped market. Let a comedian friend and me go to a haunted house and watch us freak out.
Are you comfortable with the notoriety that you're gaining? 
If it's for the quality of work then it's okay. I hope that I would appeal to people that I want to be friends with in the world. Some comedians have an act that they're doing and they get these loonies and weirdos at their shows. 
I did Drunk History and threw up on television and now I get the reputation that I'm a big booze bag, but I don't wanna be known as a professional drunk, I wanna be a comedian. 
I think you punctuated the moment perfectly when you said, "Throwing up on Drunk History is like crying on Barbara Walters."
Ha! I did another one and I was kind of hesitant because I was like, "Oh man I know what I did on the first one, I don't know how I'm gonna top it. I'm going to have to die on camera or something." I didn't even barf on camera on the second one, though. I barfed afterwards, but I didn't barf on camera. I'm sure someone's going to be let down and call me out in a comments section—maybe of this article. 
So where do you see this all going? What's your act going to be like in five years? 
Well, I don't ever see myself as getting married or having children, but I know to never say never. It's weird to see where comics' trajectories go, because you start off talking about "Oh man, I was so drunk last night" and "Oh boy I'm broke." And I did all that, but now I get to make money from doing comedy, so it's disingenuous to bitch about being broke or anything. That's why you see comedians trying to poke holes in religion or politics. They've already pulled their own life apart on stage. I hope I don't end up there.