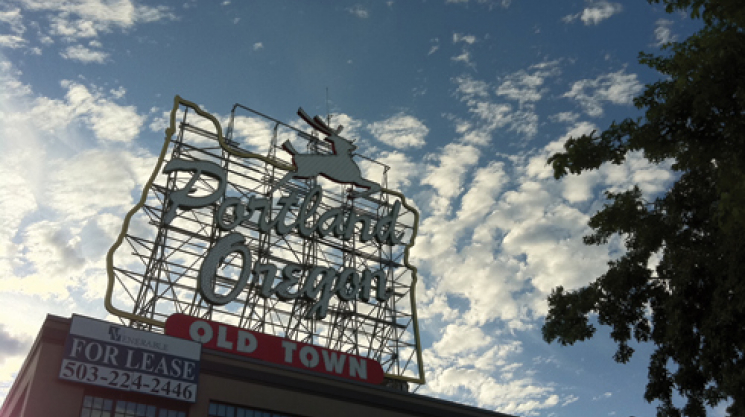 What do bacon covered doughnuts, green tea beer, strip clubs and farm-to-table restaurants have in common? A little place called, Portland. Much like the bran-muffin-hippy-jam society Portlandia portrays, Portland's restaurant culture and nightlife is shockingly progressive for a society supposedly stuck in the 90s.
If hoarder-like vintage stores and microbreweries run by goatee sporting bald dudes sounds like your type of haven, then Portland is a perfect west coast getaway.
If this is beginning to sound like an episode of Wayne's World that never ended, think again. Portland is actually an adventurous, forward thinking, surprisingly sexy and completely laid back city. If it were a person it would be that girl that lets you go all the way but will never let you call her your girlfriend.
I headed to Portland via Amtrak and found myself in downtown Portland eight long hours later. Yes, the train is slow but they allow you to bring your bike on for a small extra fee and the cost of the ticket is a quarter of what you'd be paying in fuel fees, and you can drink cheap American beer along the way.
The great charm about Portland is it's full of modernly renovated boutique hotels, most of which are restored heritage buildings converted into affordable suites. We opted for the Jupiter for its central location and 50s motel decor. Our room overlooked the restaurant courtyard and provided chalkboard doors encouraging you to display your artistic abilities or what I later discovered to express your sexual orientation. I was later told it was an open door policy. Draw your sexual symbol of what you are open for, and the swingers from downstairs or joining rooms are welcome to enter at your invitation.
Once you're settled and have rightfully stated your sexual preference there's plenty of amazing spots to indulge in what Portland does best, food. Another convenient aspect of the Jupiter is that you're surrounded by some of Portland's hottest eateries.
We started at Biwa which is a farm-to-table izakaya-style restaurant with a beautiful patio and incredibly dangerous cocktail list. What actually blew my mind about this place were the piedmontese beef lettuce wraps which were delicately placed on a bed of house grown shiso. The rest of their menu is equally as impressive.
If Japanese isn't your bag, around the corner is the divinely popular, Le Pigeon, providing traditional French cuisine combined with a casual modern aesthetic. If you're looking for a rich and savory place to have a romantic dinner, this is the spot. With its warm candle lighting and fabulous selection of wine, you'll be fondling your sweetheart French style by the time your sweetbreads arrive. Further east along Burnside you'll find Laurelhurst Market, a delicious steakhouse inspired brasserie that quite possibly has the best bacon infused kale dish I have ever ingested.
When you've had your fill of decadent treats and are looking for something to stimulate your pulse, Portland's Hawthorn District is littered with microbrewery/pubs which have the most incredible beer selection I have come across this side of Europe. Green Dragon Bistro and Pub's green tea mead punched my taste buds in the mouth. I could have filled up a barrel of the stuff 20s prohibition style and smuggled it home with me, it was bloody sublime.
South of the neighborhood resides the Apex which contains over 150 different beers and doesn't serve anything else, nada, not even food. Be sure to bring your ID with you, because even if you're forty and sporting a fading glory mullet, their bartenders there say if you don't have plastic you don't get service. Oh and don't forget your sharpie, cause tagging the bathroom is totally encouraged.
If you're looking to discover some of the local music scene there's plenty of venues to be explore. I stumbled across Holocene, a multilevel venue that seemed to promote spooky style music and perfectly mixed Negronis. They're known for catering to up and coming indie bands highlighting gritty infused garage rock that will have you dancing to your shoes until the wee hours. And when you're finally ready to call it a night, Doug Fir, conveniently located under the Jupiter hotel, has a new act performing nightly. And if you miss the first 20 minutes of a show, they'll usually wave the cover charge; not a bad incentive when you're staggering home after a night of indulgence and debauchery.
A great way to sweat out your hangover and discover the inner city delights is to cruise around on bikes. Whether you brought your own or rent from one of the multiple rental shops, Portland's landscape is primarily flat, so even if you're completely energy sucked, riding around the neighborhoods is, like the rest of this city, pretty darn laid back. While you're riding around be sure to check out the plethora of food trucks scattered around the city, another colorful insight into Portland's food scene.
There is also no lack of amazing taco spots in this city either. If you have an hour or more to eat, I recommend standing in an insanely long line at Por Que No? and indulging in one of their in house prepared juices and traditional tacos. If you're downtown and looking for a taco fix, Santeria (located on the West side of Chinatown) provides a day-of-the-dead style decor and a bartender that does anything but skimp out on the booze. I'm pretty sure there was about five ounces in my first drink. Be sure to check out the bathrooms here, when you think you've reached the lavatory at the end of the establishment you may actually find yourself transported into the oldest strip club in Portland, Mary's Club. It's really quite amazing. One minute you're eating tacos the next minute you're in a dark room listening to Courtney Love while observing a stripper with three other old men playing video lottery games. It's like the sexy Narnia you've always dreamed of.
To end your day on a relaxed note I recommend catching a movie at the Living Room Theater. It's an independent movie house equipped with a healthy food menu ranging from cheese plates to truffles, and a full bar. The films they screen are unconventional and usually independently produced. And if film is your forte they encourage submissions of shorts and features to be considered for full or pre-show screenings. Why isn't every independent film community like this? I asked myself the same thing.
When it comes to film, art, food and nightlife, Portland does it better than the rest. It truly is the place where the young go to retire. So if you're young, moderately ambitious and in need of a cultural punch in the face, head to Oregon's east coast and take part in the cultural excursion outside of the 90s.
Words and Photography: Jenna Ledger