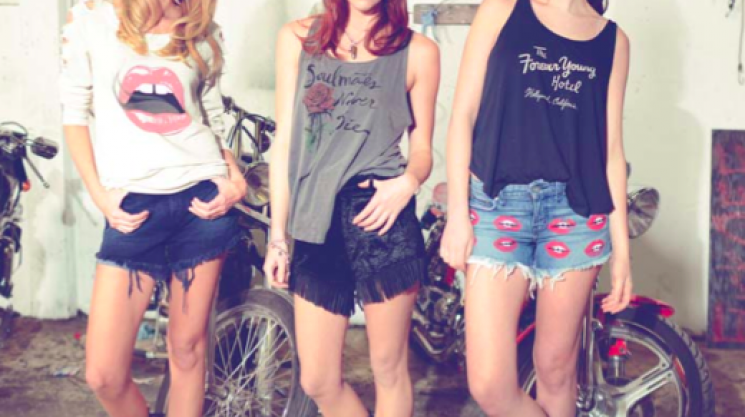 Ruby Starling has a devotion to capture a carefree lifestyle through fashion. With a passion for classic rock and 1970s culture, founder Amber Dennis and her other half, Johnny Kaye—who left behind a life of touring in a rock 'n' roll band—sets out to capture rebellious style. Using the finest denim fabrics and wash techniques, Ruby Starling emphasizes on fit and style to create must have pieces that redefine effortless cool.
Named after their daughter, Ruby, the "Starling" girl is described as a rebel. "She is brave and always takes risks. Her confidence and carefree spirit is an inspiration to all. She wanders the world with love in her heart, freedom on her mind, and fashion in her soul."
Inspired by its west coast origins, Ruby Starling's Summer 2013 collection is fun, playful, and daring with a bit of edge. Take their 'Saints' or 'Sinners' distressed denim cut offs and pair them with a 'Forever Young' baby soft, raw edge cut vintage tee. Or be cheeky in their 'Darling' gold crushed ice velvet short shorts. And our favourite look? We can't wait to rock the 'Arizona Sinners' black crushed velvet shorts with buttery soft suede tassels paired with statement piece, the 'Sabbath' motorcycle jacket; an acid washed denim biker jacket with crushed velvet sleeves and tassels. Ruby Starling calls this the ultimate icon, "feel the wanderlust and rock on."
Ruby Starling launches their online store with their Summer 2013 collection June 1st.