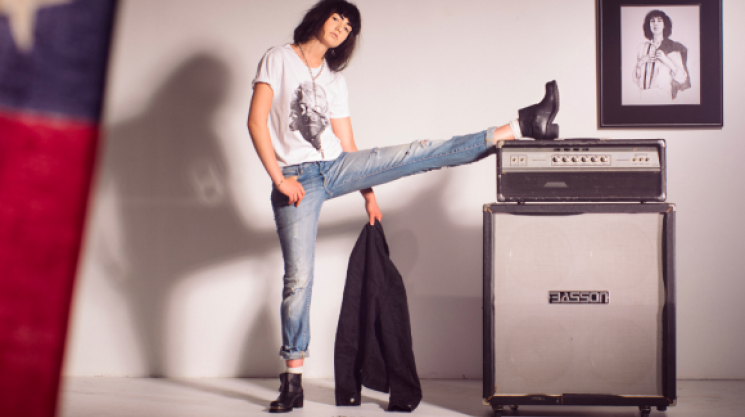 Back in February we wrote about Wildfang, a community from Portland, Oregon that celebrates the tomboy style with curated apparel and accessories liberating menswear. Well, Wildfang has launched (and ships internationally at that) and we're happy to share their WF Icons Lookbook.
Tomboy isn't a trend. Unless you call a 500–year movement a trend. To pay homage to the badass ladies who've inspired Wildfang, their latest lookbook focuses on six of their tomboy heroes: Marline Dietrich, Tilda Swinton, Patti Smith, Francoise Hardy, Gwen Stefani, and Diane Keaton.
We talk to Emma Mcilroy, CEO, and Taralyn Thuot, Creative Director of Wildfang about their lookbook and the iconic women that inspired them to be their tomboy heroes.
Tilda, Gwen, Patti, Marline, Francoise, Diane—can you tell us how each of these women influence Wildfang?
EM: Well, let's start with the reason behind the concept. We keep telling people that tomboy isn't a trend. And instead of telling people, we thought we'd SHOW them. We wanted to pay homage to a few of our tomboy heroes from past and present, who embody the spirit of Wildfang and also rock a tomboy style. We wrote a list of the ladies who'd inspired us most, the ladies who we grew up wanting to be. The ladies who've been confidently rocking mens style for decades and who have been boldly and unapologetically being themselves.
For each of these looks, how did you choose the perfect piece to complete the iconic hero's outfit? 
TT: Honestly the perfect piece was dictated by the icon. We chose these women because they are strong and iconic. The second you say their name, you can picture them. It's impossible to hear Tilda, without thinking of the slicked back hair. You can't think of Patti without those ripped boyfriend jeans. Marlene is the ultimate sophisticate and the tie and suspenders complete her look. Francoise is so quintessentially French. She rocks a striped tee better than anyone we know. Diane made tomboy chic famous in Annie Hall. The thing which makes her outfit is the clash of patterns between the camo tie and gingham button up. Last but certainly not least, there's Gwen, our urban tomboy. She lives life loud and that 'Good As Gold Bomber' was the perfect piece to pump up the volume on her look.
Like ION, Wildfang embraces art, culture, and music, as well as fashion. Does Wildfang have a favourite artist? 
Without question: Francoise Nielly. 
What books and films are on the Wildfang shelves? 
Book: We laughed till our sides hurt @ Bossypants
Film: Last film that captured our hearts was Beasts of Southern Wild and we're crazy excited about the upcoming remake of Old Boy by Spike Lee.
What music is on the Wildfang playlist?
Right now we're all rocking out to Savages, Haim and Chvrches. 
What's next for Wildfang? What can we expect from Wildfang this year?
EM: You can expect tons more interviews, videos, lookbooks and mix tapes, some from new, emerging talent and others from famous Wildfangs. We also have our very first store opening in Portland, OR which we're pumped about.
TT: From a product perspective we have an exciting collaboration launching this summer. It'll be our very first Wildfang-branded product. We've worked hard on everything from fit to color and materials, to make sure Wildfangs are gonna love the collection.
Shop the looks of the Wildfang Icons Lookbook here