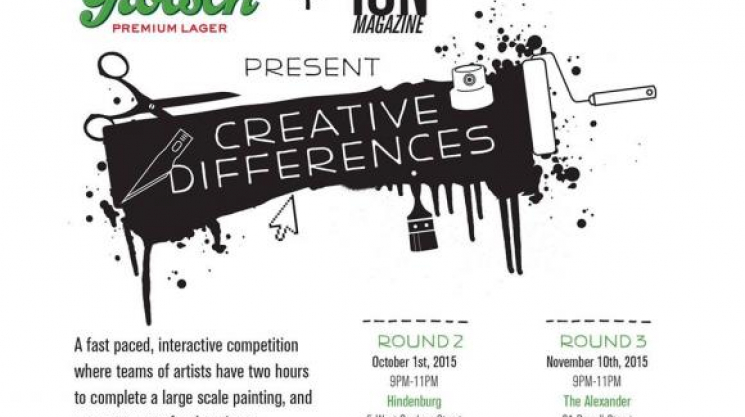 Thu, 10/01/2015 - 10:15 by Natasha Neale
ION Magazine and Grolsch are proud to present the fifth installment of CREATIVE DIFFERENCES, a series of interactive art competitions where teams of artists compete against each other for 2 hours of live painting on large canvases. The guests determine the winner of the competition, and the prize is $1000 in cold-hard-cash. Creative Differences started in 2014, with parties in both Vancouver and Toronto. The series has featured some of the most talented artists in both cities and now we're back in Vancouver for the much anticipated CREATIVE DIFFERENCES #5.
Join us tonight, Thursday, October 1st, for art, music, beer, and good times! All you need to do is RSVP, we take care of the rest, and best of all, it is all FREE! Come out and cheer on your favourite team.
CREATIVE DIFFERENCES #5
Presented by Grolsch + ION Magazine
Thursday, October 1st, 9:00PM-11:30PM
Live painting competition 9:30PM-11:30PM
Hindenburg | 5 West Cordova Street, Vancouver
RSVP TO GET ON THE LIST
rsvp@ionmagazine.ca
DJs: Trevor Risk & Christa Belle
Photos by lindsaysdiet.com
ARTISTS
Team 1 - Hot Art Wet City
Jane Q Cheng
Hayley Dawn Muir
Team 2
Jennifer Chernecki
Amanda Smart
Team 3
Indigo (Shallom Johnson)
+guest
Team 4
Megan Majewski
+guest
Team 5 - ONLOK Studios
Ben Knight
Taka Sudo