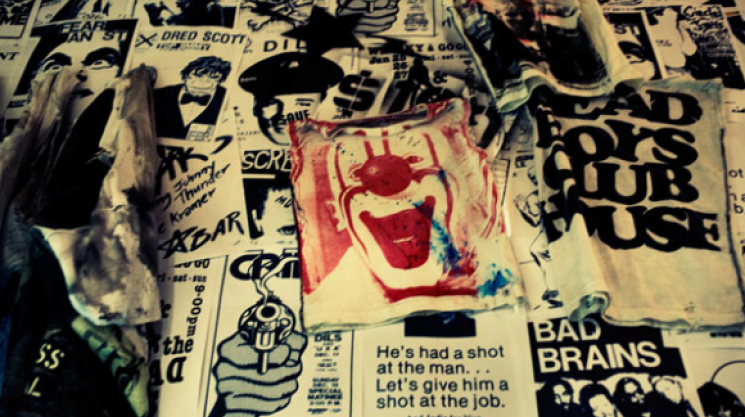 Fri, 10/25/2013 - 10:03 by Natasha Neale
I've been a fan of Raif Adelberg's work for awhile now. I was first introduced to Raif's art by ION's former Editor-in-Chief, Michael Mann, when he wrote about the artist back in 2009. Then a few years ago, I stumbled upon his line on a random weekday night when I was out with my girl's and we ended up hanging out with some of their friends in a studio in Vancouver's Chinatown. The studio was dark with black walls except for one, which had DBCH posters plastered all over it. In front of that wall was one industrial style rack lined with probably ten of Raif Adelberg's Deadboys Clubhouse designs. I tried on a one-off custom re-worked jacket that was army green and had a sheer back panel with an original DBCH screenprint on it. The jacket fit perfectly, and perhaps it was the few drinks I had beforehand, but I knew I had to have it. I bought it then and there, and it's been one of my favourite wardrobe pieces ever since. 
The last time we saw a DBCH collection was when he did a collab with Stussy. And let me tell you, there was this amazing cowichan sweater that made me lust after anyone that put it on. The craftsmanship and design was just that good. And tonight, for one night only, established visual artist, Raif Adelberg will channel CBGB, Barbara Kruger, and Vivienne Westwood to transform Fortune Projects Space—a gallery hidden away on the middle floor of Fortune Sound Club in Vancouver—into a "punk rock flophouse." Though The Deadboys Clubhouse art installation has previously popped up in Los Angeles, London and Toronto, this is his first show in Vancouver since 2010. 
The Deadboys Clubhouse is here for a good time, not a long time. Expect loud three-chord music, a lot of alcohol, and a pop-up shop that features ready-to-wear offerings (ornamented with tears and paint stains) from Adelberg's Deadboys Clubhouse line.
The Deadboys Clubhouse punk rock art installation and high fashion pop-up shop hosted by Raif Adelberg with Djs Age and Justin Gradin is on for one night only on Friday October 25, 9pm-2am at Fortune Projects Space (second floor in Fortune Sound Club), 147 East Pender Street, Vancouver.
About Raif Adelberg
One of this city's best kept secrets is Raif Adelberg -- who, from his home on sleepy Bowen Island, has established himself as a force in New York's high fashion scene.  But this really shouldn't come as a big surprise; he's been an arbiter of fashion and art in Vancouver, as well as a vital part the city's cultural fabric, for over 15 years. 
"Limited edition" and "artist-collab" are terms bandied about so frequently that they've almost lost their meaning. However, in the late 90's, when Adelberg opened his store 24, he introduced Vancouver to these terms by stocking high-end streetwear brands like Supreme and cult items like rare Air Force 1s. Though the store was located in Kitsilano, it felt like it could just as easily have been in Harajuku or SoHo. 
He later opened up a shop and gallery in Yaletown where he brought future art stars Kaws and Ryan McGinness to show work in Vancouver. Adelberg followed that up by opening Richard Kidd in Gastown, where John Fluevog's flagship store is today. While it was open from 2004-2008, it received international acclaim, and Vogue called it one of the top stores to visit in the world. It was here that he honed his talents as a fashion designer in his own right. 
In 2011, he launched a daring men's luxury cashmere collection, which instantly became a favourite at New York Fashion Week and garnered loads of international press. One of the signature pieces, a cowichan sweater that retails for $4000 USD, was described by international tastemaker and fashion director for Bergdorf Goodman Nick Wooster as "the most amazing thing you could own". The collection was quickly scooped up by Bergdorf's and was given a dedicated space. His recently-launched Spring/Summer 2013 women's cashmere collection has received a similar acclaim and is currently available at Barneys NY and LA.