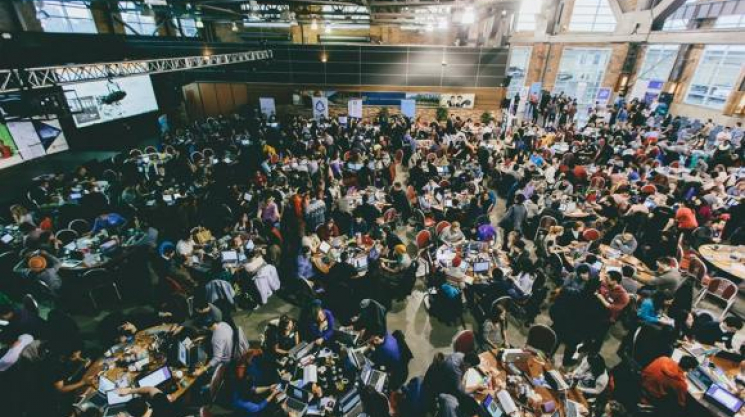 Wed, 01/28/2015 - 23:20 by Natasha Neale
Coding isn't just for hackers and geeks. Coding is for everyone. And we mean everyone. Last weekend we attended The HTML500, Canada's largest free, learn-how-to-code event by Lighthouse Labs, and we were amazed not only by the packed house of 500 participants (with over 2000 hopefuls on a waitlist), but by the diversity. Ages ranged from 11-65, from all different backgrounds, and with 60% of attendees being women. It was impressive and inspiring. There was even a mentor named Kai who is only 13. Thirteen!!
The one-day crash course on basic HTML and CSS proved to be popular and was a great introduction to understanding code, "a skill that will be incredibly useful in building a robust economy for a future that is exponentially becoming dominated by technology," says Jeremy Shaki, Lighthouse Labs co-founder.
This is the 2nd annual event for Lighthouse Labs and this year they are taking The HTML500 on the road across Canada to Vancouver, Calgary, London, and Toronto, all in part to champion digital literacy. Whether you're wanting to better your blogging skills, create your own App, or become the next Zuckerberg, The HTML500 is worth checking out and a great chance to connect with the technology community. Did we mention that there's an on-site career fair for those wanting to explore careers in the tech industry? The career fair is a new feature to The HTML500 experience, boosting attendees' networking opportunities with recruiters and the 100+ developers who are giving back to the community by donating their time, expertise and resources.
For more information on Lighthouse Labs and HTML500 visit theHTML500.com 
HTML500 2015
Calgary – January 31
Red and White Club, U of Calgary, 1833 Crowchild Trail NW Calgary, AB
London – February 7
London Convention Centre, 300 York St. London, ON 
Toronto – February 22
MaRS Discovery District, 101 College St. Toronto, ON