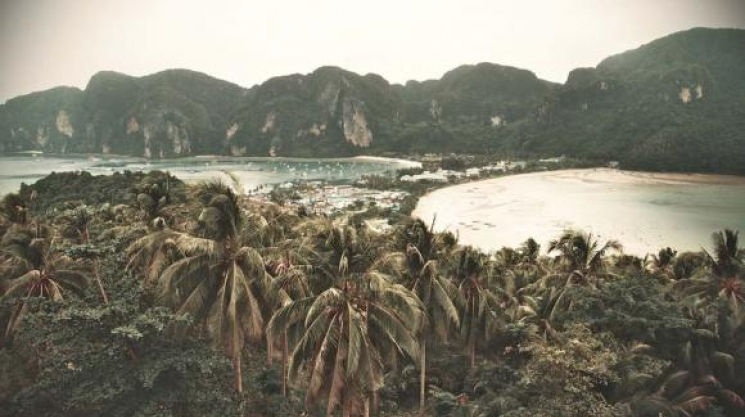 Tue, 10/07/2014 - 11:32 by Natasha Neale
Summer may be over, but that doesn't mean days spent on the beach have to end. Bragging rights, larger-than-life stories, and adventure awaits you in Southeast Asia and Costa Rica thanks to Beach Travellers.
Founded by TJ Hermiston and Graeme Barker, Beach Travellers provides off-the-beaten-path group adventures like island hopping in Indonesia, all-night Full Moon parties in Thailand, surfing up and around the coast of Costa Rica, and more. Their recently launched package trip to Northern Thailand, Laos and Cambodia takes travellers to hidden seven-layer waterfalls, hot air balloon rides over lush, green jungles and other little-known destinations. Take a peek at their Instagram and you'll start dreaming of paradise. Your next day away from home could look like this:

A DAY IN THE GOOD LIFE
ROLL OUT
of bed. Whoa, this bungalow floats on a lake? 
JUMP IN
for a morning rinse, enjoy the surroundings, and ask yourself: I am in Jurassic Park? No—this is Thailand... But it's just as awesome.
GRAB A COFFEE
walk on the beach, swim in the crystal clear waters. Enjoy the morning. Other travellers are slowly waking up... Grab a few of them and grab some breakfast. 
WHAT'S TODAY'S PLAN?
It's up to you. Tomorrow we're bathing with elephants, yesterday was the waterfall hike, and the Full Moon Party is coming up soon. Have a beach day. 
LUNCH BREAK
walk around and bask in the aromas of Thai food deliciousness, chat with the friendliest locals you'll ever meet. Afternoon massage for $5? OK.
SUNSET COCKTAILS
on the beach with the group? Sure. After dinner, there's a beach bonfire. Sounds good.
The best part? You don't need to plan your trip. Just choose your destination and pack your bags. Your trip of a lifetime is just a click away at beachtravellers.com