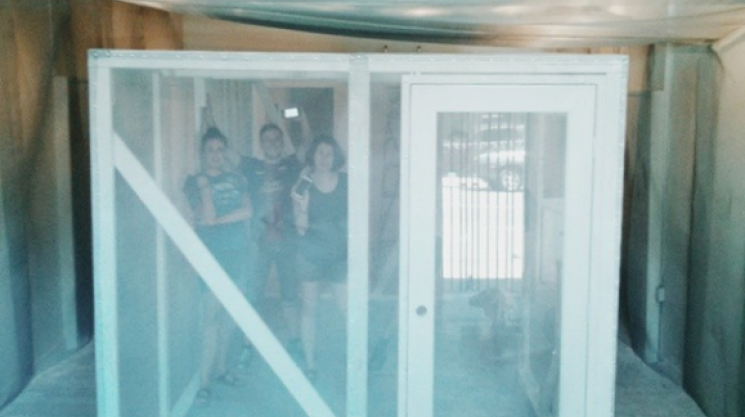 Fri, 07/11/2014 - 11:55 by Natasha Neale
I can't tell you how much I depend on café's to connect me to the rest of the world. With work being in the cloud and with my role as the Online Editor relying on a strong Internet connection, café's with available WiFi are key. These days many of us work satellite and cafe's have become our home away from home and our office for the day. And we can't forget the coffee in one hand, phone in the other, checking our feeds and texting away. It's common-day communication. But what happens when there's no signal? No more WiFi, no more incoming and outgoing messages? And God forbid, no more Facebook, Twitter, Instagram? It forces us to get social the old-school way: in person, face-to-face. 
Social artist Julien Thomas and Hughes Condon Marler Architects have opened Faraday Café, the first coffee shop that repels wireless signals. They've stripped down to the essentials and are offering a space devoid of cell phone or digital connections, hoping to create personal ones instead. 
The pop-up café is a project inspired by a Faraday cage, which is made of conductive material and is a complete enclosure that restricts the passage of electrical field, which means that within the Faraday Café your phone won't get a signal nor will your laptop be able to reach the Internet. The team behind Faraday Café are hoping to gain a greater understanding of what different and new kinds of social connections we can make through architecture. And let's be honest, we could all use a break from our screens.
Open until July 16th, Faraday Café is located within the Chinatown Experiment space at 434 Columbia Street in Vancouver and offers a rotation of artisanal coffees (Heart, Bows & Arrows, Ritual and more) by donation and is hosting a variety of events such as pop-up dinner parties, DJ sets, morning meditations and storytelling. For a full list of what's happening, go here. 
Disclaimer: This post was written while sitting in a coffee shop connected to the interweb, but I'm looking forward to disconnecting and checking out Faraday Café.
Photo: Faraday Café