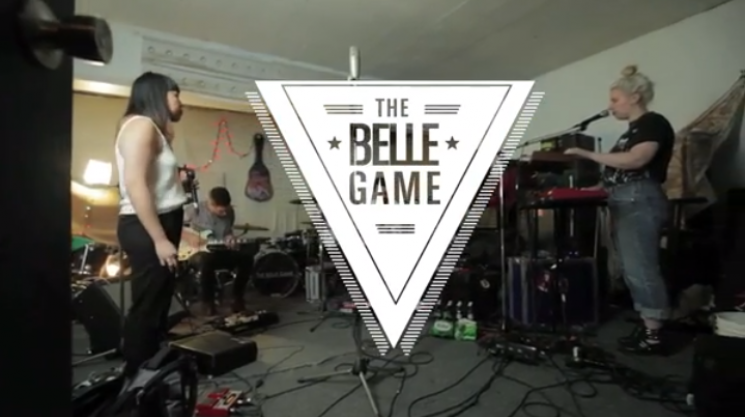 Wed, 12/10/2014 - 11:25 by Natasha Neale
For the last installment of The Originals series for the year, Andrea Lo and Katrina Jones of the hypnotic dark pop group The Belle Game sit down to talk about pushing themselves musically, their idea of success, and the memorable advice they received from Broken Social Scene's Kevin Drew. 
"There's a lot of things I enjoy about playing music," Jones says. "I like the energy and that sort of dynamic of doing something live, in person, and trying to achieve a goal, versus inputting numbers into a spread sheet or something. I think my brain would explode if I had to do something like that."
After two successful EPs, the Vancouver-based quintet, comprised of Lo, Jones, Adam Nanji, Alex Andrew and Rob Chursinoff, released their debut full-length album, Ritual Tradition Habit, through Boompa Records in April 2013, and are currently working on a new record. They've toured extensively throughout North America and Europe, and have made a lasting impression on audiences with their haunting soundscapes. Exclaim! describes their music as "Indie-rock at its best" and Paste Magazine named them one of the 10 Great New Bands from CMJ 2013.
On her place in the spotlight, Lo muses, "It's a really good place to challenge yourself and push yourself to go beyond your comfort zone. Starting out I didn't… It was not my ideal place to be, on the stage. And I still fight it every time I step up there. I would sing with my back to the audience. Literally. It's kind of interesting to see how just pushing yourself to do that, to get up on stage, to do your job as best you can, and just really give to everyone that you're performing to… It's crazy." 
"Kevin Drew gave us some very good advice," Jones recalls, "which was just 'less talk, more rock. Like, you guys just need to shut up and play more and see what comes out.' In doing that, now we're realizing, oh yeah, that is our favorite part."