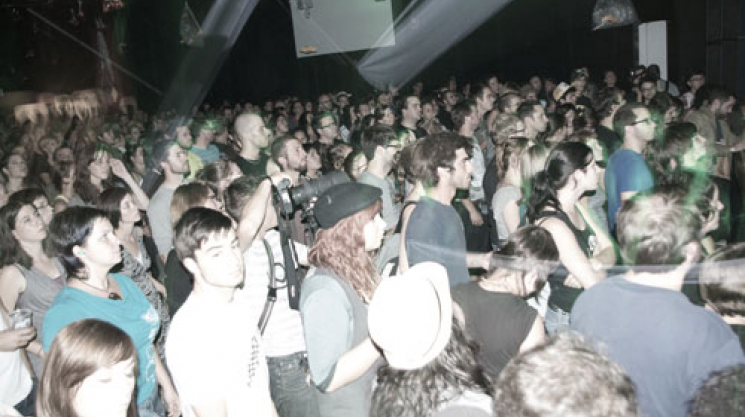 Have you ever been to Quebec? No, Quebec. No not Montreal, Quebec. La Belle Province; home of poutine, Guy Lafleur's disco album, and Mitsou. Well I have and God bless those Libertarian princes and princesses. They take the government's money and give them none. Heck, I would vote for the Bloc if only they had representatives here in British Columbia. They are the special people of this country and they deserve every grant they get. So there's really no turning down a chance to cover a festival in remote Rouyn-Noranda when it's offered to you. FME (or Festival De Musique Émergente OR Emerging Music Festival) has been running for seven years now and it's definitely not a shallow who's who of blog stars. It's a noble platter of upcoming French artists from Quebec and France with special seasoning of some Anglo acts to cleanse the palate. It's a festival that's out in the country. It's a throwback style festival reminiscent of the first Lollapalooza—which makes sense because The Melvins were headlining and rural Quebec is stuck in 1991. I hope that's not offensieve to the Quebecois but they're probably not reading my tête carré words and c'mon guys, you have bingo on the television stations, acutal keys to hotel rooms, and you all tried to get me to do B52 shots out of a beaker… which was actually delicious, so thank you.
There's nothing better than getting off a plane and heading to a bar. However, there's definitely a few ways to be less intimidated than walking into a screeching dub rave, cloaked in a language barrier, with torture porn glowering down at you. This is High Tone, a 13-year-old act from Lyon. They're one of those multimedia acts that sync their live music to a visual effects system that's basically describing what's happening in the music. If you've ever seen the Super Furry Animals, you know what affect it can have on the audience. High Tone, though, don't take the cute and cartoony Pete Fowler route. We watched a man get burned alive by scientists all in perfect time to bowel-releasing dub, and after a furrowed exchange we were handed shots of Goldschlager. It was either that or Sour Puss.
Six or seven of those later we hung around and caught Le Catcheur Et La Pute. The next day we were informed that "pute" translates to "whore", and yep, they were DJ whores. A duo with one in drag and one a superhero, these two ripped through every offensive electro (or eléctro) track you would ever want to hear. All you need to know is that they started with Riva Starr's "I Was Drunk" and that was the easiest song on the ears all night. Good work whores!
We could drink on the street. Drinking on the street… in Canada. We wanted to hug every Quebecois and Quebecoise we saw. I don't know if the street drinking is a selling point of the festival, or if the police were asked to look the other way, but walking out of a bar with a drink and smoking on the steps of a church takes any festival from zero to 60 in moments. Either way, we found some food, got yelled at for speaking English (didn't catch much except the words "espèce de salaud") and had a Corn Nuts fight. If only the dépanneur was open…A wake up breakfast, a 30 minute detour, getting lost near the copper mines, 15 drink tickets for $30 and we're ready for a Friday night in Quebec. A handsome gentlemen with fold out lounge chairs and headsets approaches us. Struggling to find some English, the only words he can find to describe his setup are "brain damage." Who's gonna turn down free brain damage? Blindfolded, Tyler and I lay back hoping we don't get robbed or kicked in the crotch and are soon taken to some sort of outerspace interpretation of the movie The Cell. Okay FME, you're freakin' us out. Between the torture porn, the whores, and being made to hear what the earth will sound like when it's devoid of human life, I'd think you were trying to harvest our organs.Speaking of organs, keyboard punk act We Are Wolves were one of the Friday night headliners. We Are Wolves are a great live act and on this night their outfits involved 20-foot high digital skulls on poles attached to their backs. They were basically three Master Blasters on a stage and their sign read "Nous Sommes Loups." Coinciding with the ominous time warp feeling of the festival, We Are Wolves could have easily been from 20 years ago. They wear tiny buttons, they play all vintage gear, and if they were in fact from the past they could have been the first "wolf" band. Alexander Ortiz, the bassist and lead vocalist wears a watch while playing, much like famous early Nineties NFL punter Reggie Roby. They're a little behind the times but they are the darling ambassadors of Quebec and the province loves them.
I remember the Cardigans being interviewed years ago and talking about Japan and how the audience there doesn't chatter during songs, they just wait for the song to be over and a wave of applause and adoration pours forward. FME was just the same, and it wasn't any more obvious than Martha Wainwright performing in a Catholic church. Martha is great; not Loudon Wainwright great but she's more delectable than her bitchy, name-dropping, queen of a brother, and an old church is the perfect place to see her. However, this may not be the case when two young men are 20 drinks deep. Quickly heading outside, I'm douped by my counterpart Tyler. What was sold to me as a high five was actually a clever ruse to get my arm up so I could be hip flipped over the staircase of the church, and all in front of Martha fans.
After rolling around in the bushes, spilling beer everywhere we pop up our heads, Tyler and I got whisked away to some country bar by a lovely bartender/Quebec City lawyer named Caroline and her counterpart Dan who works for the Bloc Quebecois. There's some secret show going on but after a Labatt 50 the size of my tibia and shots of Sour Puss all we remember is the entire bar singing a French rendition of "How Much is That Doggie In The Window?" which was actually "Combien est ce chien dans le fenêtre?" Somehow we got back to the hotel. We remembered that the "secret" act was two men who did a Tegan and Sara thing but with French folks songs. The banter was funny to everybody but us.
Okay, so the Melvins played. The fucking Melvins. The organizers must have known that Melvins fanciers would come from anywhere to support them. The Melvins sit beautifully in the Generation X lisener's idiom. Not only did Kurt Cobain try out for them, but when rejected (he was too nervous during try outs) he roadied for them every once in a while. The Melvins have that built in audience of men who will buy all their albums if only out of responsibility. Luckily for the rest of us their albums are still great, even with the casual and slow removal of vocals over the past few releases. They enter the stage to the famous theme from The Great Escape which is appropriate because they go to work like Charles Bronson, digging a tunnel of sturdy sonic assault. They work hard in their rehearsals and their two drummers, and two new young members tightly grip onto every staccato beat like Pudge Rodriguez catching an 11-inning playoff game. King Buzzo triumphs around the stage like General Patton, puffing his chest out and commanding his army in perfect time. If FME is a holiday then the Melvins are the fireworks. A stumble back to the hotel and a frustrating order of vegetarian pizza later and it's time to hit the Rouyn airport, an adorable little station where the security is light and the flight attendant ticks your handwritten name off on a clipboard as you enter the gate.The word "festival" is offputting. I don't generally get up for the festival season. Here's how they inevitably go down: I wait in a two kilometer line only to have my pack of cigarettes and sunscreen taken away by a rent-a-cop, because apparently I've become very creative with my drug smuggling. Later I wait in another snail line to get my identification checked, get a wristband that means nothing because there's another line to wait in for the beer tent where they check my ID again. Then there's a line in the beer tent to get a drink and they check my drivers license one more time before giving me a nine dollar Bud Light (with lime!) all to finally catch some crap band howling at me from two Dallas Cowboys' Stadiums away. Glad that cost me $400 and lodging. Maybe we can check out the dubstep tent to score some blow that has been hidden beneath some dude's taint. The beauty of FME is the intimacy. On the propeller plane back I fell asleep on King Buzzo's shoulder while drummer Dale Crover looked on. The bands and organizers of FME are fans, not just investors. Maybe next time you're paying ten dollars for a bottle of water, standing in mud, and being asked if you'd like to sign up for a VISA, think about a festival like FME; a festival of tiny proportions but big on substance.