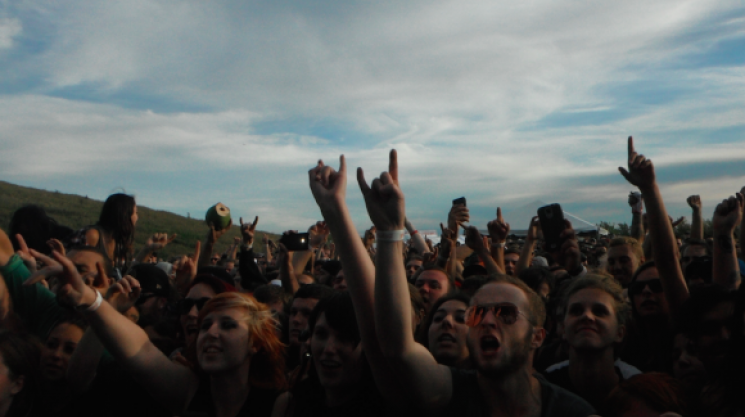 Fri, 09/12/2014 - 08:59 by Natasha Neale
Riot Fest rocked through Downsview Park this past weekend in what was a muddied yet festive event. First off, kudos have to go to the organizers of this third Toronto incarnation of the event, that began 10 years ago in Chicago as a small punk inspired music festival alternative to other larger events. The past two versions took place at the smaller Fort York site in downtown Toronto, a place easier to get to, but with limited space for stage set-ups. This year the more expansive Downsview Park located on the far northwestern reaches of the city allowed for two side-by-side main stages, and two smaller stages.
Friday night rains meant for a muddy start to the festivities on Saturday, yet the rains subsided and the remainder of the weekend was primarily sunny. Despite promoting the event as an Expo as well as a music festival, the few tiny stages offering wrestling and other antics were most often walked by with just a passing glance. Unfortunately some of the clothing and other onsite vendors were also standing solo as crowds marched by. People were there for the music, and that's what they got.
With an age range between toddlers and seniors in the audience, it seems there was something for everyone. The best thing about festivals of this magnitude is that it often exposes people to new music, for those going with an open mind. Yes, there are certain acts people want to see, but in between there are four stages of music that might end up being an unknown surprise. Overheard banter included those there to see Billy Talent, The Beaches, and Death Cab For Cutie, while a whole different crowd had their "must see" list pegged with Social Distortion, Bob Mould, and The Buzzcocks. 
Here's a top five round up of the diversity of acts that performed.
Punk's Not Dead
Toronto's PUP had their set moved to a later time slot due to their inbound flight being cancelled. Luckily the side stage programming was scheduled to end before the main stages, allowing for flexibility for mishaps. They told the audience they were jet-lagged, but hey it's rock n roll, and the show must go on. The rising hometown heroes kicked some serious ass, had a non-stop mosh pit going, and lead singer Stefan Babcock earned some kudos for his simultaneous stage diving while guitar playing crowd surfing. Having the audience singing along to their first single "Reservoir" just proves the fact these dudes are going somewhere as fast as they strum their chords.
Old School Punk
The Buzzcocks are one of the pioneering punk bands to come out of the late 1970s UK movement. Although not as known as The Clash or Sex Pistols, they left their mark on the scene with such classics as "Orgasm Addict" and "Ever Fallen in Love". Original members, including Pete Shelley ("Homosapien"), came on stage in a cloud of haze and wall of sound, and didn't take a break until they walked off. They're currently on tour throughout North America, putting smiles on the faces of both first-time and long-time fans. 
Rise Surprise
Rise Against took stage with an immediate force, and didn't stop until they called up members of Alexis on Fire and played a two-song tribute to the Ramones. Formed in 1999, the band now qualifies for nostalgic retro, and their fans showed up in droves to hear tunes from their debut album The Unraveling to the newer songs from their 2014 release, The Black Market.
Crunk
Die Antrwoord's Afrikaans slur rap took many rockers by surprise. Ninja and Yo-Landi incited the crowd with calls for rebellion, as DJ Hi-Tek kept the beats banging. Hooded dancers were reminiscent of Pussy Riot members, that might not seem that far a stretch considering a couple of them will be heading up a panel session in Chicago this weekend. The scantily clad trio looked like they were fulfilling the side-show freak circus vibe that the wrestling was failing to do. Again, not punk, but sometimes the right attitude helps.
Show Stealer
Without a doubt, the most flamboyant show of the weekend goes to The Flaming Lips. Wayne Coyne and company are known for the exuberant stage presence, and they lived up to that reputation with mega-size blow up dancing creatures, a specially created Riot Fest inflatable that was tossed into the crowd to dissemble, and of course the trademark balloon crowd surf that singer and showman Coyne uses to crowd surf without any chance of getting his privates fondled.
Top Three Punk Covers
Rise Against doing "Lobotomy" by The Ramones
PUP tearing up the Dead Kennedy's "Too Dunk to Fuck"
Flaming Lips tripping out to "Lucy in the Sky with Diamonds"
Top Three Crowd Surfers
PUP main man Stefan Babcock
Rise Against vocalist Tim McIlrath 
Die Antwoord's rap-rocker, Ninja
Headliners
The Cure and City of Colour (Dallas Green) closed out each of the two nights respectively, and also provided a chance for those not into the mellow sounds to clear out early as well. It's difficult to associate either one with anything remotely "riot," but Robert Smith pointing his hand toward the nearly full moon silhouette while singing "The Killing Moon," did add some effect to their nearly two hour (too long) set. Kudos to the organizers for closing the festival with a Sunday night showcase of Canadian talent (Metric was programmed prior to City of Colour), but next year perhaps some CanCon punk might be in order. Let's leave on a high note, and not worry about possible "riots." This started as a punk oriented festival. Let's not lose sight of that vision too much.
Repeat Riot
For those who missed the mayhem in Toronto, it's being repeated again this weekend in Chicago, and next weekend in Denver, with many of the same big names, along with added local acts.