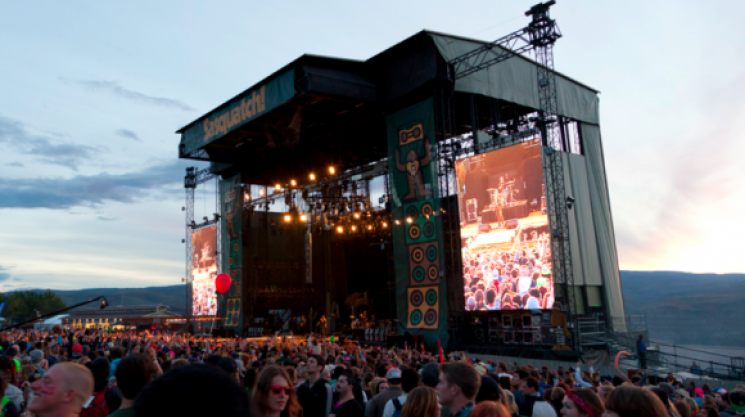 Thu, 06/06/2013 - 21:55 by Natasha Neale
We asked a couple of guys, Geordie MacDonald and Shayd Johnson to check out the Sasquatch! Music Festival at The Gorge—an internationally acclaimed concert venue carved in the basalt cliffs high above the Columbia River in Quincy, WA. Read about their 4-day festival journey; including what they consumed (pretty much just a bunch of beers), what musical acts they saw, and who they thought was the best show of Sasquatch! 2013.
Sometimes when I camp at a music festival such as Sasquatch, I'm struck by the humbling idea that man is better than we give ourselves credit for. That we are benevolent towards our brother and, where a catastrophic, typhoon-wielding famine-asteroid to strike down from the heavens at that time, that we would group together and thrive. 
This is generally a feeling that passes 2-5 minutes after its inception, crippled in the face of selfish beer plundering and general sloth that tends to litter these things. 
DAY 1
Items consumed: (5) American Beer (1) Hot Dog 
With an undoubtedly slushy start to the first day, hopes for a tropical weekend were running low, but spirits were higher than I had anticipated. Waking in the early morning to a camp undulating with strangers fashioning tarp roofing and other innovative shelters for other strangers, I was once again struck by our promise as a successful post-apocalyptic haven. 
The governing force of nature was clearly pleased with our teamwork and rewarded us with some sun for our trouble. With our basic living situation cast, it was time to adorn our homes with the things that make us human. Before the sun hit the peak of its arc through the blue sky, seas of tents were adorned with sex dolls, patriotic fabric of all shapes and sizes, lights, and sound systems. We congratulated ourselves smugly, gleaming from the heat, and got drunk, enjoying the cleanest version of our bodies. A version that would degrade consistently over the next 3 days. Because festival showers are for suckers. 
There exists a road between the Sasquatch camp grounds and those of the festival that will never garner a kind word about it. A road so rough and turning, so packed with squawking neon native-american impersonators that I wonder if perhaps the location of Moses' Exodus wasn't grossly miscalculated. 
Nothing good happens on this road, but it bears mentioning as it is truly the bane of the festival. A purgatory in which you realize that the band you came to see is currently taking the stage. 
While the road sucked song by song from the Japandroids energetic if slightly muddy set, we caught the last few tracks and posted up for Father John Misty. When Joshua Tillman, the voice behind FJM took the stage, I felt like I was watching a ghost. The slender bearded figure jolted and swaggered like Jagger in his prime, but beyond the dance moves, clad in a classic americana-style shirt and pants combo, was Jim Morrison. From the ephemeral asides to the audience to the coy almost shy demeanour, this guy felt like I can only imagine music felt 35-years ago. 
Other highlights for the day included Vampire Weekend that, while their stage presence wasn't really there, you can't really screw up indie college rock, and The Arctic Monkeys, playing a clean and distinctly dark set on the Sasquatch main stage. The real winner for day one however, was Macklemore and Ryan Lewis. I've never been 100% on-board with the Seattle rapper, but the vulcanized passion with which the duo lit up festival was undeniable. Bringing nearly every featured artist from last years LP release, the heartfelt honesty and sincerity that fuelled Macklemore's first performance to his old stomping grounds was electric. I still probably won't listen to his album though.
DAY 2
Items consumed: (1) Bladder of Cheap White Wine (1) Nacho Fries 
In ancient Greece they used to call the second day of Sasquatch "The Day of Wine." Well, maybe not, but thats what it is. Strap a bladder of the stuff to your belly and pretend you're preggo or just plain fat and you're set for the day. But just as the Greeks understood that, to maintain an empire, you must not spread your resources too thin. Transporting a bladder of booze around all day is a burden, like carrying a baby with no bones, so park yourself at the most promising stage and navigate from there.
Nestled within the bosom of the green, natural amphitheatre, the main stage was an obvious choice for my home base. Especially because Black Rebel Motorcycle Club was up next, a filthy number that I knew I had to see. 
While seeing Black Rebel Motorcycle club at 4:30 in the afternoon is a bit like beer for breakfast, the whole bizarre juxtaposition of the thing makes it a pretty unique and wonderful spectacle. Especially if you had beer for breakfast. The band played for a little under an hour, with the cool standoffishness reflective of their namesake, making even the most gleefully face-painted attendees feel briefly as if they had buried a man in the hardpack of the Utah desert. 
My first departure from home base was a complete and utter failure. I've been lucky enough to see Devendra Banhart a few times throughout his musical career, and I've come to expect a certain mischievous zest from the San-Fran based artist. Where, only a few years previous, had been a threadbare wild man—a king of the hipsters—there remained only a whisper of the man I had known. The meagre frontman, barely audible above the music, was clad in a large safari-style hat pulled so low that I can't be sure if Banhart was there at all. I endured three songs, seeking green pastures. And I found them. 
Making haste back to the base, I caught the last of Andrew Birds set, that while not as fraught with cantankerous gramophones as in previous performances, was laced with the meticulous spiderwebbing melodies that I love him for. 
The rest of the day saw a series of solid performances by the synth-powerpop group Holy Ghost! and Surfer Blood and a particularly abstract appearance by Akron Family as well. I would love to tell you that Tame Impala had an amazing set, but after nearly two hours of technical difficulties and a stage-change, I was forced to abort to see *dun dun duh DUH!* THE BEST SHOW OF SASQUATCH 2013! 
I often get a little nostalgic when I listen to Empire of the Sun. After all, it as nearly 6 years ago that "Walking on a Dream" fell out of the sky and drowned out every other song of the summer. With that in mind, I thought I'd attend the show "for old times' sake," and because their new single was half-decent. What I got instead was one of the most mind-blowing, light and costume shows that I can recall. The thing played out like a David Bowie wet dream, with each song (or act) conjuring a new set of backup dancers, clad in form fitting outfits and uniquely devised sub-human headgear. As the show progressed in a swirling mix of smoke and synthesized aurora, Luke Steele's crown grew ever larger, hinting at the fact that his partner was more akin to the Boney M inspired backup dancers than the lead man himself. 
With the largest crown in place and the smoke so thick that the alien landscape projections were almost completely lost in the haze, the show reached its pinnacle in a burst of colour and the band played their closing song, 'Alive'. In those final moments of the show that can only be dubbed "Dune: The Musical," as Steele Smashed his ivory guitar to pieces, beads of makeup and sweat running down his face, I was left wondering idly: "Should I have taken drugs for this?" 
DAY 3
Items consumed: (5) American Beer (3) Bladder of Cheap Sangria (1) Mysterious MDMA Capsule
One characteristic of Sasquatch 2013 that I couldn't ignore was its absolute saturation of people. Don't get me wrong, it's always packed, but this year was different. Like China's too-many-people-too-little resources sort of thing. From stow away friends-of-friends wandering through the camp sites and offering any kind of tender for a ticket (literally ANY kind of tender) to decimated bathroom facilities and most notably the driest drug spell that anyone could remember.
Given the conditions, I had resigned to getting drunk for the major of my stay, but as good drug dealers always do, they emerge when hope is hopeless. Doling me a couple hits of molly and a guarantee that if they didn't work, I could come beat him up, he fled into the coral reef of Mountain Equiment Co-op pyramids. 
The first half of the day slipped by quietly with a relaxing and rather unengaging show form The Tallest Man on Earth and a sweaty sing-along love fest from the colony known as Edward Sharpe and the Magnetic Zeros that culminated in a bizarre "audience storytelling" session in which the closest members of the crowd were encouraged to tell a personal story to their fellow concert-goers while "home" played in the background. It turns out we have very little in terms of compelling stories to tell each other, but it was a unique concept just the same. 
As the sky turned purple and the colours got brighter, and my pupils got bigger, and the grass got softer, Earl Sweatshirt played out the last of his surprisingly crisp set. With a characteristically gritty crew coupled with a stage that had become notorious for poor sound, the recently re-discovered rapper was as impressive visually as he was musically and in some offhanded way, felt like a perfect opener for the next act to set up: Vancouver's own dark synth-pop princess, Grimes.
I'd been told not to expect a lot from Grimes, that she often got too high to finish her sets, that the type of ephemeral vocals that make her so good can't be recreated live. But they were wrong. Sounding just about as close to record-perfect that I can imagine, Grimes laid to rest any reservations that had been planted in my head, playing a dark and ambient set that left me feeling higher than I should have been. 
Capping off the night was Mumford & Sons on the main stage. I've always been a passive fan of the group and was excited to see a live performance from a band that has been both hailed and crucified for their overwhelming love for crescendos. And they were great. But let's be honest, it's really hard to tell their songs apart and with nearly 2 hours of performance time, it's hard to call it anything but too much of a good thing. 
DAY 4
Items consumed: (?) Residual hard bar from nearly empty bottles (1) $13 beer from the festival grounds (1) Bun with BBQ sauce
The old adage that "all good things must come an end" is an annoying one, but it does hold some water. In this case, it held an entire skyful of it. The final day of the festival feels very much like the morning after a one night stand. A time to recall your actions, pray for few photos and get the hell out before anybody asks your name. You may not believe that nature operates as a cohesive or conscious force, but it sure felt like a pat on the bum and a gentle voice asking us kindly to "stop shitting all over me and go the eff home."
Despite the chill nature of the final day, it held some remarkable talent in the form of Scotland's second greatest export, Chvches. Shortly after developing an unshakable crush on the lead vocalist who bears a striking resembling to any Audry Kawasiki painting, I fell in love with the rest of the band. While all of the tracks have a similar thread, the upbeat setlist was enough to keep the soggy clothes and headache from overtaking my psyche. 
It is rare that I (or anyone I know) will take a moment to surface from the sea of inebriants and music at a festival to watch a good comedy show, but if there was ever a time for it, it's on Day 4. The steady roll of comedic first aid applied by acts like Tig Notaro and Mike Birbiglia were much appreciated by one of the only crowds that you could catch sitting cross-legged in the Chupacabra Tent. 
The afternoon was rife with a mixture of shows that all too closely paralleled the shitmix of bottle ends that I had had for breakfast, numbering among them The Lumineers, Alt- J and Toro y Moi with pleasing but surprisingly down-tempo performances, as well as Cake, who proved their status as a show pony by playing songs from their new album that nobody knew. Contrasting sharply against pleasant sleepers was Imagine Dragons, a band with an unparalleled boner for drums both large and larger. While the set was engaging, the showmanship felt a little forced and as I turned to leave through the crowd, it was as if the guy beside me reached into my brain and plucked the words from its pink folds: "I'm not buying it." 
And thats it. While the few remaining bands played out their closing songs, we conceded that this was indeed the end of another visit to Never Never Land and that we should probably hit the road before the rest of the Lost Boys get too restless. Sneaking quietly back to camp and rolling past the shrapnel of the weekend, people covered in dirt, and tents that weren't even worth bringing home, it all kind of felt like the end credits to a David Lynch movie. Wonderful and weird, richer than rich.