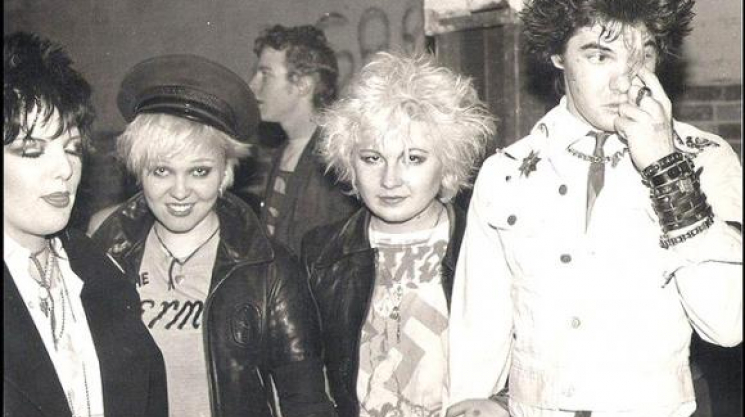 Mon, 06/22/2015 - 11:40 by Natasha Neale
Darby's Girls: The Iconic Women in Punk Who Befriended and Followed Darby Crash
Darby Crash planned his short life and even—especially—his death to be the stuff of punk legend. Maybe the saddest fact surrounding his death wasn't that it was by suicide, or that he was only 22. Maybe it's that the goal he set for himself in dying an unforgettable death turned out to be a futile attempt. It didn't make him the legend he set out to be: destiny was nasty to Darby Crash that way.
Darby Crash was to Los Angeles's punk scene what Johnny Rotten was to London's, or what Richard Hell was to New York's. Crash's band, Germs, helped usher in the wave of raw, frantic punk. Born Jan Paul Beahm, he assumed the identity of Bobby Pyn before taking on the Darby Crash persona, and started Germs with his high school friend, Georg Ruthenberg, who changed his name to Pat Smear. According to a profile on Crash in Dazed, he became fascinated with the power of words to manipulate people, a concept he learned in a Scientology-centric class and applied to rock and roll. He, along with Smear, also became obsessed with the Charles Manson Family. After getting kicked out of school for paying a bit too much homage to the cult, Crash and Smear formed their band, ultimately settling on the name Germs because, as they explained in an interview, they made people sick.
Crash embodied punk's most disturbing, in-your-face elements. He used Germs shows to purge his emotions as he sang and screamed, sometimes cutting himself or collapsing under the weight of the daily drug cocktails he took. Meanwhile, Crash lived out his Manson Family dreams by structuring devoted fans of the band into a cult-like group. This entourage treated him like their leader, providing him with food, transportation, drugs, and money. The group even branded themselves with cigarette burns. The sect was mostly female, which was perhaps part of Crash's desperate attempt to hide the fact that he was gay. There are a few women that surrounded Crash that stand out, first and foremost because they also made such valuable contributions on their own in punk. These women also played stronger roles than the other cult-like followers. Some were personal friends more than "fans," some were part of the branded circle but went above and beyond by supporting Crash with their own power and connections on the scene. These particular women were punk supporters that helped boost Crash up, whether they realized it or not, all with faith in him that he'd help herald their beloved genre.
Boundary-pushing, ambitious and talented enough to warrant her own cult-like entourage, Alice Bag crashed onto the punk scene. Raised in East LA and of Mexican descent, Bag was a member of one of the city's first breakthrough punk bands, The Bags. Similarly to Crash, she developed a reputation for her explosive stage presence. For her music, Bag drew from suffering and angst that many can relate to, like seeing abuse at home and being ostracized by other kids. To this day, Bag is an accomplished writer, having published her memoirs and interviewing other iconic women in music on her blog. She frequently speaks out for women's rights and rallies for improved education for Spanish-speaking children in the United States. Bag's support of Crash seems to have been on an intellectual level. On her blog, she writes that their relationship was built on long conversations on philosophy and language. But their esoteric bond faded over differences in how they handled their fame on the punk scene. Around that time, Crash had started the cigarette branding of his "followers," and Bag refused the burn, seeing the divide between their friendship and his power trip. But Bag stands by Crash's intelligence and gift of making people feel like his family.
Trudie Plunger and Hellin Keller were undeniable icons on the punk scene, and also devoted to Crash's cult of personality, even if they viewed it as all part of the everybody-party, all-punks-united atmosphere of the time. As their friend and roommate Trixie Treat put it in a quote from We Got the Neutron Bomb: The Untold Story of LA Punk, "No Germs burns for me. We Plungers preferred razor slashes." Those Plungers she names were the popular girls in LA punk: Trudie, Hellin, Trixie, and Mary Rat. They lived together in a house that became known as The Plunger Pit. Bands, promoters, writers, and fans encircled the Plunger Sisters because they knew everyone, threw parties constantly, and loved and knew the music. The Plunger Pit became an important headquarters for LA punk. People met, connections were made. The Plunger Sisters were the facilitators of this punk rock networking. In a time before the Internet, people turned to them to find out what bands to see and what shows were going on. They were the curators of the scene, turning people on to the most exciting acts. And they believed Crash was one of those important artists.
Plunger went on to marry K.K. Barrett of the band Screamers, and she continued to do notable work in music, helping to open a hip hop club in LA as the focus shifted from punk. Hellin Killer gave her input to Rodger Grossman's  "What We Do is Secret," a movie about Darby Crash. In an interview following the film's release, she revealed that Crash was one of the people closest to her. "I was like a fifth wheel with that band." Killer is still friends with the other, surviving members of Germs, and it's important to her to see Crash's legacy carried on.
Another close friend of Crash's who was a pillar of punk in her own right was Pleasant Gehman. Tight with infamous scene-makers like the Plunger Sisters, Gehman was a party girl on the scene who often palled around with Crash and Pat Smear. But she was more than just a companion in mischief. Gehman had perhaps the only other party house that could rival the Plunger Pit in notoriety: Disgraceland. Her house was internationally known for being a crash pad for seemingly everyone that mattered in punk, skateboarding, and beyond. Disgraceland's nightly parties were like the nucleus of LA's rock realm. On top of her home serving as a sort of welcome centre for punk musicians, providing connections and her own input on bands and shows, Gehman had her own band, Screaming Sirens, and edited a fanzine called Lobotomy. Ever since, her writing on music and culture has been prolific, with a long stint at LA Weekly and several books under her belt. She also booked bands for some of LA's most iconic clubs. As were Bag, Plunger and Killer, Gehman was tight with many game-changers in LA punk (being one herself), but counted Crash as a "partner in crime."
Crash often spoke of his "rock n' roll suicide," but friends and followers didn't take it seriously—which is understandable, considering the darkly debaucherous ways of the community, the obsession with fame, the drug use and, presumably, the empty threats. But he meant it, and he orchestrated it with a characteristic flair for the dramatic. He organized a reunion show of the already disbanded Germs, and they took the stage once more on December 3rd, 1980. That night, with another close female confidante named Casey Cola, Crash overdosed on heroin. Cola was revived, Crash could not be. It would have been a disturbingly, tragically memorable death, except for one cruel twist: a mere twenty-four hours later, John Lennon was murdered, completely overshadowing Crash's suicide. A lot can be said about the sad circumstances that made Jan Paul Beahm feel like he had to end his life to make it legendary, but to focus on the light at the end of the (long) tunnel, his entourage of iconic women, namely Bag, Killer, Plunger and Gehman, that believed in him during life continued to do so after his death. They've helped devoted punk fans keep Crash's legacy alive and kicking.
Photo: Darby Crash with Lorna Doom and Dottie Danger. Source: Reddit
Courtney Iseman is a New York-based fashion and music writer. More of her work can be found at CourtneyLIseman.com. Follow Courtney on Twitter at @SobbingOnFifth