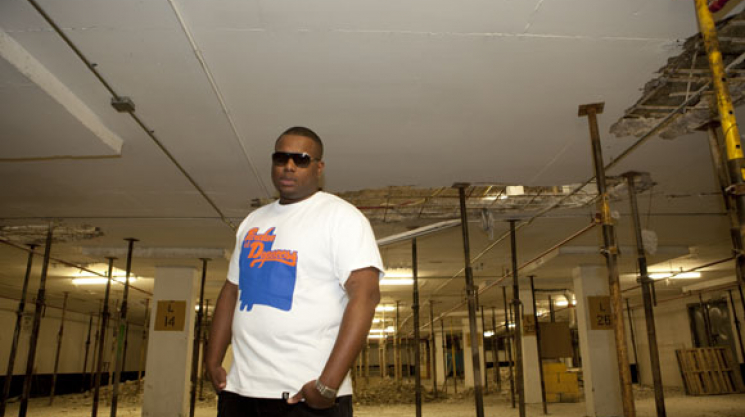 Fri, 12/16/2011 - 08:03 by AltaGrade
THE BURDZ AND THE KEYZ
The only other thug I know who got expelled from elementary school is my cousin Andrea. She got busted for bullying some of the girls in her kindergarten class, which brings me to Toronto, ahem, Markham-based hip-hop producer, Burd & Keyz. Burd, real name Andrew Liburd, was persuaded to abandon elementary school while he was still in Grade 7, along with co-conspirator and childhood friend, Durty Keyz. It speaks volumes about an education system which systemically abandons it students, uprooting and displacing them into foreign environments. Hell, my cousin never did recover, nor did she learn to leave her snubnose back at the crib.
Burd & Keyz intend to drop their (well, his, since Keyz is now deceased) premiere anthology of hip-hop-influenced jams in mid-November. I write "hip-hop-influenced" because Burd handles all genres of production, from R&B and reggae to dance and SouthSide-esque (note, SouthSide reigns over Lex Luger, according to Burd) trap n**** beats. Keyz of Life, a sixteen-record mixtape/album, to be distributed for free via Burd's blog, includes collaborations with established Canadian emcees like Kardinal Offishall, as well as with younger T.O. cats, T-Minus, Luu Breeze, and Rich Kidd, among others.
You're releasing Keyz of Life in November. What's the exact date?
We're still trying to fine-tune the date. We're trying to make the promo on-point, so when we release it everyone knows about it. But it'll probably be in the middle of November, like the 20th or something like that.
What does the project mean to you? What's its significance?
It's something [Keyz and I] promised each other a long time ago. One day we were riding in a car together, coming home from work at Enterprise. We worked at the same place. We were talking about our game and we were like, 'We got to put out our own project before we go,' because no one knows how talented you are until you put something out, you know? Keyz agreed, but we were too busy making singles for other people, working on other people's projects, that we couldn't really focus on our own shit. Now and then, we'd stash away a couple beats for our own shit though. Like, 'Yo, that was a special one.'
What were some of the projects you were working on?
We were working closely with Luu Breeze, making sure his shit was coming out good, trying to get him established. He was already doing big things. I was mostly working on my own music too, trying to get records placed, market myself.
And the album, Keyz of Life, it's like a tribute, right?
Yeah, for sure. Some songs are a tribute, some songs are just in the spirit of what we're trying to convey on the whole album, which is overcoming situations, reminiscing, trying to stay positive and move forward. Not all of them are mushy, there's many different vibes. There's some unexpected genres.
Like what, reggae?
There's reggae influences, there's dance influences.
I know there's R&B and hip-hop.
R&B, some East Coast influenced hip-hop records, and some Southern beats too.
The beats are pretty diverse. On one hand you're sampling J Dilla, and then you've got records that sound like Lex Luger. Where are you trying to take your sound?
I'm definitely trying to tap into different categories. R&B smashes, dance smashes, everything.
I guess that makes you available to a lot of different artists.
Exactly, spread the network.
Can you share a classic Keyz story with us?
Umm, well, we both got kicked out of elementary school. [laughs] We were in school together from kindergarten to grade 7, and then he got kicked out. Me and him were just causing too much ruckus in the school. The teachers were complaining so much.
What grade was this in?
Grade 6 or 7. Going into grade 7, Keyz just disappeared. He didn't even tell me when he was dipping. I ended up looking for him, like, 'Where the fuck is this guy?' [laughs] Three weeks go by and I still don't see him. Then I see him at church, and I'm like, 'Yo, bro, where you been, bro?' He's like, 'I transferred to this school at Bathurst and Finch.' So then one day in class I threw an eraser and hit some girl in the eye, the girl started crying, I get kicked out like Dennis Rodman. [laughs] Straight ejected out the fucking classroom.
I didn't know it was permitted to get kicked out of elementary school.
The school came to my parents with a suggestion, like, 'Maybe you should think about transferring and get out of here… because your kid's retarded.' [laughs]
That's hilarious.
So then I got transferred to the same school Keyz did. Our parents' goal was to separate us, but they didn't communicate that with each other, and they sent me to the same school. When I got there, I'm getting introduced as a new guy in class, I walk in the classroom and I see Keyz right there, looking at me like, 'What the fuck?' [laughs] He's sitting there wearing a cardigan and a turtleneck. I was like, 'What the fuck?' He was wearing like a church band insignia. The colors of the uniform were so gay; burgundy, gray, and white. And so we used to watch wrestling a lot, and there was this kid who always wanted to be our guinea pig and get experimented on. One time we gave him a 3D, you know what a 3D is?
No.
One guy lifts him up, and the other guy gives him like a 'Stone Cold Stunner' up top, and slams him on the ground. We did it to the kid and he wasn't moving. They had to call the ambulance.
At school?
Yeah.
The new one? [laughs]
Yeah, I got suspended for like a day. [laughs] That school went into high school. I was like, 'There's no way I'm going to keep going to this school in high school.' I was like, 'There's too many honeys up in Markham.'
Which school in Markham?
Father Michael McGivney.
Is that in the same area you grew up?
Yeah, like 14th and Macauley.
Back to the mixtape for a minute. You got Kardinal, Luu Breeze, who worked with Game, Rich Kidd, T-Minus. These are big names in Canada, as well as in the States. How did you develop these contacts?
Through mutual respect. We see each other out at different events. We try to link up with each other, collaborate. Over time you build contacts, you know? So when the time came to do a project, I just asked Rich Kidd and he was like, 'Send me the beat.' I sent him the beat, and he banged it out. T-Minus, same thing. I hollered at him. Everyone was down for the cause, what it was I was trying to do. They all understood.
Did I miss anyone with those names?
A-Game, Divine Brown, she's amazing, Nickelus F. There's a lot of good people, man. I was trying to get Andreena Mill on there last minute, see if she can make the cut.
What's your favorite record on the project?
I think my favorite one is this song called 'Losing My Best Friend'. 'R.N.T.' too. It's gangster. It's so hood. Raekwon needs to jump on there. [laughs]
He's got the Canadian connection now.
I know, only a phone call away.
How many tracks on the project?
Sixteen, with the interludes and all that. It's grande.
Will there be a hard copy?
Yeah, we'll print some hard copies for sure. Test the streets with like 2000 or something.
And you wrote the hook on, 'Keyz of Life', the record. Did you do any other writing, or perform any other roles on the project, rapping, or even writing for other people?
Writing for other people a little bit. I need to try doing that more. I'm just too busy working on my beat game right now. I feel like I'm going to do that when I get more millions. [laughs] When I have more time, you know? Sit back and just Babyface the game.
Were you classically trained? Do you play any instruments?
Most of the time I get session players. I direct them on how I want it to sound like. Or I'll do some of it, then invite someone in to fill in the gaps, explain to them how I want it. I was trained in music for like a year or two. I can read piano, but when I'm on Fruityloops I can make it look like I play, just by the notes. Keyz was like a level 7 classical piano player.
How many levels are there?
I don't, between 8 and 12 maybe. Yeah, one more and Keyz could have been teaching.
Where do you work, a studio, or what?
I work out of the crib. My setup is sick now. I'm happy with it. I'm about to go in.
What's your equipment?
Fruityloops 9. Yorkville Monitors, 12".
Can you tell us about The Stockyards restaurant? Your friend was raving about it.
[laughs] I didn't get to try it myself. We were on a mission to find it but we got lost.
You've never been there?
My boy was talking about it. He was going off about it. He said it's like the illest sandwich ever.
What's the plan for releasing the project, any more videos, listening events, concerts, etc.?
Yeah, we're planning a concert right now for the winter, probably in December, like 16th or 19th. We're booking the date now. We still need to confirm it. We're collaborating with Tika Simone on that, making it for charity. Keyz' parents have different charities they're affiliated with. We're going to have performances by some of the people on the album, maybe some other surprises.
And what about after the project?
Pushing the project, and then I have my own project. My version of Keyz of Life called Burd's Eye View.
Great titles. Will ever you become just Burd, rather than Burd & Keyz?
I don't know. I think it's ride or die with it. Burd & Keyz is pretty smooth.
Photography: Neil Champagne