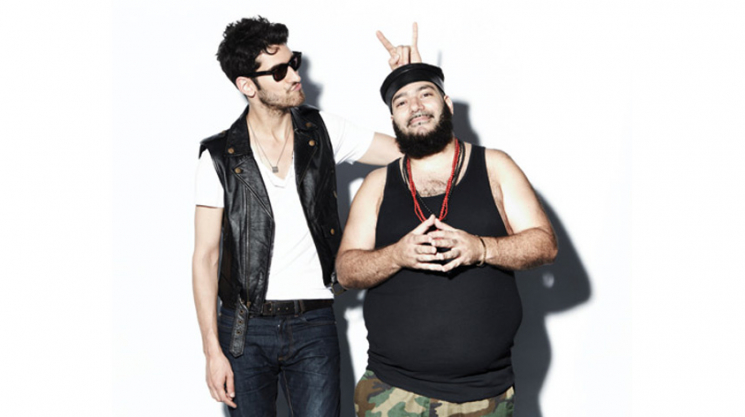 Wed, 09/08/2010 - 00:00 by AltaGrade
On the cover of this issue is Dave 1 and P-Thugg from Chromeo. Being retro in the Western world ain't easy. Having busted through the plexiglass window of sophomore slumpery with the hit LP Fancy Footwork, Chromeo are sticking to their guns—not re-inventing themselves, but rather sticking with the sound that they hold so dear. The new record, Business Casual, is a classic Chromeo record (yes, by the third record a band's sound can be classic) that will delight both fans of their earlier work and fans of electro funk pop from decades past. ION was lucky enough to have Love & Electrik, a young and popular act of a similar genre, interview Dave1 and P-Thugg. Never again shall these two bands be in the same room, as any catastrophe would drain the Canadian funk pool down to zero.

So we got to listen to your album Business Casual. What was your inspiration musically on this record compared to previous records?
Dave 1: I'd say we were listening to a lot more classic rock—late Seventies classic rock, soft rock, Toto, Boz Scaggs, but I mean…
P-Thugg: Still a lot of funk, but the soft rock kinda gave us a bit of a new direction.
Dave 1: There's also songs that sound like nothing, kind of. "Don't Turn the Lights Out," to me, the only influence was, like, maybe Sade for certain melodies.You guys are both spokespeople for Bushmills whiskey. Do you drink it dry or on the rocks?
P-Thugg: On the rocks.
Dave 1: It's actually quite good. I don't know much about whiskey so the fact that I can drink it… I mean, here's the thing, when you're a band like us, and you're not on radio and you're not on mainstream television, there's only so many ways to finance a tour and also get any kind of promotion money. I know a very traditional sort of indie minded person might think that's kind of a sellout thing, but that doesn't really mean anything in this day and age. How I see it is like this: record companies give out these new deals where they have your publishing, your merch and touring rights and they give you this huge advance. We said no to that because for us that's important. That's ours. For us, I feel like if you sign that deal you're just as much of a sellout as someone else who licenses something to a commercial. I mean, I would feel more like a sellout if the record label was making money off our live show. I'm happy to talk about this. We actually got a couple
comments. I mean, you don't see us drinking. There's nowhere you see us drinking. It's not like, "Whoa, soo good Bushmills." You don't see us drinking it anywhere. The pictures are just cool photos. We had all the approval of every artistic dimension. It's about friendship. Every time they have a little clip of us we're not talking about Bushmills. Like there's no mention of us doing anything with their product.
P-Thugg: It's kind of a win-win situation—the three-way win-win. The Bushmills people win, we win and the fans win. We get to put on a better show.
Dave 1: We put all the money back into everything, the videos, the album. We reinvest back into stuff so that everyone benefits.When you first recognized success back in the She's In Control-era, are there any regrets or things your would do differently?
P-Thugg: The whole thing! [laughter]
Dave 1: I listened to it the other day and I mean, it was dope, it was alright. There was no precedent for that back then. Sometimes I look back and I'm like, "Ugh, the artwork. Ack it's terrible." But, like, it's our first album.
P-Thugg: We were still kind of looking for our sound.
Dave 1: We had no managers; we didn't know what a booking agent was. She's In Control didn't blow up. It was pretty much a failure at all levels. But we had "Needy Girl," and "Needy Girl" was like a musical passport. That song went all around the world and DJs played it everywhere, but there were no remixes on She's In Control but one— actually lousy one: Paper Faces.
P-Thugg: Our best remix was two years after.
Dave 1: The label put all their money into getting a DFA remix for "Destination Overdrive," and they were like, "We spent everything" and we were like, "Oyyyy." So it was a tough learning experience but I look back and actually in a way I'm proudest of what we did, 'cause it was just me and P, schlepping everywhere. Just the two of us.
P-Thugg: Recording everything, mixing everything…
Dave 1: Now that I look back, our band sort of chronicles the coming of blogs or YouTube. When we came out with our first album, MySpace didn't exist yet and YouTube didn't exist yet. Our "Needy Girl" video was almost one of the first viral videos… but people had to send a crazy link. It's weird 'cause we kind of saw all that happening. DJs were the first people to support us. At first that's really how it got around. With the first album it was the DJs and a snowboard video. So many kids learned about us through that.How many videos have you guys done with Surface to Air?
Dave 1: Two. I like Surface to Air a lot. We owe a lot to them—they're kind of part of our image. We collabed closely with those guys. The logo was them, the legs were their idea, the album covers for Business Casual and Fancy Footwork was them. The guy who owns the whole company is a good friend. A lot of credit must be given to them… we have fun with the videos but our videos are not very self-indulgent, it's really a service. I mean, I have fun, but I really hope that the millions of people that watch the videos, like "Night By Night," had more fun than me. We see it as something to really show people a good time.
How does it feel to have such an influence on young musicians?
P-Thugg: It feels great, especially when we get questions, you know, about production with people really interested in what's going on behind the scenes… more specifically asking me about the talk box or the synths we use. It's very rewarding, just as much as being in front of a sold-out crowd dancing.
Dave 1: I agree with P. It's really humbling, and we talk to musicians all the time and give advice and P's geeking out with all the guys and stuff. I feel like, at the same time, when the smoke clears, I hope that at one point people realize that we were one of the first to do it—as far as the Eighties funk. Obviously there's Daft Punk—they hinted at it. But in terms of really trying to rehabilitate the Rick James, the Hall and Oates thing, the squiggly synths and stuff… you know, we were some of the first. Not that we want a special achievement award or anything, but that recognition feels good when we get it. Even at our shows when we first started, P having a synthesized voice was a curiousity. He would go, "What's up?" and people would be like, "What's that?" We never get that anymore. Now, people barely react. But back when we started, it was like. "What's that? It's a tube! It's a robot! It's a guy!"
What was it like collaborating with Yo Gabba Gabba! and writing a song that was kid friendly?
Dave 1: P always answers the "What was it like?" questions, but another thing we should clear is that we didn't write that song. Believe it or not, they have their own songwriter over there. So all the songs for Yo Gabba Gabba! is like one dude. I think his name was Ken Lee, this Asian hipster guy with, like, big glasses. He's dope. He writes all the stuff and sent us, like, three songs, they were like demo quality so we took the songs, picked one and made it into a funky Chromeo thing.
P-Thugg: All three of his ideas were actually very compatible to us. So he had you guys in mind when he was creating the tunes?
Dave 1: Definitely, especially the one we picked. A couple of the songs they might have had already sitting on the shelf, but that one was already very funky.
So Dave, you're earning your PHD in French literature and now teaching in NYC. How do you manage to balance this with music and what's it like when students recognize you?
Dave 1: I don't really know. You need to ask my students, but I think it's kinda funny for them. I don't think about it when I teach class because there's so much to do. It's tough balancing them. At the same time, with a band, you have time when you're not touring. Writing music for us luckily comes fairly quick. And the way we split the work, P can do a lot of stuff in my absence and then I can come in and we can do binges. Hopefully by the next time we do an interview with ION I'll be a full-on professor.
Have you ever taught in your leather vest?
Dave 1: I've worn other leather jackets, but that one is a little too sleeveless, you know?
Chromeo has been around for eight years, which dismisses any kind of novelty act assumptions people might have about you. What are your thoughts on that issue?
Dave 1: It's understandable. I mean, look at what we look like. This guy's got a tube in his mouth; I'm talking about chicks. I mean, obviously I'd have my suspicions too. But I think that Fancy Footwork kind of dispelled that. When we started we just looked at the White Stripes. I mean, Jack White's wearing red pants, he's got swirls everywhere, he does like retro music too. How come nobody thinks they're a joke band? They've just been doing the same thing and the image is über consistent. Maybe subconsciously we tried to apply that. And if you look at what we're doing now, the legs everywhere, the chromed out logo everywhere, everything is consistent. We're trying to create a universe that's between us and our album covers and our lyrics and theme. The more you do that the more it makes it harder for others to imitate you. That's why, by the way, you can't imitate Jack White, Like what are you gonna do? I mean, who can walk around imitating Jack White? He's untouchable. He's the only guy who wears the red pants, sings the way he does, and has that retro sound and crazy artwork. So I think it's a cool model for us to follow. That's what leads to credibility in the long run.