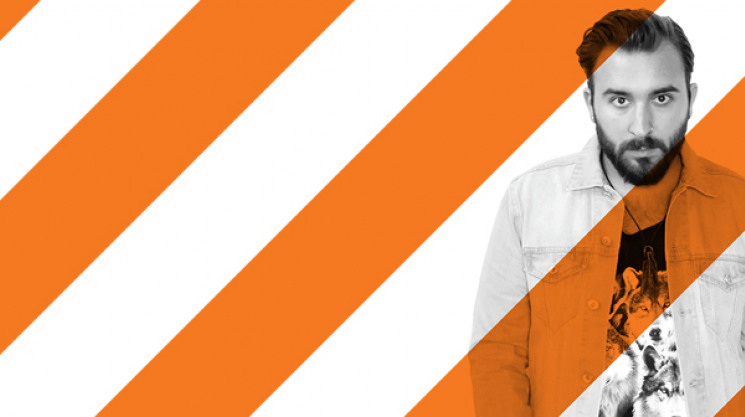 Sat, 11/07/2015 - 18:37 by Natasha Neale
There must be something in the water, because it seems like everyone wants a piece of Coleman Hell these days. It's been a giant 2015 for the Toronto-based, Thunder Bay-bred singer, with his banjo-fied house pop banger "2 Heads" having racked up millions of listens on Spotify and nuzzled up to other radio hits on both sides of the border. In addition to nabbing high-profile opening spots for artists like Passion Pit and Robert Delong, a late summer headlining trip across Canada had a steady flow of newfound fans clamoring to get closer to the bearded electronic music-maker. Case in point, a stop in Vancouver actually caught Coleman off-guard when a swarm of stage invaders basically swallowed up him and his backup band.
Speaking on the line from a tour van en route to Calgary a couple days later, Hellman tells us:  "The show we played at [Vancouver's] Biltmore Cabaret hit a fever pitch and I decided to tell people to come onstage for the last song. I thought, like, six people would come up and it turned into half the crowd; we got trampled.  It was hectic and fun, but I lost some stuff in the mix. But I invited everyone onstage. I asked for it!" 
Of note, a fine-fitting jacket was snagged by the faithful, though the rising pop star is taking the loss of his leatherwear in stride. "I don't think someone did it maliciously, I feel like someone stole it because they thought it was memorabilia from the concert," he says, perhaps naively, of the fashion-filching thief's intentions.   
More alarming than the material misplacement, though, was a post-show tweet that revealed that a potentially life-saving asthma inhaler was actually in the jacket's inside pocket. Thankfully, Hell explains: "My manager also has asthma, so he had an extra one. I'm all good."
Fittingly, the steady four-on-the-floor pound of "2 Heads" is keeping the pop music crowd breathless. Interestingly, the track meshes crystalline keyboard tones and driving drum machine rhythms with a rustic and wriggly banjo melody. Inspired by a times-gone relationship from his Thunder Bay days, the single has him waxing on an ouroboros cycle of pleasure and pain. That push-and-pull is what leaves him ultimately describing their love as a "monster with two heads."
"There are so many things about you and the other person that clash, but despite all that you can't tear yourself apart from each other," Hell adds of the theme during the conversation, pausing for a moment to further reflect on the meaning of the track. "I've been in that situation so many times where it seems volatile, but at the same time there's this deeper thing holding you together. Maybe it's doomed from the beginning."
In addition to his lyrics, Hell's current obsession with organic, folky tones also comes from a personal place.  He explains that his latest round of songs, many of which are being prepped for a forthcoming full-length debut, were inspired by his youth in Northern Ontario. 
"My overall inspiration right now is the town I grew up in, the music I heard on the radio there, and the types of people that live there," he explains of his musical M.O. "Essentially, I want to make electronic music that's influenced and inspired by rootsy music, rock and folk. That's the overall vibe of the music lately."
Prepped with help from his partners in the Sideways Collective—a quartet of Thunder Bay ex-pats that also includes producer La+ch, Michah, and Shan Vincent de Paul, songs like the swirling, sugary "Thumbalina" and "Take Me Up" have already been sent to streaming services, while other numbers are being premiered on the road. 
Of the latter, "Flower Girl" is filled with hippie vibes, and attempts to tie together multiple generations of festivalgoers. Hell notes that the song takes root in his parents' lifetime of shared concert experiences, while also connecting the dots between Woodstock stoners and their grandkids at Coachella.
A blue-collar bopper called "Work," meanwhile, has Hell taking a hard look at the daily grind. While he's currently crossing the continent playing concerts for screaming fans, it wasn't too long ago that the musician cut his teeth as a workforce labourer. 
The song itself took shape while he and his team were recording in a remote cabin and Hell had to turn down an offer to take the weekend off with his dad. While, sonically, it resides in the dance pop world, the workingman's angle takes on Springsteenian textures. 
"I had this weird feeling of 'I'm going to be here for a month recording this album, and having this crazy once in a lifetime experience, and my dad is going to camp for two days before he's got to go back to work,'" the singer says, adding humbly, "I was thinking of the importance of that to him, and how he won't get to retire for years."
But even while Hell is glad he's choosing to write about more than his love life, his music is still meant to get the party started. Clearly his concerts have been getting the job done, and the popster has even witnessed first-hand, as an anonymous bystander, what happens when "2 Heads" gets thrown through the overheads of a random bar in Utica, MI.
"We went into this bar where they give you drumsticks when you walk in, and everyone was drumming on the tables and the lights," Hell reports with a laugh. "All these people were standing on top of the bar, like in Coyote Ugly but it was the patrons, not the bartenders. There's this dentist chair in the middle of the bar, and they're pinning people down and force-feeding them shots. It was super crazy. Then they played "2 Heads", which was wild, and everyone went buck to it."
When asked if he'd ever consider stocking up on drumsticks to hand out to his own crowd, Hell admits that it could be an idea. After all, the budget for that seems more reasonable than having to pick up a new jacket every couple of tour stops.