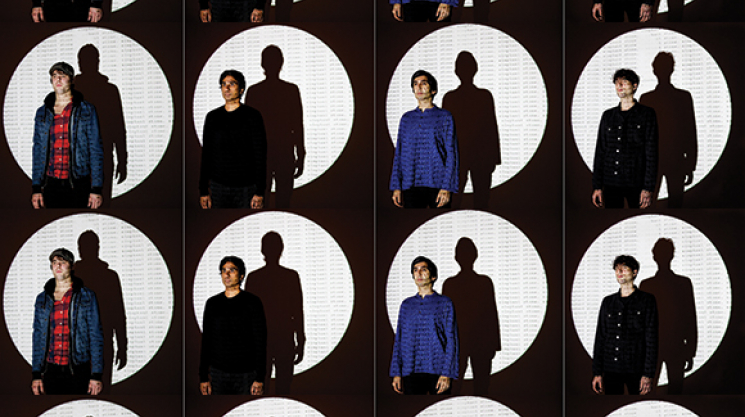 Thu, 05/30/2013 - 10:41 by Natasha Neale
Like a piper at the gates of dawn, psychedelic pop music has once again risen to the top of the new music scene, tweaked to modern perfection by recent crusaders like Tame Impala, Foxygen and of course, Montreal's ELEPHANT STONE. Singer/guitarist/sitarist RISHI DHIR has described their latest self-titled record as being inspired by his obsession with the perfect melodic pop song and the trippiest raga. We asked Louise Burns to speak with Dhir from in his home in Montreal, fresh from a show in San Francisco, about the new record, his incredible musical pedigree, Bollywood and Rod Argent's tighty whiteys.
Hello Rishi, what were you doing in San Francisco?
I was playing with the Black Angels, we had an industry showcase there.
Do you play with those guys often?
I toured with them for all of 2012. We did a Coachella tour, Lollapalooza, SXSW, and then Australia. Elephant Stone had just finished our record and were gearing up for our [February] release so we weren't touring very much. I've known the Black Angels since before they started­eight or nine years. They got rid of their bassist in January 2012 and I'd been filling the void until they found someone more permanent. 
You're also an "in demand" session sitarist…
Yeah, with all the touring I've done I been able to meet some amazing bands, and who doesn't want a sitar? On the Coachella tour we were with The Horrors and I really hit it off with those guys, so I did some demo-ing with them for their new record. And I've known the Brian Jonestown Massacre guys forever.
I have this theory about The Beatles and their fans' taste in music. I peg you for a George Harrison type. Did you grow up with The Beatles?
Yeah! My older brother exposed me to such good music as a kid. I was obsessed with my cassette version of Revolver. My brother convinced me 'Taxman' was actually 'Batman'. 
Back to my theory, I think a lot of us George fans often end up heading in a psychedelic/Eastern musical direction. You're trained classically on sitar -  when did you start doing that? Was it before or after you discovered pop music?
Growing up with my older brother, I was brought up with The Doors, The Beatles, then it goes from there…Pixies, Teenage Fanclub, Sonic Youth, Blur, etc.. My first real band was just out of high school in 1995 and I played bass - we were folky pop. But, in the beginning of 1997, when I was 19, I went to India with my family. I thought, 'Okay, while in India I wouldn't mind getting a sitar,' so I picked one up, brought it home and messed around with it. My aunt then gave me a Ravi Shankar tape, which inspired me to try and find books on how to play sitar. Every record I've ever made, I've always tried to have one song with sitar on it. In 2000 I found my guru: a German man who looks a little like Charles Manson-meets-George Harrison. He's a weird mix between German precision and Indian imprecision.
There's a very spiritual quality to your music. Would you agree?
I write pop songs, there's no denying it. But then, melody is the focal point of Indian music, and for pop music, it's the exact same thing. If you look at a great pop song by The Beatles or Teenage Fanclub, it's the really beautiful melodies that draw you in. A lot of my songs are based on actual Bollywood tunes.
WHAT!? Can you give me an example of a song and the corresponding movie?
From my first record the song 'Bombs Bombs Away' was heavily influenced by the movie Khabi Khabi. I watched it so many times that I would just start to play the guitar to it and write. I sequence my records so they start off kind of poppy, then start to warp into full on psych. I like records to unfold. It pulls you in with a pop song and throws you a curveball; throws you off until there's no return. 
You also have a Hindustani singer on 'A Silent Moment' on this record…
Yes! I asked him to sing­—he's not really singing words, but sounds—and he asked me what the lyrics were about. He said if he wanted to express something, he needed to know what I'm trying to get across. I told him it was about the peace that comes from meditation and focusing on one thing; how you're able to receive so much from that. He totally conveys that, I don't know how. Playing Indian classical music is like that; you're channeling it, you're interpreting it. It's your expression of something that already exists.
I could talk about songwriting forever here, this is all very fascinating to me, but lets get back to what's happening with Elephant Stone this year. You're opening for the Zombies I see! Congrats! 
Yeah! Odyssey and Oracle is one of my top 10 records of all time. The Reverberation Appreciation Society, Austin Psych Fest's label, are releasing our vinyl and are also putting on a show with the Zombies at SXSW, and they asked us if we wanted to be in it. We said, sure! Then I asked my agent if he could ask the Zombie's agent if they have any opening slots for their tour. They offered us some Ontario dates and two more Texas dates. The band likes us too. Brooklyn Vegan posted something about us touring with the Zombies and how great it is that they are touring with the new generation of psych pop bands.
Good for them for avoiding the casino circuit. I saw the Zombies play back in 2007. Watching Rod Argent play was like a religious experience.
My old band The Datsuns opened up for them on their first reunion tour in New York City 10 years ago. I actually walked in on Rod Argent in his tighty whiteys drinking a glass of red wine.
BEST VISUAL EVER. Aging rock star reclines, sipping Merlot in his Fruit Of The Looms.
He was like 'Don't worry about it'. I wonder if he'll remember me after all these years?
I think so. Sounds like a very special moment.