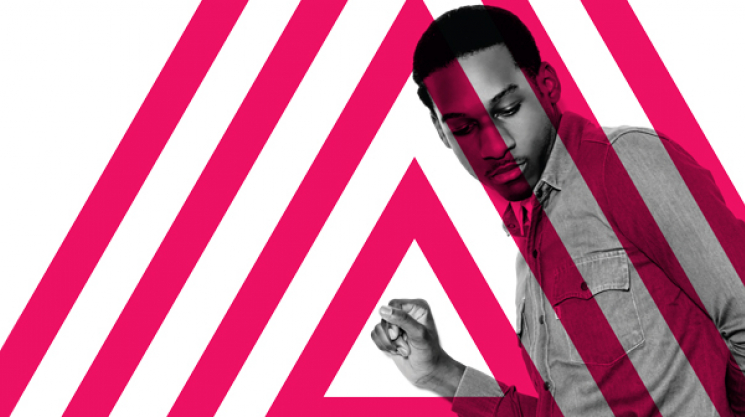 Tue, 10/06/2015 - 16:58 by Natasha Neale
Good friends and good food are just a couple of the blessings Texas soul artist Leon Bridges is enjoying when we catch him on a rare day off in Dallas. The last few years have been a blur for the singer-songwriter, taking him all the way from the first few strums on a guitar to jet-setting behind his recently released debut LP Coming Home. Having just wrapped a European tour and a handful of summer festival dates, the Fort Worth native says he's floored by the busy pace, not to mention the universal acclaim that's come along with it, but this afternoon's downtime with an old pal is a welcomed change.
"It's always good to get back home, catch up with friends and chill," he says graciously, as he puts his meal aside for the chat. "It's a salad and some tortilla soup; I've kept it simple."
Debut discs don't often come as well seasoned as Bridges'. And though it's arguably an audacious title for one's first full-length, Coming Home still feels more than appropriate. It's a collection steeped in classic rhythm and blues sounds, the kinds born by a river along with Sam Cooke, or coming from the waters that swayed by Otis as he was wastin' time on the dock. 
The opening title track, initially issued as a single at the tail end of 2014 after Bridges signed to Columbia Records, finds Bridges setting the mood with a soft and sublime croon, here pledging eternal love to his "one and only." Elsewhere, time-honored rave-ups "Smooth Sailin" and "Flowers" are sweat-salted but sweet, thriving on an energetic mix of shimmied licks, penetrative thuds and hot horns. On the whole, you'd assume by Coming Home's sonics that Bridges is a life-long student of soul, but that's not the case. It wasn't too long ago that he was studying choreography in college, working on hip-hop, jazz and modern dance routines. In between classes, though, he began exploring a new craft.
"I met this guy who would bring his keyboard to school," Bridges explains. "He wasn't in a music class, he would just bring it to school and play it. People were naturally drawn to him, hanging out and singing songs. We'd all get in a circle and take turns. One day, somebody was like, 'You know, you sound pretty good.' I wasn't really confident in my voice, so that was the thing that triggered it all. I got tired of depending on other people to be creative, so I went out and bought a guitar and started writing songs. That was about four years ago."
While he initially worked on the fringes of neo-soul, by the time Bridges worked up the courage to hit the open mic circuit, he'd developed a newfound interest in the old-time grooves and charming, off-the-cuff imperfections of 1950s-60s R&B. "I love the idea of all the musicians recording live," he says of the different era. "There was no Auto-Tune or Pro Tools. Not saying that's a bad thing, I just love the purity and raw quality of it."
Cut with a crack team of musicians assembled by Bridges and White Denim guitarist Austin Jenkins, who also co-wrote and arranged the LP, Coming Home appeals to those crackling, classic sounds of the bygone era. Though as aesthetically tailored as Bridges' sartorial, high-waisted wardrobe, the record isn't merely pastiche. Bridges and co., instead, deliver a heartfelt, contemporary tribute to those that came before them. Unless your blood runs jade-green, the honesty of it all is obvious.
"It's funny how some people can question one's authenticity," the musician notes. "What is the qualification to being an authentic artist? What does that even mean? Do I have to have been listening to this kind of music ever since I came out the womb? In reality, [not everyone] was really able to experience this sound when it happened. Is it off-limits because I never lived that life?"
He adds, "Even if you disagree with everything I do, this is about a young black man trying to bring back a sound that is, for the most part, lost today within black music. That's one of the reasons why I felt I wanted to pursue the sound."
One of the songwriter's earliest R&B exercises is also one of his greatest thus far. "Lisa Sawyer," a slow-burner based on his mother's upbringing, makes a master storyteller of Bridges. Supported by buttery doo-wop backups, silken sax lines and the simple clack of a snare drum, the song has the solo artist delivering an elastic, enthusiastic assessment of family life in 1960s New Orleans. Money was tight, but the family was "filthy rich" with love, while his mother possessed a "heart warm like [a] Louisiana sun." Unsurprisingly, her son's kind words melted her completely.
"It totally surprised her," Bridges reveals. "She knew I was going out and doing open mics, but she didn't know I was a songwriter. When I first played it for her, she broke down and cried. She loved how I talked about her mother and father and how I explained, very briefly, her life coming up in New Orleans."
The song gracefully caps with the moment she finds God, something Bridges covers on his own on Coming Home's soul-purifying gospel finale, "River." 
Though Coming Home will be plenty fresh by the time Bridges hits North American clubs for his fall headlining tour, the songwriter is already teasing the faithful with a crop of new tunes through his Instagram account. One of the all-too-brief clips is a playful two-man-jam between him and fellow rhythm and blues explorer Nick Waterhouse. 
"I feel like our visions are parallel, and he's just a good, encouraging dude. We instantly connected," Bridges praises of his recent collaborator. "He came down to Fort Worth and we sat around and wrote some stuff together. I plan on having him do some feature stuff on my next record—we'll see how it all flows."
The black-and-white Insta vid finds the pair strumming six-strings back-to-back, with Bridges' vocals cracking with passion as Waterhouse supports his bud with a booming baritone. The song is called "Cotchi." 
"It's a word that my mother and her sisters made up when they were young," Bridges explains. "It just means that 'feel good.' Like, you know, when you're getting a massage? That feel-good feeling. It's cotchi."
Just like Coming Home, it's a fitting title. After all, the way things are going for Leon Bridges, the rising soul musician must be feeling pretty cotchi right now.