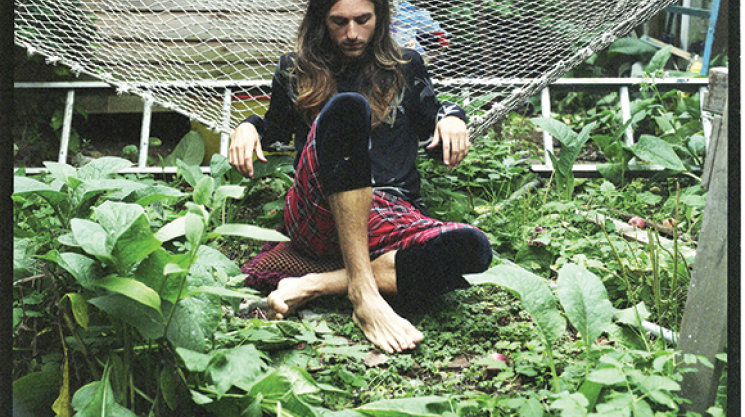 Tue, 12/16/2014 - 12:40 by Natasha Neale
Michael Brock stirs a golden mix of West Coast groove and effortless Euro swagger. Breaking ground in Vancouver, as a white R&B artist, he braves stages solo, while keeping a crisp and du jour repertoire. He likes to strip down to the essentials, focusing on lyrical layering and minimal production. To the gaze of the outsider, Brock may appear well thought out and put together, but under the voguish façade, he unveils his free spirit–with dark hints of neo-hippy–and reveals details regarding his music process and plans for the future. Josefa Cameron spoke to him on behalf of ION.
How did you discover your talent for singing?
I remember this really clearly; when I was in grade six, I put a boom box in my bathroom and started singing in the shower when nobody was home. I'd put on Usher, Mariah Carey, Lauryn Hill, and realized I could copy their vocal runs. For some reason, the fact that I could riff and not just sing straight tone or vibrato made little me go, "I think I might really know how to sing." I was embarrassed by it at that age, though.
How did the project come together?
For a long time I considered myself an actor who could sing. I landed musical roles, I was that campfire guitar guy, and had a weird repertoire of covers that I played in bars. Friends and family would tell me I should focus on music. I wanted to, but at the time it was just me and my Gretsch acoustic. I was too new to songwriting to see the bigger picture when I sat down to make something with just a guitar. I started making these atmospheric, minimal disaster beats in GarageBand, looping backup vocals and writing melodies on top. Some day I'll release them… I like them. I sent them out to a big list of producers, pleading for help. Most didn't respond, some were down and we made some nice things together. This was two and a half years ago, when I couldn't have imagined myself as much more than a vocalist. I'm still enjoying collaborations, but artistic autonomy and producing my own music has become really important. More than half of the LP I've written was produced by me. It feels kind of weird, and really exciting to be able to say that.
Do you come from an artistic family, or are you relatively singled out?
My dad loves to say it came from him. He and my mom sing karaoke together at home, it's adorable. On paper, I suppose I'm the black sheep among some successful business entrepreneurs, but the way that they are able to relate and give their emotional support to my ideas makes them all artists at heart. My grandma sang with Loretta Lynn, and my little brother is an artist in his carpentry. I dream of getting him to build some kind of geometric tree house platform stage that I could use on stage one day.
What inclined you to an R&B sound?
Genre isn't something I think of much when I'm writing music. I certainly don't mind being categorized that way though. I always knew I had a voice for pop music, but wanted to make something a little sexier. Frank Ocean's Channel Orange had just come out when I started writing (thanks boo). The EP I released came out as an R&B/ Pop blend, and things will evolve from this. I've been manipulating that radio friendly baby Michael sound into something a bit different.
You've been compared to James Blake, The Weeknd, and the like. This is a massive compliment! Who would be your dream collaboration?
The comparisons are really funny, and yes, massive compliments. I have too many dream collaborations. I would love to learn production technique from James Blake or Jai Paul. Sitting in on a session with Erykah Badu or D'Angelo would be crazy. Maybe Nils Frahm or Brian Eno could put me closer to this epic electronic heartbreak à la Björk desire. Stevie Wonder, please let me sing a duet with you. Am I even allowed to say Beyoncé? Dream of all dreams though—I'd go back in time and sit at Nina Simone's piano with her.
Your EP is entitled, Scorpio—are you a Scorpio? If so, how does being one impact your daily life? Do you read your horoscope and take it into account?
Yes, I'm a Scorpio. The line, "hey Scorpio, let down you hair" was just a thought I wrote in my lyric book when I was in a pretty confining relationship. "Scorpio" was the first song I ever finished, and I wanted to honour it by making it the title track on my first release. I've since loved all the information people like to give me about the sign. I feel really well represented by the sign.
How do you transition from jamming to live performances? Are you stage-friendly or stage-afraid?
I love performing, but always get very nervous. My hands shake on my piano through the first couple of songs. The transition between making the music and playing it live is a compromise right now as it's just me up there. I play the instrumental tracks off my laptop and perform the keys and vocals live. On a bad day, I worry that all the behind the scenes work on these songs gets lost and it seems a bit karaoke-esque, but it's working for now. I used to lug a kick drum with me, too, and loop it through my vocal mic for percussion (laughs). Thank you Ableton! I'd love to have a band some day and be free to really sing and move.
Does fashion play a part in your live act?
This is a topic that has puzzled me. I have fun with clothes in every day life, but never know what to wear on stage. In the past, I've done everything from jumpsuits and paint stained sweatpants, to a kilt and a jockstrap. I like to just let my hair down and be half naked. I just started working with a stylist!
What aesthetic do you attempt to achieve?
Um… young Anthony Kiedis, meets real life Mowgli jungle boy with a feminine side, meets Robert Mapplethorpe's bondage Polaroids.
What are you most looking forward to this autumn?
Going on my first tour with my good friend and fellow artist, Forever. So far, we are playing Vancouver, New York, Toronto, Montreal, with a Hawaii getaway in there somewhere.
You moved to Berlin, how did that help you evolve musically and personally? What was your experience of the music scene there?
Berlin was a romantic and badass coming of age story for me. I needed to get weird for a while, away from everyone who knows me so well. Techno and house reign there. I'd get high and quietly freestyle lyrics I'd written over the techno beats at clubs. I also met Hugo Allon (Books), a producer I continue to work with overseas, and was also taken in by an awesome group of German friends whose music taste was right up my alley. My friend Eva is in an all girl DJ crew there called, "Warts of Slitheryn" that play only Hip Hop/R&B. I can't wait to get back there someday.
What's next for Michael Brock?
As an artist, I have a full-length album written that I'd like to start recording. Forever and I are finishing up a side project and thinking about releasing an EP this winter as a duo. Also, a Vancouver contemporary dance company is staging a full-length piece set to a live performance of my music. Really though, the plan is to just keep writing and developing skills, so I'm ready for "what's next." 
Michael Brock was photographer n his bedroom, and in artist Varouj Gumchian's studio garden.