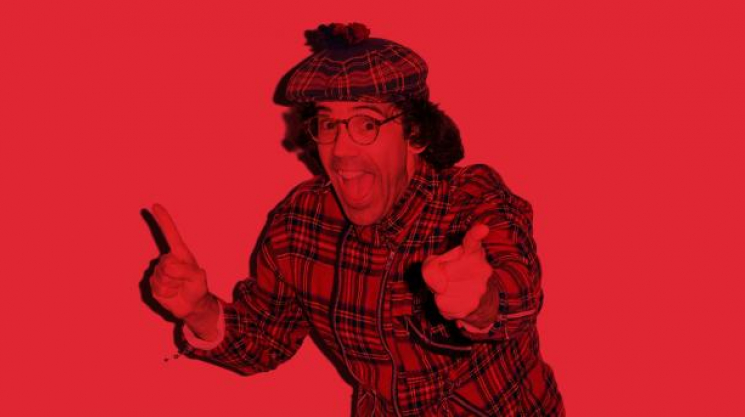 Fri, 08/30/2013 - 13:20 by Natasha Neale
You all recognize the ubiquitous hat, finger pointing, and wide-eyed smile. And you can't deny that you love it. Not just The Human Serviette and self made caricature, but also the most well-researched and compelling music interviewer and journalist…ever? We turn the tables on Canada's most infamous interviewer.
Standing outside the studio where his cover shoot for this very issue was just completed, Nardwuar The Human Serviette and I were engrossed in casual conversation when not once, not twice, but THREE times we were interrupted by passer-by, all with the same gob-smacked look of "holy-crap-I-can't-believe-I'm-standing-in-the-same-spot-of-sidewalk-as-you" on their "I-am-so-gonna-Instagram-this-later" faces. Gracious to a fault, he took the time to chat with each person, including a woman who clearly did not have her wits about her yet still managed to identify him as "the guy who says "Doot Nana Do Da." Just like Hulk Hogan has his jumping leg drop, Nardwuar's signature move is his ability to make darn near everybody he meets comfortable and convinced that their story means something, and the results are pure gold. During my interview with him, he was gracious enough to spin some himself on how imitation is really the sincerest form of flattery, what no meeting of musical minds should be without, and how hardened hip-hop heads really are humble at heart.
ION: Right off the bat, Nardwuar, I have a gift for you…(pull out drawing of Nardwuar done by my seven-year-old daughter).
Nardwuar: Thank you, that is so nice, thank you!
ION: On the topic of gifts, what is one gift that has been given to you by a fan or after an interview that has special meaning to you? One that you look back on and say, "Wow, that person was moved that much to give me "this", whatever "that" was?"
N: Well, one person that gave the gift of music was Chris Murphy of the band Sloan. I interviewed him back in 1991 and he hated my guts, but by 2006, he was playing bass in The Evaporators (Editor's note: Nardwuar's band), so he also gave the gift of friendship! Same thing with Franz Ferdinand. After I interviewed them in 2004 we played some shows with them, and they covered and recorded the Pointed Sticks because I suggested it! Also with Andrew WK - interviewed him, did gigs with him, and now we've done two records together! So something that really sticks out is that people you interview become your friends and then you do music with them in a live environment, and then to top that off, you do music with them in a recorded environment and it lasts forever!
ION: I have to say I really appreciate the time and research you do in order to get the gifts you give during your interviews. The reactions of your interviewees when they see them are absolutely priceless. I was curious about one in particular though - did you make Ghostface (Killah) cry in your interview with him when you gave him your gifts?
N: (imitates Ghostface's reaction): "You know what I mean?" He kept saying that over and over again. One of my favourite things about that interview was his reaction, but no, I didn't make him cry. Though Questlove (of the Roots) said, "Don't make me cry" when I gave him a poster. It was amazing because I'd interviewed him twice before and I decided this time to focus on Philadelphia and brought him a poster from Neptoon Records and I just couldn't believe his reaction. What really put it over the top was when I gave him a copy of Rocktober Fanzine and it was the issue dedicated to Soul Train in Chicago. Questlove had never seen pictures of this, even though at the time he was writing a book on Soul Train in Chicago, and that was what almost made him cry.
ION: What are three things you never leave the house without before you do an interview?
N: I guess if you had to nail it down to my essentials, aside from my clothing, it would be; my notecards—I always write my questions down on my notecards; the video camera; and my hat, because I like the continuity of wearing my hat.
ION: With all the research and note taking you've done, do you ever finish an interview, and you're walking out the door when you realize that ONE thing you forgot to ask?
N: Many, many, MANY times that has happened. Most notably when I interviewed Henry Rollins back in 1998. Somebody told me he was in Honcho Magazine, so I wished I had asked him about that when I had the chance. Another early example of that was during a press conference, when I had the chance to speak to Gerald Ford, ex-president of the United States, and I asked him why should he care about Canada—Canada being a land of clam chowder and ice. A few years later I realized he had been on the Warren Commission that had investigated the assassination of John F. Kennedy. So I had a chance to solve the mystery of the assassination of JFK but instead I asked about clam chowder.
ION: I'm really impressed with how you've been able to immerse yourself into hip-hop culture. What first drew you to this genre and how are you able to bring artists, like Big K.R.I.T., Riff Raff etc., down to a level so the average person "gets it"?
N: One of my biggest influences growing up was the Gruesomes from Montreal, and they not only did originals but also lots of cool covers; so did the Cramps when they covered obscure sixties garage bands. I wanted to find out who those bands were. So, while I was at CiTR (Radio UBC) the music director at the time, Adam Sloane, introduced me to some of the hip-hop of that period and said these guys were basically doing what the garage rock bands were doing, by using cool obscure samples, and I thought that was really neat. 
That's what really attracted me to it in the first place: the fact that hip-hop appreciates history so much, but it is such a recent history too. Rock and roll  goes back to the fifties, but for hip-hop, the roots only go back to the late seventies, so in many ways it is still current. My mom used to say that no matter who you're talking to, everyone has a story; it's the interviewer's job to make the interview exciting. So when you look at people involved in hip-hop, there's a lot of interesting things to explore there and it's fun to get those stories out.
ION: Your mom was a big supporter getting you started in journalism and the art of the interview, but what about your dad? What did he think about all this when you first got started?
N: My dad wanted me to be an engineer, so I took commerce because I couldn't become an engineer, and then I flunked out of commerce, and then I got into arts, and then I graduated with a degree in CiTR! But my dad has taught me some lessons. For instance, Malcolm Gladwell, a famous Canadian writer, says you need ten years in order to get good at something—my dad said the first FIFTY years are the worst! So with that in mind, I'm thinking I have a fifty-year plan, so I ain't quittin' for at least…a few more years, hahaha!
ION: What can you tell me about British rapper Mystro and his recent parody of you in his video for "Keep Doin' It".
N: Nothing! But I think it's amazing! If you look at the history of people imitating Nardwuar, it's not the first time this has happened. The first person to do it was Chris Murphy of Sloan when he was on MuchMusic, then Snoop Dogg put me in a Korn video for the song "Twisted Transistor". Even though I'm not actually in the video, Snoop and some other hip-hop stars (like T-Pain and Xzibit) play members of Korn, and in one part of the video they are being interviewed by a guy in a tartan hat and he gets punched! When I asked Snoop about that he said, "We were thinking about you when we put that guy in the video". Thank you Snoop Dogg!
ION: I think one thing people would like to know is—what do you do in your down time when you're not interviewing?
N: I like going for a run using the treadmill, going to record stores, and eating.
ION: What are your current fixations, be they either music/art/books?
N: Well, I did really enjoy the band Lié, who played with Black Flag at the Chinese Cultural Centre recently, I thought they were totally amazing. For books, there are so many: Ugly Things Fanzine, Rocktober Fanzine, Maximum Rock and Roll, Razorcake, Pork Magazine based out of Portland, and books like Sam Sutherland's book Perfect Youth: The Birth of Canadian Punk Rock.
ION: What would it say on your epitaph?
N: Doot Doola Doot Doo…
ION: …The End?
N: YEAH!
Nardwuar The Human Serviette and his Evaporators play a free, all ages, gig with Tough Age and Thee Goblins, Sunday September 8 @ Astorino's in Vancouver. The Evaporators newest album, Busy Doing Nothing, is available now on Nardwuar/Mint Records.