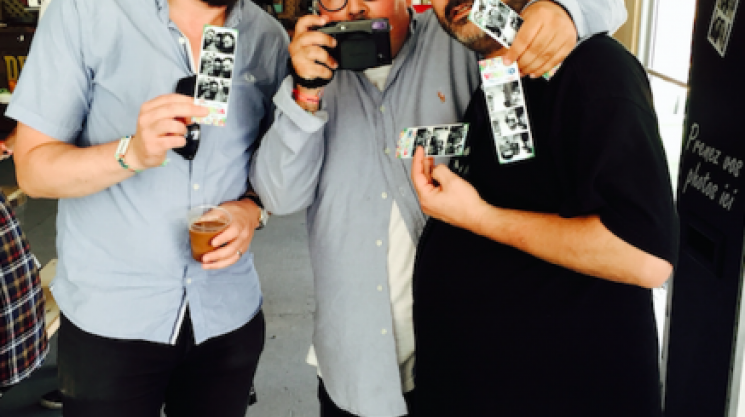 Unless you're staff or an artist performing at the festival, not many people get into Osheaga's coveted Artist World area. It's a small, private section of Parc Jean Drapeau where artists can come and eat, relax, or get dolled up before going on stage. It's comprised of a catering tent, indoor eating area, beer bar, coffee bar, artists' private trailers, an outdoor lounge, soccer pitch, ping pong area, trailers for artist relations and ground transportation, a massage trailer, and, finally, a "taxi stand," where a fleet of golf carts and drivers wait to take people to whichever stage they want to get to. Curious? Here's a look inside.
Also to note, part of the cast of Suicide Squad was at Osheaga this past Saturday, including Joel Kinnaman, Jay Hernandez, Jai Courtney, Margot Robbie and Cara Delevingne—who was there to support her girlfriend, St. Vincent, who performed that evening.
Amy Adams and her sister were there as well. She told us she was in town filming and a friend suggested she attend.
1. Pat Guay, Orion Curiel (Shades of Culture) and Paul 107 show off their Photobooth pictures
2. 10th Anniverary cow!
3. Artist world ping-pong area with beanbag loungers
4. Vans booth
5. The catering tent's coffee bar
6. Artist accreditation envelope: Action Bronson was replaced at the last minute by The Narcicyst and Mos Def
7. Indoor dining area, connected to catering tent
8. Nunya Beckley, Production Manager of Artist World, with Mike Yarmus
9.Cara Delevingne rocking some Got Bacon? shorts
10. Jai Courtney, Cleo Wattenstrom, and Cara Delevingne (sporting a pink wig) 
11. Amy Adams, Orion Curiel (Shades of Culture) and Amy's sister
12. Celebrity chefs Danny Smiles and Chuck Hughes. Their catering company, Crown Salts, handles all of the food for Artist World
13. Shipment of Vans. Artists and staff received a complimentary pair