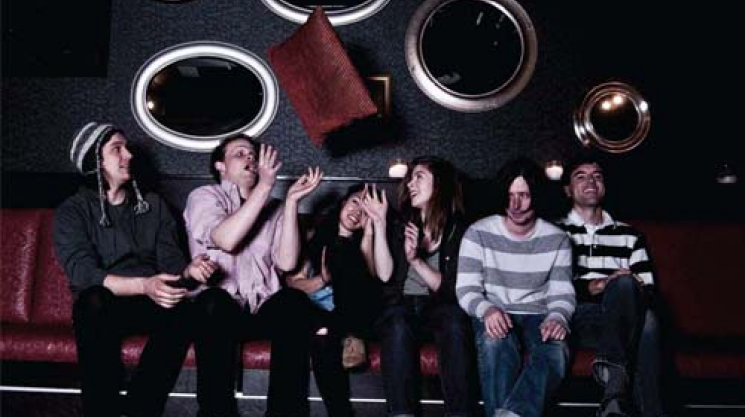 A Sunny Day In Glasgow are a dream pop band from Philadelphia and their most recent album, Ashes Grammar, is 1000% brilliant. Currently, they are Ben Daniels, Ryan Newmyer, Josh Meakim, Annie Fredrickson, Jen Goma, and Adam Herndon. I tried to memorize their names as we each adjusted our bottom halves to the floor of Vancouver's Media Club.

There have been many member changes since Ben first started the band. The band discussed amongst themselves who wanted to do what initially. They all simultaneously said, "Spinal Tap!", and Ben added, "The band as it is now is the best."
Ashes Grammar is their second full-length release and it's a beautifully and carefully constructed record with each song weeping into the next. Any decipherable lyrics on the record are lost in a beguiling and bouncing glow storm. I asked them about how it became what it is. Josh answered, "It was pretty intense. We didn't go into a studio or anything. We just rented out a ballet studio and did it all with our own equipment, so that probably made it take a lot longer. But it was also more fun that way, and less stressful."
I was interested to know if they had jobs. Ryan said, "We did…", then Annie jokingly interrupted, "I got a good job and a hot girlfriend." Ben followed, "I was going to start my goth industrial thing in the off-season. It's called… The Cemetery Flowers." Adam told me that he wants to open a gas station and drive a vegan hot dog truck. "If I was going to serve food, I would want to serve vegan food," he beamed, "I'm pretty much vegetarian although I think yesterday I ate something with beef and broccoli…" Ryan confirmed, "Yeah, the French onion soup!" Josh added, "And you did eat a cheeseburger Dorito!" Later I ate dinner with them and all that went through my mind was, "cutie PIES!" Also at dinner, Adam turned his American money into "boner dollars". I learned what this meant that night (Google it!).
Driving into cities, they research local menus. Some of their recent tour eating highlights are necessary to mention. Firstly, because they were excited to tell me and secondly because I made them describe everything to me in detail. In New Haven, they ate bacon pancakes. Annie pointed out "We probably eat together more than most families." Jen said, "I mean, there's no meal that we don't eat together." Ben recounted Chicago to me and what it was like to be fed mussels and invited to a scotch tasting. The whole band lit up from the memory, especially Ryan who said,
"It was like an ultimate reality."
We also discussed the differences between Taco Bell and Taco Time. I argued that Taco Bell is better and they insisted the opposite. They then gave me a little packet of Hot Border Sauce from Taco Bell to keep. On it was written: "Will you marry me?"
They claim to get sick constantly while on tour but they didn't seem sick at all. Annie said, "Ryan claims to have the best vitamins…" Ryan smiled, "They're the best—but only for active men." "Which is funny because we're sitting eight hours of the day," said Jen. Annie asked, "What about inactive men?" Ryan nodded, "That's probably why I'm kind of sick, I've been taking the wrong vitamins."
I asked them about the significance of the album name, Ashes Grammar. Ben said, "Ah, yes. It's a colloquialism." The rest of the band tee-heed in their various cross-legged positions claiming they had never been asked that question and that Ben had been waiting for it. He continued, "Ashes Grammar is a colloquialism to express frustration with languages and means of communication."
The rest of the band eventually convinced Ben to let me quote him despite his protests, "It sounded terrible hearing it coming out of my mouth!" I liked what he said. It's pertinent. It even pertains to me sitting here in front of my computer screen and writing about him saying it.
Recently, the band finished making a music video for their song "So Bloody So Tight." It is definitely worth watching. In the video, after trashing a keyboard in the middle of a street in the pouring rain, they all take their clothes off on a paved road in a psychotic sensual dance with sparklers in their hands. Ben makes creepy faces, there is a lot of body paint, and the best part about all of this is that when explaining the video to me, they didn't once mention any of this. They just said, "There were no special effects and when you watch it, just know that we were freezing."