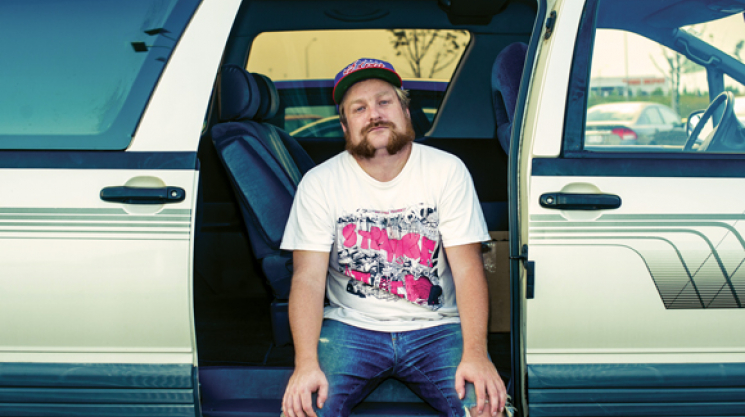 Thu, 12/12/2013 - 01:31 by Natasha Neale
With the opening track on his new album Mission Accomplished called "As I Am in Tim Hortons, I Realize I Hate Tim Hortons", it's definitely safe to say that B.A. Johnston is the most unique and to-the-point musical artist out there. Armed with his facial hair and distinct, hilariously honest attitude, Johnston is releasing his ninth full-length album and once again doing an extensive Canadian tour, which runs until the end of November. ION's Music Editor Trevor Risk chats to him and finds out more.
"Obi Wan Kenobi lets Darth Vader kill him / 'cause he can't stand the thought of five more minutes of Luke Skywalker Jedi trainin'," croons B.A. Johnston on the penultimate track "Luke Skywalker Is A Whiney Baby" off his new record Mission Accomplished. This is why it's no surprise that when he's reached by phone, in his home somewhere in the GTA suburbs, he's playing Super Empire Strikes Back for the Super Nintendo. At first (and maybe second and third) encounter, it would appear that B.A. Johnston lives his lyrical content, and that he might be the most honest man in music, for better or for worse. 
Even his album titles hint at the fact that B.A. Johnston belongs to a bygone era. His records are truly nostalgia in song form, whether it's his 2005 effort My Heart Is A Blinking Nintendo, or 2012's Hi Dudes! (a reference to Bill Paxton's character in Weird Science who turns into some sort of farting booger volcano). However, there is an earnest tinge to every song; from the malaise tones that represent thousands of mid-level Canadian city dwellers, velcroed to a Generation X idealism, to the way he strums his acoustic guitar, much like the way a reject from the mall punk generation would hit power chords with furious downstrokes. Unfortunately (and the listener can hear the cynicism in his lyrics) he's become a mild casualty of the "new" era of the music business, tied to the road trying to make half a living, attempting to make the next town while his Toyota Previa is running on fumes. "I tour a lot. It's usually somewhere from 90 to 120 shows a year. It sucks," he laments through the phone line, and he's right. 
Touring Canada is painful, with the weather being an obvious factor, and the plain fact that a person can count on one hand the amount of big markets to cash in on, as evidenced by his blatant name-checking of hamlets like Cobden, Ontario. "On this tour I'm doing Prince George, Canmore, Golden, and Nelson. Actually, out west I tend to do a lot better, in some of the small places anyway. I think I'm kind of lucky that, because I've been touring for so long, a lot of markets that bands probably can't get into now, I've kind of been grandfathered in because I've been playing there so long. In Canmore I can just email, like, 'Mike' and be all 'Dude, let me play your bar,' so it's really easy for me. A lot of these towns probably used to have a bigger live music scene and now they don't, so it's probably even harder to get in there." 
You don't touch every corner of this vast country without making some allies along the way. B.A. Johnston, although not considered primarily an influential artist, has still maintained a fan base that includes some of the country's finest touring musicians, including, You've Changed Records artist, Shotgun Jimmie. "People are often surprised or shocked to find out how mellow and gentle B.A. is when he is not performing," he says. "I met B.A. in the early 2000's, when his show was quite mellow too. I've always known him as a softy and a sweetheart. Once I got to know B.A. I was surprised to find out he was a hippie teenager, a follower of The Grateful Dead." 
When told of Shotgun Jimmie's statements, B.A. replies, "I mean, that was a long time ago," in a tone that can be described as an amalgam of defiance and embarrassment. "And everyone did that," B.A. adds. "Kids today think you're a big loser if you were into that stuff, but when I was in high school that was like the craziest thing ever, and it was pretty fun. You got to go around in a van and do drugs. What 18-year-old doesn't want to do that? It's the best thing ever. People think I'm this crazy person who's just taking off my shirt and chugging beers all the time. Who would have the energy to do that? CBC once cancelled an interview because the guy thought that I was gonna trash the office or whatever. That was a long time ago, but like, how crazy do you have to be to actually think that like. I mean do you think Angus Young wears a schoolboy outfit every day or something? It's crazy. I'm a person. I'm not going to act like that all the time. There's not enough Red Bull in the world to have me going at that speed all the time." 
B.A. Johnston will continue to tow the line, as the folk hero voice of a generation of Canadian slackers and apathetics, no matter if the "skid" lifestyle is en vogue with the chi-chi scene or not. Back and forth from one side of the country he will drive his jellybean-shaped minivan, riding the razor's edge between earnest recordings that have the blatancy of a brick to the face, and sarcastic referential live show, woven around a Hamilton Tiger-Cats flag-turned-cape with an encore from the men's room. "I'm pretty aware that the live shows and the records are pretty different. And I can see there are people that come to my live shows that probably never listen to my music, just like there are people who listen to my music who will never see me live. It is difficult playing in bars to my audience. It's hard to do a lot of the more earnest stuff, because they just don't have the patience to sit through it. I mean, they're drunk, right? And they're kind of horrible people. So you kind of have to do what they want."