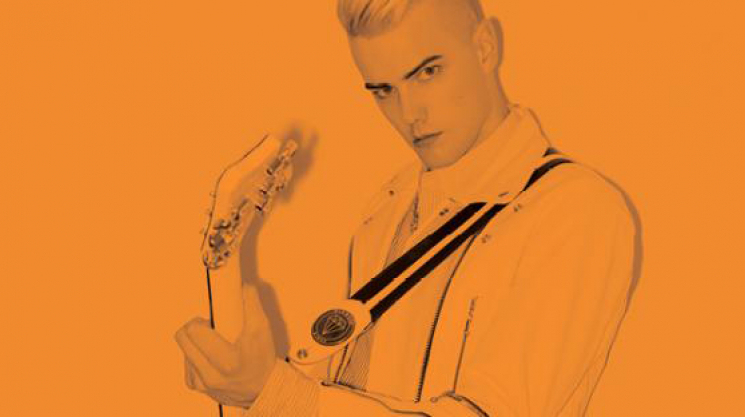 Wed, 11/07/2012 - 16:31 by vanessa
A lot has changed for Diamond Rings - the stage name for John O'Reagan's electro-pop creation - since the 2010 release of his first album Special Affections. Initially signed to Montreal's Secret City Records, John-O Was scooped up by EMI's Astralwerks and has been garnering some much deserved attention. Now, with a new band in tow, this October saw the release of his second album Free Dimensional. Top Less Gay Love Tekno Party's, Michael Schindler, chatted with him for ION about Little John inspired push ups, breaking boundaries and hitting the big time.
John-O, the modest and eloquent talent behind Diamond Rings, is unlike your typical ultra-camp, scenester musician from Toronto. Originally from suburban Ontario, his music feels like it was born to the exotics, on a warm, water-lapped Balearic Island. Encapsulating many of the opposites of art and life, his music creates a multi-faceted and complex world, where binary definitions fail to hold true. As a result, Free Dimensional spans pop beats as delicate as Kylie Minogue's stilettos, as well as raps as hard as Ice T's facial hair. His style bounces from sports apparel to eye make up seamlessly, all of which is part and parcel to an act that strives to create dynamism and freedom through his music.
The anti-dualistic approach Diamond Rings has with his music takes inspiration from John-O's youth, where as an adolescent, he played sports competitively while still trying to fit in with the art kids. "I identified with both [art and sports], and, at times, that was hard for me when I was younger. I find kids, when they are young, insecure, and trying to sort of find themselves, don't really give themselves, or each other, enough room to embrace their own diversity as people."
Originally starting as a DIY bedroom project, Diamond Rings has evolved into a fully realized concept band. Although John-O carefully sculpted his project into a definition-less world - one that reflects his own acute view of sexuality, society and art - he has consciously given it plenty of room to grow on its own terms. "It's not just about me anymore, and I think that's why there's a bit of a distance with who I am as John-O, and who Diamond Rings is on the stage. It belongs to everybody now, which I think is really, really cool."
Similarly, John-O has progressively opened up the creative ownership to a team of tight-knit collaborators, all of whom contribute to the design, costume, makeup and video of Diamond Rings. "There is a team behind the project that helps and supports what I do. In the beginning it was all about trying to do everything myself. At a certain point that becomes not only exhausting, but kind of silly. As an artist, you have to specialize, or find that space: find that thing you can do better than anyone else. To me, that comes down to writing the songs and performing those songs live."
The progression into Free Dimensional meant a new hi-fi production, as well as working with mega producer, Damian Taylor (The Killers, Austra). New techniques in the studio have lent a bigger, cleaner, pop sound, that appeals to a greater audience. But some techniques came less naturally. "Rapping is more or less new to me. We found out I would get my best takes after doing push ups. If we needed to give it an extra boost, Damian [Taylor] would make me get down and do 20 push ups in the recording booth, and would be shouting encouragement to me in the voice of Little John."
Free Dimensional is a drastic change from the lo-fi, gritty quality of Diamond Rings' first album, Special Affections. But, what it lacks in grime, it gains in unapologetic, shiny, pop production. "The old album is more introspective, whereas Free Dimensional seems outrospective. It's got all this energy coming out of it." The evolution between albums, though aided by his growing success and access to resources, is still a natural progression in his musical growth. "My process for making this record was similar to the first one. I still write and record a lot of the songs in my bedroom studio."
Although John-O has primarily focused on art and music over sport, this resistance to a one dimensional definition is apparent in everything Diamond Rings does. He still embraces sport amongst his art. He prepares for his shows by jumping rope prior to going on stage, to counteract the sedentariness of lounging in green rooms. With his heart racing, he bursts onto the stage with high velocity, as his aim is to treat his shows much like sporting events.
Coming to terms as an artist has come at a price for John-O. His health faltered upon fully committing to his music and moving to Toronto. He tells me: "I moved to Toronto with the goal of establishing myself as an artist, either a musician or visual artist, and I was in hospital two weeks later. It's a big process or event, that moment when something tweaks in your brain and you realize that you're not doing the work to get a mark in school, or just playing in a cover band for fun, but that you're serious and your art needs to become your life. It's a really exciting time, but also really stressful, because there's no set path in the arts. You have to make your own path."
Diamond Rings continues to push the boundaries of gender definitions and self-image, with music as disparate as grunge to rap. John-O's natural propensity to break down barriers of definition has created art that naturally sucks people in, and is inarguably unpretentious. His live shows have the intention of creating a free space for those involved to let go and be themselves. Though Free Dimensional is full of glittery shine, in the absence of grit, there is unbounding energy. It will definitely be first on my next late night YouTube show-and-tell.
The Diamond Rings Canadian tour starts in Victoria on November 16th.
Photos: Norman Wong