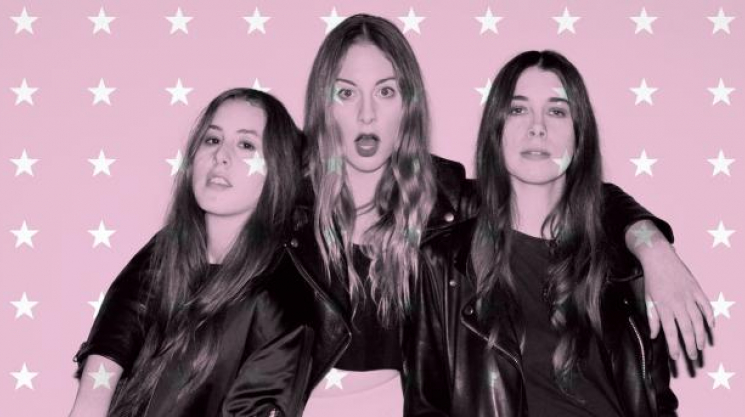 Thu, 02/20/2014 - 22:45 by Natasha Neale
Last year saw HAIM hit the big time around the world. Inclusion in all the ubiquitous best songs of 2013 lists for "The Wire", a lauded performance on Saturday Night Live, and everyone knowing Este's "bass face", is all off the back of their critically acclaimed debut album Days Are Gone. We don't know how else to put it, these girls are big. Our music editor, Trevor Risk, meets the trio, and finds they are the refreshing exception to the rule.
There's an understanding when interviewing an artist or a band that the younger, or newer to success, they are, the more difficult it is to gain anything of substance out of them. It grows out of a generational skip where the current crop of young musicians have romanticized the 1960s and 1970s, when musicians were the biggest stars of the time. Ergo, the paparazzi would chase them during that era, and their exploits would be all over the lifestyle pages. This made the journalist the enemy. It's common for contemporary artists to idealize a time where Bob Dylan was king, not just because of his paramount work in his art, but also because of his maverick attitude with the media. In a society where the world is shrinking from technology, the urban ruralizer has now been created. The urban ruralizer artist yearns for a time before their own (and usually writes a style of music akin to the aural equivalent of a Farley Mowat novel), where they didn't need to be constantly updating their Twitter feeds, or syncing music to television commercials to pay their label debts. The urban ruralizer wishes their job were easy, that there was a massive payday on every record, because fans were still spending twenty-five dollars on an album just for one song. This contemporary artist is mistaken, and refuses to budge, especially during interviews. What they don't understand is that current music journalists aren't journalists, they're columnists. They're often just big fans, paid very little, and want to promote their favourite artists, or even just meet them. They aren't the enemy. They might be their best allies. HAIM, are an anomaly on this topic. Their charm and intellect are unmatched by their peers. Either they have the foresight of people 20 years their senior, or they were just raised correctly by their parents. 
"We WERE put together. At birth," says Alana, the youngest of the three sisters, when prompted about the unfortunate, and loosely misogynist rumour of them being a "put together" act. "Everything we've done thus far has come from us. The labels that we signed to, the first thing we said was 'You're not going to have much say in what we do.' When we released the Forever EP, by ourselves on the Internet, we gave it to a hundred of our friends, and they gave it to their friends and that's what happened," she adds. "We basically did what we've been doing for the last seven years. We had stuff streaming on our MySpace for five years," chimes in Danielle, the guitar player and singer who genuinely channels the 1970s with her fretwork and voice. "And if anyone ever does have that opinion, our reactions is usually 'Shut. The. Fuck. Up,'" stamps Este, the eldest but possibly the most whimsical of the three.
Another way young artists manage to assist in tanking the public's opinion on them is a lack of candor. There's an image the artist has of his or herself that they want to have displayed, and the amount of effort it requires to keep that up manages to bury any interesting stories or personality texture that might seduce a few readers and turn them into fans. This is not the case with HAIM. "I actually basically broke into James Murphy's house once," admits Este, pausing mid-sentence to prepare her anecdote with a deep sigh. "There was a DFA flag hanging on this house in Laurel Canyon. Pretty sure it was a house owned by Rick Rubin, and so I half-hunched that he [James] was recording there. So I was with Ke$ha in [the car], and this was before 'TiK ToK' came out, and we passed the house. We're both huge James Murphy fans, and basically needed to make friends with [him]. It just so happened that the gate was open because the gardener was gardening that day. We pulled our car into the driveway, and started snooping around the house, but didn't see him. Finally we were looking through a window and James Murphy comes out and is like 'What the fuck are you doing?' and we said 'Oh hey! We just wanted to come say hi! We're your neighbours!' We ended up talking to him and somehow Ke$ha Jedi-mind tricked him into coming to one of her barbeques, and we had a barbeque two nights later and he was the coolest guy. He, like, brought pie."
An artist today, even those of a current SNL-performing magnitude like HAIM, can be reached directly. The majority of their critics aren't professional critics. They exist on Twitter, or in comment sections, and it's caused some of those in the public's thoughts to crumble under the weight of the occasional vitriol. In the halcyon days of daily papers, it was easy to avoid one's reviews. Being in an unavoidable quandary between online self-promotion, and dealing with anger or harsh criticism, artists can be seen regularly lashing back out. This comes when he or she only embraces the positive and never the negative, when the way out of it might be just to avoid both. You receive anger, you move on. You get love for your work, you move on. HAIM are emotionally self-actualized enough to address these issues with their insight or dismiss them with a dick joke; but a smart dick joke. "Before you had to actively seek out bad reviews, or reviews in general," muses Danielle. "But now they're Tweeted at you. I have Twitter on my phone. I see everything that comes in," pokes Este who goes by the delicious Twitter handle of @jizziemcguire. "I honestly don't like looking at reviews period," states Alana. "I don't go actively and look. I mean, my mom does." "Because they're proud parents," says Este, finishing Alana's sentence. "I also think we're way too busy having fun," she continues. "We're preoccupied with having a good time, and not sitting down and going on the Internet and reading things about our music. I mean, regardless of what everyone says about us we make the kind of music we make, because it's the music we WANT to make."