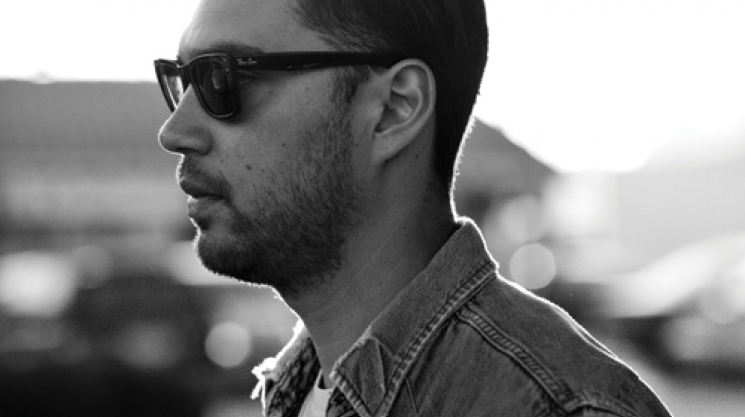 GUNS BLAZING
During one of several opening shows for Florence and the Machine last year, Hanni El Khatib shared a revealing moment with his drummer."I looked back at him and was like, 'What the fuck are we doing here?'" says El Khatib over the phone, sounding a little weary from a video shoot and celebration the night before.
That comment was revelatory as he understood that the casual music career he led before had become something much bigger than he ever imagined as a 10-year-old, when he first picked up an old acoustic guitar his parents had lying around the house.
"I didn't think anything would happen other than releasing a 7-inch and playing some shows in my home town. That was my goal," says El Khatib, who will be releasing his first full-length, Will The Guns Come Out, on September 27. "Music was just something that kept me from going insane at my desk job."
His desk job, for nearly 10 years before all of this, was not as mundane as you would think. He was a skateboard and apparel designer for a California company called HUF. During that time, El Khatib stayed productive as a musician, playing the occasional local show and festival while releasing a couple of singles – some of which have appeared in movie soundtracks and a Nike "Just Do It" commercial. But it was his whisky-fueled wails, scorching live shows with his sole bandmate and long-time friend, drummer Nicky Fleming-Yaryan as well as candid, gritty songs that gradually gained more and more attention from fans.
"The live shows are insane," he says. "A lot of the time we'll just wing it or make up songs on the fly. We've actually done that."
Will The Guns Come Out is El Khatib's declaration of embracing whatever life has to offer – the good and bad – with open arms, and likely a pair of middle fingers.
"It's about never knowing what to expect every day," he explains. "You could get fucked over by your boss or your best friend could get hit by a car. The title is an internal question." He describes the album as "songs written for anyone who's ever been shot or hit by a train," – that is, for those who have gone through tough times.
The recording process of the new album was comparable to his live performances. "I had one rule," he says about recording the album. "If it sounds fine, then leave it. It may not be perfect, but don't worry about it. I would rather use the recording with the best emotional take rather than the one with the perfect timing or whatever."
"I can't even count how many mess-ups there are on the album," the 30-year-old adds.
Hanni El Khatib finds real beauty in imperfection and in the damaged, and is a refreshing voice in a music industry so focused on the polished and pristine. In addition to a range of inspirations including The Misfits, Lou Reed, and David Bowie, El Khatib is also moved by the darker, marginalized aesthetics of 50s and 60s Americana from the likes of Bizarre Magazine and fetish illustrations of John Willie. In his bio, El Khatib describes his music as "knife fight music." While he admittedly acknowledges that he has never been (nor would like to be) in a knife fight, his use of imagery references a certain era to which he envisions his music as a soundtrack. He maintains this theme covering his releases with colour-treated images of violent 50s car wrecks, which he admits having a strong fascination for.
"I like things that are a little fucked up," he says, pausing for a couple of seconds. "There's some beauty in that."
You can hear this type of beauty in his growing list of unbridled songs. These songs could easily be categorized as punk, indie, doo-wop, garage rock, and/or jazz, yet they simultaneously show us how inconsequential and rigid these definitions actually are.
"I guess I like to keep people guessing with my music," he says. "When people ask me what my music's like, I say, 'It's kind of like this, and it's kind of like that', but it's still very straightforward and not too experimental."
This indefinable quality is clearly a product of El Khatib's eclectic pool of inspiration and may also be the result of a culturally rich background. Raised by a Palestinian father and a Filipino mother in the Bay Area, he never identified with one group or category.
"I feel connected to both [cultures] equally and wasn't raised in any particular way. I was raised American. My parents were pretty open-minded and my mother's very artistic and let me try whatever," says the San Francisco-native/LA-transplant. "I didn't fit into a race. On forms, I would always check the 'other' box. I just learned to adapt into any culture. There were no lines dividing culture and race and I was taught to like and accept everybody. Maybe that is why I'm into whatever now."
His philosophy of boundlessness not only applies to his music or the people he meets, but to basically everything else in his life as well.
"If I'm going to paint something, I don't like to think about it. Or if I'm designing a skate deck, I'll make a graphic that says 'fuck you' and not be too worried about who sees that," he says unapologetically. "I try not to limit or restrain myself."
This relentless, honest work ethic is what has led him to this album and to his "what-the-fuck-are-we-doing-here?" moment on stage last year. While the album has been coming together for close to two years, these are songs that El Khatib has been playing for many years before. These songs (aside from a melancholic cover of Elvis Presley's "Heartbreak Hotel") were written by a man with no intention other than to get some words off of his chest. These songs that radiate honesty are completely free of pretention and do not carry the weighty expectation to be enjoyed. This album is a form of closure for El Khatib.
"I've been performing and playing them for a while so it's time for them to be released," he says. "It's time to move on."
When asked what his name means, his answer is borderline ironic.
"My mom tells me it's Middle Eastern for 'peaceful and content,'" he says. "I don't know if she's making it up, but I'm pretty sure that's what it is."
Does he live up to his namesake?
"It really, really depends what day you catch me on," he replies with a laugh.
Photography: Conan Thai