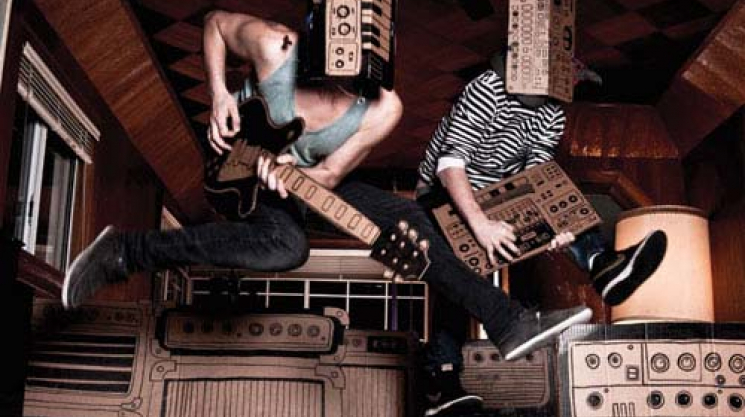 Tue, 03/09/2010 - 18:49 by Marlee Barber
Somewhere among the rain-filled streets of Vancouver is a neighbourhood called Main Street and within this "hood" is a light blue panelled house with a tire swing out front, just like the one in The Wizard of Oz. To the naked eye this house might appear to be like any other on the street—ordinary, pedestrian even—but things aren't always as they seem. What goes on inside this unique abode is more technicoloured than you could imagine. Beyond the gated backyard, up the stairs and down the hall lies the quaintest wooden breakfast nook of all nooks. It is here in this nook, on this rainy day, that my interview with Robbie Slade and Peter Ricq of Humans takes place.
I am greeted with a big hug from Robbie, vocalist and guitarist of the Vancouver-based electro-pop band. Soon after, Peter Ricq, the other half of Humans, arrives bearing gifts: a thirst-crushing eight-pack, a copy of their CD and some flyers for an upcoming show. We "Cheers" and start chatting about camels, rhinos and of course, music.
Robbie and Peter met just over a year ago at an art show in Gastown. Peter sampled Robbie's guitar and vocals to create the track "Bike Home," and once Robbie's former band Family Room broke up the only logical thing to do was to team up and make more music together. Over the next few months this partnership created a seven-track EP and thus, Humans was born.
The name Humans came from an effort to differentiate themselves from today's cool, yet meaningless, band names. Robbie and Peter reveal their modesty and humble nature by choosing not to feature their faces on their cover art. Rather, Peter drew a cartoon picture of the two, instruments in hand, their human faces replaced by those of their animal brethren…a camel and a rhino. If anyone tries to argue that either of these two gentlemen take themselves too seriously, here's your evidence to the contrary.
By night these guys are an indie electro-pop duo, but by day, well, you might be surprised. Robbie just graduated from the University of British Columbia with a Bachelor's Degree in Commerce. As if that weren't enough to keep him busy he started a business this past summer with his friend and roommate refurbishing vintage Seventies bicycles in their backyard shop, just below the nook. With so much of his life spent on two wheels it's no surprise then that Robbie's favourite quote is "Every time I see an adult on a bicycle, I no longer despair for the future of the human race," by HG Wells.
Robbie isn't the only one keeping his days filled with work and play. Peter is an art director of a Vancouver animation company where he co- creates a TV show that airs on YTV. What's more he directed, produced, wrote and storyboarded Humans' first music video for the song "Bike Home," shot in this very house. "Yeah, Peter's killing it, like, really hard. If you could take one thing from this interview, it's that Peter Ricq is kinda killing it!" Robbie playfully boasts of his bandmate's many talents. The video is about two puppet police officers, conveniently named Rick and Slade, whose attempts to break up a house party are compromised when they find themselves indulging in the festivities.
When asked to describe Humans' sound. Peter explains, "We just try to take people to really weird places with each song, and as long as we take you there dancing…" Robbie chimes in with, "That's pretty much what we want people to do, is dance."
To create music that makes people want to dance Peter uses a Korg electribe sampler and a Roland groove box -MC – 505. The groove box is complete with a keyboard and drum machine. According to Robbie, this equals, "Double bass, double drums, double awesome!" Pair Peter's skills handling the groove box and Robbie's soulful vocals and guitar riffs and you get songs like "Bike Home" and "Always Around," the two most popular and make-you- want-to-dance songs on Humans' seven-track EP.
The boys just wrapped up shooting the music video for the track "Doin' Things" and are set to throw a video premiere party. Robbie and Peter also recently performed at the New Forms Festival, opening for LA Riots, The Golden Filter and Junior Boys. What's more, Humans are about to drop their full length (The title is still in the works). The album has three brand new tracks and includes newly remixed versions of all seven tracks recorded on the EP. A lot of the songs have evolved since their initial conception and the new album was made to better reflect the way the songs are now played live. The boys are also planning a summer tour to promote the album and are considering documenting the whole experience.
More and more, loud whispers are being heard about Humans as they book show after show and their fans continue to multiply. So find out when the next one is and buy a ticket! Buy a T-shirt! Then, put on your ruby slippers and prepare to let it out on the dance floor.