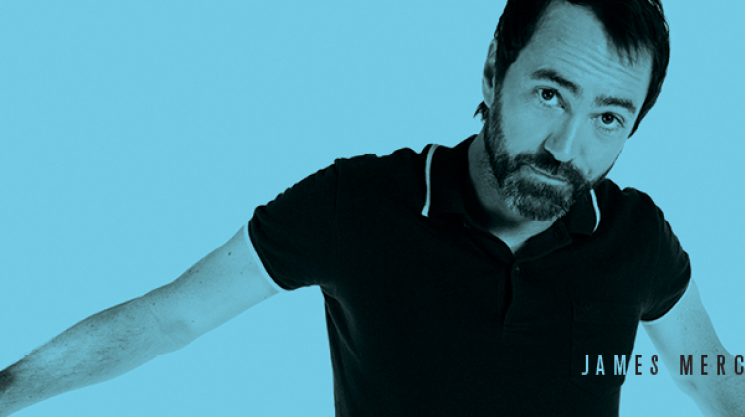 "Hello? Oh, hi...hi, so sorry to keep you waiting" says the dulcet, mellow, and refreshingly polite, tones coming through the crackly phone. I've been waiting 45 minutes to speak to him, but by the sound of his voice, James Mercer, 41, has been enjoying himself and I can't hold it against him. It's one of his days off in between shows and he's been riding bikes, and drinking wine, around the city of Roskilde, soaking up the sun and enjoying doing the festival rounds. His band, The Shins, is back with a new line up, and a new album, Port of Morrow, which has been globally well received, and, in 10 days time he'll be home visiting his wife and two young children. Mercer is content, relaxed, and fulfilled, and, you can hear it in his voice, and his music.
The early day angst-ridden lyrics of 2001's Oh, Inverted World, - "shut out, pimpled and angry, I quietly tied all my guts into knots" wrote Mercer for "Know Your Onion! - have been replaced by, "every single story is a story about love" on "40 Mark Strausse" from Port of Morrow, thanks to his life now as a happy family man. It's been quite a journey to get to this point. There have been different collaborations, new record labels, movies starred in, babies born, and line ups changed. And all this less than 10 years after the huge success of the 2003 album Chutes Too Narrow. It's fair to say, after that hit album, circumstances changed for The Shins.
Natalie Portman's character Sam was right when she stated in 2004's Garden State, "this song will change your life, I swear," about The Shins' "New Slang." These words echoed reality for frontman and songwriter Mercer, as well as the rest of the band, who saw their popularity soar after the hit indie flick, and its dedicated following, adopted the band as the soundtrack to the movie, and subsequently the lives of late teens to early twenty-something students around the world.
"We saw a change in our audience. By the time we were done touring for Chutes Too Narrow, there was this new interest. We toured again almost as the soundtrack to that movie, and colleges were all of a sudden interested in us playing on their campuses. We wanted to consummate the new relationship by touring and having a relationship with them. I mean, it just kept growing!"
By 2007, when Wincing The Night Away came out, Mercer admits it was a struggle to get the record, and the band, together. "There were a lot of factors that made that record difficult to make. When I finally finished it, I was happy with it, but by the end of our tour I didn't want to get back into the bus, I didn't want to go back into the studio. I wanted something different. I didn't want to be at the helm anymore."
When Mercer speaks of making The Shins records, there's a lot of "I" rather than "we." As a young The Shins fan myself at the time when the earlier records came out, it wasn't as obvious as it should have been that Mercer was the nuts and bolts, the curator, as well as the face, of the whole project. He was 'Mr. The Shins,' and it's evident all the success they were garnering did not feel like a group achievement.
"I think that was one of the issues with the band. Some of the guys had been in Flake, (Mercer's previous band), and we collaborated on stuff there, which was a very rewarding experience. This new success wasn't so much of a shared thing. At times that was difficult." Speaking with Mercer about this and reading between the lines, as well as his poignant long pauses, there are hints there was a lot more going on within The Shins dynamic than he is willing to communicate.
Regardless of the lack of detail, what Mercer does state is that his next project, Broken Bells, came at a perfect time for him, and the other (now former) members of the band at the time - drummer Jesse Sandoval, keyboardist Marty Crandall and bassist Dave Hernandez.
"I wanted something different....to contribute to something. Then Brian (Burton, a.k.a Danger Mouse) had this idea of us doing a band together and it was the perfect solution. It sounded both challenging and refreshing and different," says Mercer reflectively. It was this joint collaboration that Mercer found himself craving, another pair of shoulders to share the joys and stresses that come with making a record. "It was a return to being able to high five somebody when a record is done. You bounce off each other and have this camaraderie and this feeling of, 'Hey we did this together,' it's a nice feeling," says Mercer.
Working with Danger Mouse not only gave him a sense of teamwork and achievement, but it also had a distinct affect on his own personal style too. The Broken Bells time made Mercer a self-confessed "more efficient songwriter and more aware of the listener....maybe a little less self indulgent," he laughs.
This partnership also gave Mercer the bravery to wander away from the bittersweet and bouncy indie sound The Shins are renowned for, to a more mature, and perhaps mainstream sound. "Brian encouraged me to do things with my voice that I haven't done before and some of that shows up on the new record." But, when you listen to the tracks, Mercer's voice still retains that distinct sound, and you can't help but bop your head along to the infinitely catchy melody - on old and new albums - regardless of the lyrics. Mercer's talents lie lyrically and melodically, both of which have evolved in recent times, thanks to his partnership with Brian.
It's natural to want to mix up a stagnancy and this is exactly what Broken Bells did for Mercer. But after speaking with him about his life, and most pointedly his adolescence, you can't help but notice that his life as army kid, constantly moving around, may have fueled a stronger desire, a necessity, for change than in most. As the son of a father in the air force, Mercer lived in eight different places in his formative years, from Albuquerque to Germany, moving every two to three years and openly admits to this having an affect on his feelings of attachment.
"I developed a certain distance between me and other people. You end up not developing those long relationships the average person has. You're always moving around and people come and go. You might have a friendship with somebody and then they'll leave six months into it. You're constantly having erasure happening," says Mercer. The transient nature of his adolescence is apt when contemplating his need for chopping and changing in his career. The need for fresh creative processes could be connected back to his teen years and the subsequent requirement to not get too attached to people or places.
But, with all that said and done, Mercer still returned to The Shins (named after a favourite childhood musical The Music Man. "It sounded nonsensical. I liked the random absurdity of it."). He may have taken advantage of taking some time off from The Shins, but by no means did it spell the end for the band. It didn't, and still doesn't operate with an average band infrastructure. There are no rules to say you can't work on other projects and the band is treated like a collective open space. And when it comes down to it, the truth is that The Shins is James Mercer, and James Mercer is The Shins.
So why not just come back as a solo artist instead of under the band bracket? "How do I say this....I might have lost a lot of fans. I was worried they wouldn't have been able to catch the drift of 'oh The Shins guy is still doing stuff but under a different name.' The Shins started as me, alone, in my bedroom recording, on a four track. It was always my concept, and a vehicle for my songs."
Apart from his time with Danger Mouse, changes in his personal life, and also the shift from Sub Pop to Mercer's own label Aural Apothecary, via Columbia Records, there have been other significant changes that influenced the sound on Port of Morrow. Five years on from the last The Shins album, Mercer returned to the pilot seat, fired his former band mates, (former drummer Sandoval stated in an interview that rather than the "aesthetic differences" Mercer referred to, he was unceremoniously dumped), and collaborated with the record's biggest influence - producer, keyboardist and shoegaze musician Greg Kurstin.
Kurstin, also known as one half of The Bird and The Bee (with Inara George), has worked with everyone from The Flaming Lips to Kelly Clarkson, Beck to Britney, and is credited by Mercer for adding a lot to the record. They had known each other for a while, and Mercer was aware of his multi-instrumental talents and felt he could add to the record as a producer and a musician. "A lot of the difference in general on this record is Greg. Having a producer there from the beginning was a big change. (With Greg) I knew it would be easy, that I'd be able to communicate with him and that he'd provide great instruments and play some cool stuff."
With this new Kurstin-doused sound, The Shins will surely attract a new crowd, as well as interest the old. There is a clear difference on this record that is easy to spot even for those not so familiar with the old tracks. The layers of sound to the naked ear seem more complex, more upbeat, but, with the same signature Shins quality, put down largely to Mercer's distinct voice. Many have loftily compared it to being Beatles-esque in its finish and technique. Mercer agrees, "Greg used a lot of the same equipment that The Beatles actually used to record, and so you get some of that feel. He's got a neat old Fairchild compressor that was something The Beatles used on everything."
The transition with his new band mates, too, has been as easy as with Kurstin as producer. But that doesn't mean he didn't feel the pressure riding on his shoulders. "There was the feeling of, 'oh wow this better work. This better be good,'" says Mercer. Creating a revamped version of a previous band, in your personal vision, is a risky feat for anyone, and Mercer was not immune to nerves, despite having played with former Modest Mouse drummer Joe Plummer, and Richard Swift (keyboards) before (former Crystal Skulls bass guitarist, Yuuki Matthews and Jessica Dobson, guitar, round out the new line up). "I knew Richard as he had opened for The Shins in the past, so the transition was a little easier. But I remember the first week of practice with all the new people and I was nervous about it. Nevertheless it worked out great."
And while it might have felt strange playing old tracks with the new band, he is positive, and unnerved by the changes. "I encouraged the guys to listen to the songs and feel it out. There are moments I feel it's important that hook stays, but often they come up with their own new part and really add something new. It makes it fresh and more fun for me, doing this again. It's also cool for the audience." He goes on to add, "I think we've elevated the live show. We've expanded, you know."
The new dynamic hasn't only led to growth as a band, but also for Mercer as an individual. "I've got better as a player, and a lot more comfortable on stage. These guys are really strong players, we're getting along really well and it's been really fun," says Mercer. Being in a band with the previous members for so many years is hard to nullify though, and some of them - namely Crandall and Hernandez - guest feature of Port of Morrow, showing that despite all the changes, there clearly are no hard feelings, on the most part.
This new chapter for The Shins finds Mercer back as head honcho, fully in control, and this time, he is embracing it and is at ease with the new situation around him. He's gone from touring Iceland in 2004 and going to "these crazy volcanic hot springs, with blue water...on some mood altering drugs and it was really, kinda, nice," he laughs, to touring with his family, complete with kids rolling around the tour bus. "The kids are three and five, so traveling is still a little difficult. The bus is wobbly and they fall all over the place," he explains.
These circumstantial changes have triggered a difference to the band's sound, whether subconsciously or not, just as much as the pragmatic changes. Although it's still relatively early days, Mercer already seems settled and the new dynamic is working well. Perhaps this is the band that will remain for the long term - enough control on his part, but enough mutual creative freedom to not feel stifled. Only time will tell.
Catch The Shins in Toronto August 4, and in Vancouver September 25.