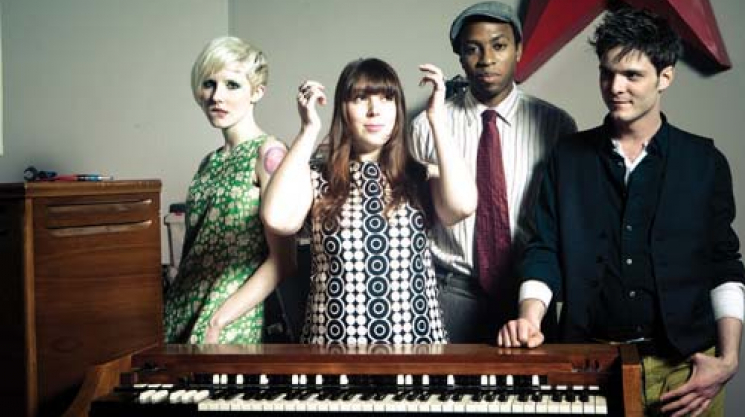 Junior Major were a garage-y, poppy, punk-ish band from Vancouver. They featured Katy Horsley on baritone guitar, Adam Sabla on drums, his younger sister Suzy on vocals and were a spunky little outfit. Their debut album Secret Magic's 11 song, 30-minute run was propelled along by the aforementioned fuzzed-out baritone, Suzy's oft-compared-to-Karen O vocals (which alternated between 'come on' croon and 'don't fuck with me' sass), and a well-honed sense that rock and roll should be, you know, fun.

Now, despite the past-tense pretense of the above paragraph, Junior Major are still a band and they have a new album titled Beaux. They're still working with pieces of garage, punk, and girl-group, still practicing tight rhythms and tighter hooks, and still dressed to the nines. All the things that made Secret Magic an infectious little gem are still part of the formula. But things have changed. Tony Dallas—a drummer-about-town who has played with acts like Boogie Monster, Fake Shark – Real Zombie and Fan Death—is now behind the kit, Adam has moved over to bass and Katy—while still contributing her chops and backing vocals to Beaux—is no longer part of the band's live lineup.
"Katy will continue to be in the Junior Major family in a variety of capacities, but in the meantime we're looking for a new guitarist—one that owns a baritone guitar, ideally. Her exit was 100% in good faith with all parties involved. Katy has been invaluable to this band. She's family, really," says Adam during a conversation I had with him and Suzy. He has good reason to be looking at the sunnier side of things right now. Judging by the three-song demo of tracks slated for Beaux, the combination of natural development over time and a band re-configuration have done nothing if not make Junior Major more dynamic and exciting.
"We're really close to finishing Beaux up," says Adam. "In fact, by the time this [magazine] comes out it'll be done. The songs are significantly more varied than the last jam, but there's still enough JM swagger to keep the punk kids happy." I agree with him. While I found myself enjoying Secret Magic more with repeat listens—especially album standout "Bad Timing"—things have been bumped up a notch or two with Beaux. Then I unashamedly throw around some 'journalistic bullshitisms' to describe my impression of the new songs, which may or may not have included the words "more nuanced, patient, and 'mature.'"
Adam laughs. "Well put. Yeah, everything changed when we got over the initial excitement of playing those songs [off Secret Magic]. Then when Tony brought his tremendous prowess behind the kit and I switched to bass, things got really meaty. Suzy's been really developing her own voice as a songwriter, and she's not a teenager anymore."
I suddenly realize how quintessentially "Vancouver" Junior Major is. Two of the band's members were born outside of Canada (Adam in Slovakia, Katy in the UK). Tony, though born in Vancouver, lists himself as "Jamaican" as per his lineage on his MySpace page, and the Sabla siblings moved with their family from Toronto to Vancouver a dozen years ago. For a city whose identity is so wrapped up in its "diversity," Junior Major may as well be its poster children.
Here, the conversation tails off into musings on the upcoming Olympics. We contemplate what the great, gaudy spectacle means for the city. None of us really have any answers. But I guess, if there's anything positive to hope for from the event (which, Adam notes, "We're paying for … They're using our imaginary money."), it's that bands like Junior Major and others not-so-quietly plugging away around town get a chance to turn a new audience on to Vancouver's indie underground. Talking to Adam and Suzy, discovering the extent of their involvement in the scene and the time they put in to getting where they are, I realize that the kids around here work hard, and they deserve at least that.