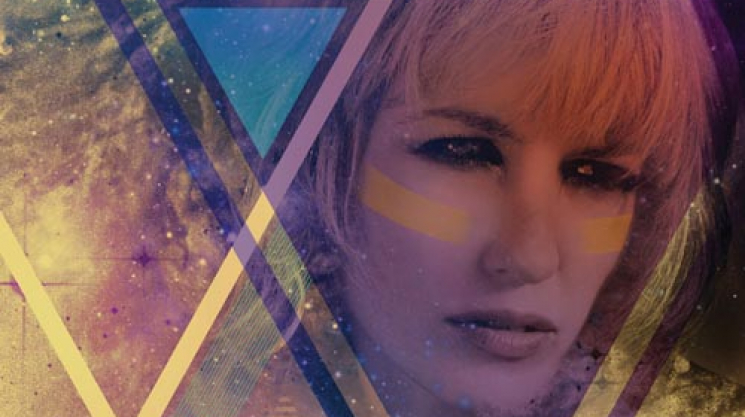 Pip Brown is sitting in her hotel room in Melbourne, waiting for another call. Today the girl known as Ladyhawke is more like Rapunzel. She waits for the phone to ring, and for a voice to appear on the other end of the line, from the other end of the world, and for it to ask the same questions that until months ago, the bashful singer had grappled to answer.

When Pip released her self-titled debut album, in September, she lit up the music industry's radar. The more she was labeled The One to Watch, the more she became the one to talk to.
Her music, bombastic 80s-inspired pop, has the confidence of a rock chick and the playfulness of a pop princess. It's this duality that earned her the attention of both Courtney Love and Kylie Minogue after the release of "Paris is Burning," a forceful dance single that Pip wrote after a romp through the Paris nightlife.
The dramatic synthesizers, the dance beats, the catchy guitar hooks – all of which she records by herself before enlisting the help of a band for live appearances – betray Pip's meek personal manner. In person, she speaks softly – and a little adorably – in her native New Zealand accent. She punctuates her answers with the occasional nervous chuckle, which makes you feel like maybe she's telling you a secret.
But when Pip laughs lightly, it's not coquettish. When she hesitates or struggles before an answer, she's not being demure. Pip is just shy – genuinely, painfully shy. In September, she revealed to The Guardian that she had recently been diagnosed with Asperger's syndrome, an autism spectrum disorder. It was a revelation that helped her understand her lifelong awkwardness.
And at first her awkwardness may look like a hipster affectation. It makes her look like she's scowling in every press photo, or desultorily slouching in every music video. But in person, it's surprisingly endearing, precisely because it isn't a belabored affectation, but a normal and relatable reaction to her sudden rise from obscurity.
A self-declared introvert, Pip, 27, says she's been waiting years to build the "air of confidence" needed to be pop artist. Luckily, She is nothing if not patient.
When Pip was eight years old, she would play her mother's old Beatles record on a broken record player, spinning the record patiently with her finger to play her favourite songs over and over. After her stepfather, a drum teacher at her school, introduced her to the drums when she was 11, Pip started taking lessons.
From there, Pip says, "I played in a grunge band, I played in a garage rock band, and I played in a hardcore band."
As part of the hard rock band Two Lane Blacktop, Pip caught the attention of Nick Littlemore, an Australian music producer and one half of both the dance music duo Pnau, and the electronic music duo Empire of the Sun.
When her band broke up two days prior to a gig at South By Southwest, Pip made the uncharacteristically impulsive decision to relocate from Wellington, New Zealand to Melbourne.
"There's only one thing in my life that will make me move, and that's music," says Pip, who admits to being otherwise homey and unadventurous. "It was just something that I felt needed to be done."
Once Nick heard that Pip had come to Australia, he asked her to join him in Sydney for a pet project he called Teenager. Just as she is today with the press attention she receives, Pip was flummoxed that Nick had even heard of her. Flattered, she agreed to join Nick's project, and the two played together from two years, the timid Pip alongside the eccentric and captivating Nick.
But for those two years, Pip furtively developed her own work.
"Teenager was Nick's project, his baby, and I felt like I wasn't doing what I wanted to do, which was my own music," says Pip, who avoided pitching her new songs for Teenager. "I didn't want them to be Nick's, I wanted them to be mine."
When she did play her solo songs for Nick, he encouraged her to develop them, and helped her record a demo. Slowly, starting in 2005, Pip started developing her work under the moniker Ladyhawke, after the 1985 fantasy film.
"It's not like I was inspired by the movie, I just thought the name was really cool," Pip laughs, adding, "I wanted to have a name that sounded empowered and a little bit, I don't know, magical."
In 2005, Pip was compelled to island hop once more, moving to London, where her music was getting more attention than it was in Australia.
"But that's changed now," she says, with her album topping at #16 in Australia and #47 in the UK.
Reviewers in both hemispheres have sung her praises and compared her to Eighties chart-toppers like Pat Benatar, Kim Wilde, and Cyndi Lauper, although the last one, says Pip, bemuses her.
"I love Cyndi Lauper's music and I think she's great, but I can honestly say I can't see the similarity." With a chuckle, she adds, "And that's the one that everyone quotes!" So who would she want to be compared to?
"I don't see any reason other than I really admire her, but I'd say Patti Smith." With her blonde mop of hair, and penchant for boy's clothes, Pip's pick doesn't come as much of a surprise. Neither is it a surprise that the timid Pip would admire the commanding Godmother of Punk.
"If there's anyone I'd love to be like, it's her." She adds with a chirp, "So, uh, yeah."