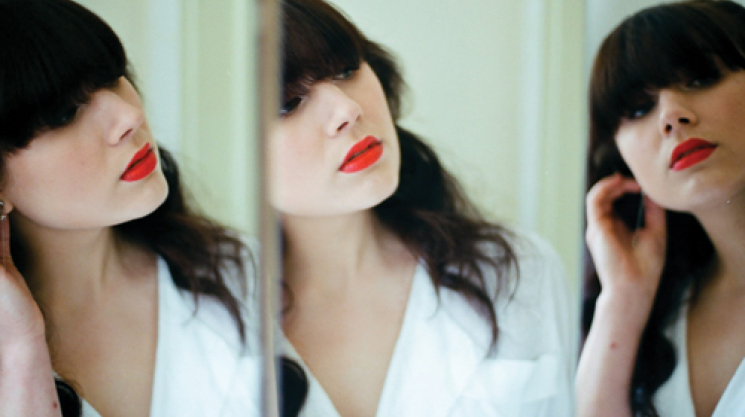 LET IT BURN
Everything about Louise Burns is polarizing. Despite never meeting her before our conversation, I was shocked how much she revealed to me, while also displaying a side so mysterious that even her revelations are a wonder unto themselves. Sure, she comes off extremely well-read, but Burns' fascinations reveal a more childlike nature – colour, space, the dark. After being in and out of the studio for two years at work on her debut solo album Mellow Drama, Louise is ready to unveil it to the world, despite how post-partum it might feel. "I've been calling it a child, my little moon baby," she laughs. "It's a relief, this is a chapter I struggled with through the years." Although only in her mid-twenties, Louise invokes old-soul status. She calculates everything, and the end of this chapter is no exception. "This is what I intended to do to move on," she says. "It feels very precise. I can close the book, now I can move on." And to add to the idea of being an old soul, she mutters quietly to herself, "Chapter 362."
Mellow Drama is the type of album only Louise could have made. Exposed to most of the world through her impressionable teens as part of major-label pop outfit Lillix ("We did the whole meat grinder music industry thing"), she strays far from the grounds of Lillix's early achievements, but keeps much of her lessons from that era of her life in tow. "I'm so grateful for that, oh my God," she says. "I learned a lot about the world while I was very young; about personal issues, drama, even problem solving and logic. Not to say I'm great at any of those things."
Departing Lillix around the time the band's label, Maverick, folded, Louise found herself in Vancouver playing in a handful of other local acts (Luna Riot, The Blue Violets). Soon, Burns decided to turn her longtime passion of crafting off-kilter pop songs into its own project.
"What I enjoy most about playing music is the songwriting aspect," she says. Performing them live, however, is another story. "I feel a bit weird about performing because I don't like attention," she says. "I didn't have a specific feeling to break out on my own. The fact that I created this on my own feels natural." Though musically turning a quick 180 from her childhood band, Louise sees the pop sensibilities as still important. "I love writing pop songs," she says. "I grew up on that, it's in my cells."
Burns describes herself as a childhood loner ("I got lost in my own head, not in a tragic sense") who still finds comfort in being alone. "I'm pretty independent," she says. "I can't work if I live with somebody. Being alone is efficient for me." In terms with her solidarity, Burns brought that element to the album. Playing most of the instruments on the record herself – down to the mandolin and ukulele – Louise feels the album is "very much a creation of my own mind." Despite not considering herself a pro on the guitar, she did it herself in a calculated move. "I played all the music intentionally because I wanted to give it more of a raw feel." She finds that doing it herself, rather than leaning on a professional, adds to the charm of the album. "It's pop music. It can be overly produced quite easily. I wanted to focus more on feel and songwriting. This is more honest." 

With a full pallet of influences ranging from Nick Cave and Buddy Holly to the Shangri-La's and Neil Young, Burns' biggest inspiration for her debut solo record, Mellow Drama may come across a bit off-beat.
"I'm pretty influenced by night time. I write a lot about night time imagery: stars and moons," she explains. "There's this thing 'saudade', that's the Portugese word for it. What it essentially describes is the emotion of nostalgic sadness, yearning for something but you don't know why." Describing it as a "beautiful sadness," Burns takes this concept seriously, filling Mellow Drama's tracks with songwriting techniques that invoke this unexplainable sadness in her lyrics, paired with an upbeat core.
Looking to songwriters like Robert Smith before her, Burns wrote a batch of songs that express conflicting emotions, writing somber lyrics into an upbeat melody. "What I love about The Cure are their happy sad songs, where they sound happy, but lyrically are in fact quite the opposite." On her own "Street Walking," a mid-tempo beat drives the song through, while underneath, Burns hums "Goodbye to feeling fine." The combination is classic, and Burns revels in its artfulness. "It sounds so light and happy, but it's really about death and destruction and sadness," she says, half-joking. This songwriting technique comes naturally to Louise in that, despite the unexplainable nature of it, the sadness is as much a concept as a mindset. But that's the thing about Burns, she sits with poise and exposes a hearty laugh that show no sign of real sadness, yet she doesn't seem to front. So where does this affinity with the sadness come from? Perhaps so deep in thought, she is somehow figuring out where she herself stands between personal triumph and the storytelling elements laced into her own material. It's half disconnect, half self-inquisition. 

After a listen through the album, it's clear Burns has made something that comes off very natural, but carries a separate layer of calculated decisions. For Louise, the melding of personal material and the art of music-savvy storytelling is a careful blend that even she's not sure the balance of. "I hate to admit it but it is quite personal. In a way, it's an existential reflection of my early 20s, of figuring stuff out," she says. But getting personal is neither something she's proud of nor intends to elaborate on. "I don't ever want to be earnest or sincere in my music. I find that completely abrasive and fake." 

After noticing some tracks were a bit too personally charged for her liking, Louise added specific verses in some songs to balance them out. "It appeals to me because it leaves grey area, leaves some interpretation," she says. "I don't ever want to be too confessional. That stuff is gross to me." On the opposite end, just to show both sides, Louise says her song "Island Vacation" is a musical narrative, but the song only felt ready when she added in some personal material. "The second verse is about being filmed while I was sleeping. That actually happened. I threw that in just to balance it out."
The lead single "What Do You Want To Do" is a perfect blend of self-exposure, and dynamic storytelling in a pop track. A cross-section between Patsy Cline's narrative style and Burns' own tendency to go on night walks, exploring the city and tapping her own mind simultaneously. "With a song like 'Walking After Midnight', I can really identify with that feeling of sadness but feeling comfortable," she says, adding that layering a fictitious narrative into a mostly-personal number helps keep her comfort in check, adding she knows a song is ready when it feels "A bit more distant, and not as earnest. Distance is important to me."
Even in terms of visual elements, which Burns is just as focused on, she finds some relief in keeping things a bit unclear, a definite correlation to the album's material. "I'm a big fan of saturated colour, and vintage looking photographs," she says. "I'm pretty influenced by colours as well. I'm about creating that way. For this record it was important to make it sunset colours. Yellows, and deep blues." 

Burns is far more in tap with herself than even she seems to admit. On the topic of music and art being cohesive, ("Music and art are absolutely related. I do not see a difference when I see and hear art.") she segues into the topic of synesthesia, a human condition in which one sense signals the others without direct stimulation to that sense. For Burns, the mood and feeling associated to hearing music creates a visual representation of colour. "I know what colours appeal and don't appeal to me," she says. "I could obsess about this for hours. Every note has a colour, every song I've ever written has a colour."
When bringing this concept to the studio, Louise laughs about explaining the hues of her tracks to people she's working with. "When I say 'make it more sparkly' I actually mean 'Can you give me more kick drum?' It really makes sense to me, and it makes it interesting." But like everything else Burns says, it comes off completely legitimate, not an oddball fascination just for the sake of it. It's just another testament to her album feeling like an actual body part that happened to fall off her frame. "Some people, after they work with me for a while, realize I'm serious," she explains. "I'm not being eccentric, this is just what makes sense to me."