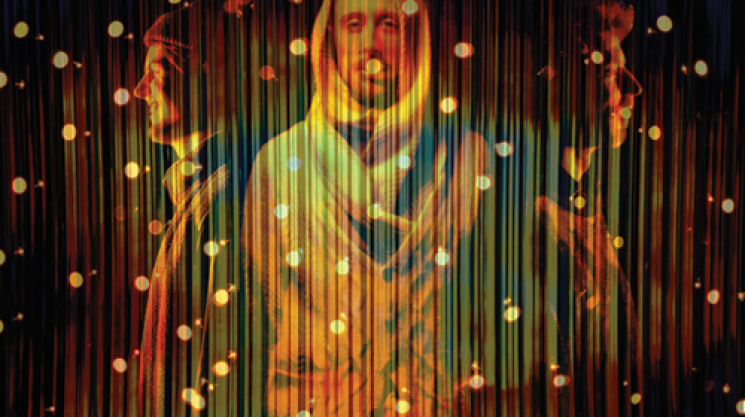 LOUSY PROSPECTORS
There's no gold in Fort Knox. I read it. I read it in some book about conspiracy theories… I think Mel Gibson wrote it. Whether it's true or not I have no idea, but one thing I NOW know is that it has absolutely nothing to do with why a certain Vancouver electronic indie trio go by the name No Gold.
The fact that the band (Jack Jutson, Liam Butler and Ian Wyatt) were willing to endure my David Icke-ish theory confirmed my suspicion that not only are they talented musicians, they're also good humored enough not to take themselves too seriously. They're the kind of guys you want to have a beer with. Good thing we were at a bar.
"We're always open to hearing theories about what our name means," laughs band bassist Liam Butler sitting across from me at a Vancouver watering hole, "because it doesn't mean anything. That's the best [interpretation] I've heard."
They may not have put a lot of thought into their moniker but it's clear from listening to their debut, a self titled release for Unfamiliar Records, that more than enough attention was paid to their intricately crafted songs.
From the lush soundscapes of "Rainforts" to the hypnotic slow build of "Resolver" or the sun-kissed album closer "Puluti," No Gold is full of nuance and detail, consistent and cohesive yet varied enough to defy easy classification.
However, one element of their sound often stands out. Tell No Gold that their music makes you think of "Mother and Child Reunion"-era Paul Simon partying with the Happy Mondays on a tropical beach and it won't even phase them. They've heard it all before. Well, the tropical beach part anyway.
"We hear a lot about tropical climates. Who wouldn't want to go on vacation in the winter?" dryly jokes percussionist and sound wizard Ian Wyatt. "But there's a lot more going on too, and I hope it's a chance for people to check out other music we really like. When I think of the song 'Rainforts' I think of (70's experimental German band) Can quite a bit."
Wyatt replaced No Gold's original drummer Haley Pearse a couple of years ago and helped usher in a new direction for the group, one that builds on the electronic, minimalist and avant-garde in a similar fashion to Can and other groups from that time period. "Something was going on in Germany in the 70s. I wasn't there but they made some amazing records. There's definitely a cool connection between that stuff, the way they used synths, recording equipment and technology and how that became a part of dance music in America and the roots of house music. I think that's a connection people are starting to make now that's really strong. That's part of what I'm happy about when I listen to our record. I can hear that [influence] in it."
The same experimental spirit they share with their German 'hair-era' heroes in the studio is also translated into No Gold's live set. "It wouldn't be very rewarding if we were trying to recreate the recordings in front of the crowd. I would wonder why we were there I guess." suggests Wyatt.
Butler adds, "It also seems kind of egotistical to pretend the show you're playing isn't going to effect what you're doing. To try to recreate the album in a live setting would just be ignoring (the audience)."
You can bet that reacquainting audiences with their energetic live sets is high on the group's priority list. They took a six month hiatus from playing live after Wyatt joined to get the album made and released, a process that was fraught with a number of obstacles, the most severe of which was when their jam space burned down with all of their equipment inside.
But that's the past. No Gold have persevered and in doing so created a stunning and challenging piece of work. Where a lesser band might have imploded after a member change or losing gear, No Gold fought to exist.
When you have something valuable you'll do what's necessary to protect it. Just like Fort Knox…right?
No Gold play SXSW in March.
[nogold.net]