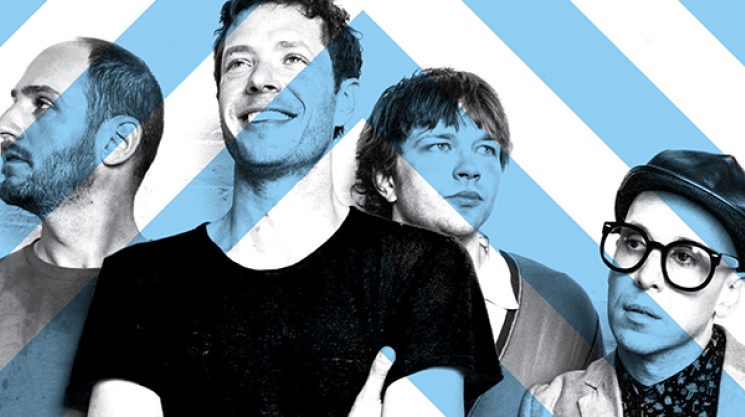 Fri, 07/18/2014 - 08:20 by Natasha Neale
OK Go have grown a lot since you last saw them, probably with a distinct vision of colours and treadmills. As any good band does though, they have grown and manifested into something that is closer to their own truth, closer to the music that now resonates with their souls and their new experiences. JJ Brewis spoke with frontman Damian Kulash about growing up and moving forward, maturity of sound, and creative balls.
Damian Kulash, lead vocalist for LA-via-Chicago alt-rock/art collective OK Go has no qualms with the past, but it's in moving forward that he really sees the sweet spot. "I don't hate those [previous] songs, but who you are, what you love, and what resonates with your soul, changes." 
As the front man for over 15 years, it would be unrealistic and stale if he didn't want to experience new things and progress, and that's exactly what the band has done with the upcoming Hungry Ghosts—their fourth album—expected for release this fall. Filled with all the leanings of the band's previous work, Hungry Ghosts builds on that sound, in what the band states is the release that comes closest to the music playing inside their own minds. 
With no new music from the band since 2010's Of The Blue Colour Of The Sky, fans and critics alike are curious where OK Go will find itself in the midst of current EDM frenzies clouding the scope. A sample of material from Hungry Ghosts shows the band's songwriting has only strengthened in their absence, with tracks like "Turn Up The Radio" retaining their profound knack for catchy rock-show-ready beats, and "The One Moment", which moves to slow-build rock ballad territory, complete with an anthemic chorus and contemplative vocals. 
The new material is OK Go at its most accessible, melding their trademark sound into extremely catchy pop songs. "Maybe other people write music in a more linear way, where they think 'here's the sound we're looking for,' but for us it's a lot more trial and error," Kulash says, adding that it's the best material that ends up "cracking the code to the emotional place in your own mind. The ideas that bounce back at you are a pretty good sign of who you are right now." 
Certainly OK Go are an act associated with happy-sounding, upbeat tunes, but it's in newer material that Kulash says the well-rounded side of the band is really coming out, hinting at it by stating the new record is filled with "the emotions that resonate, the level of noise and silence, the levels of joy and sorrow." It's in moving forward and not trying to create the same hit songs repeatedly that OK Go has got into the swing of doing. "Things that resonated with me amazingly 10 years ago wouldn't do so now, and vice versa," Kulash says.
So not only has the sonic flair of OK Go evolved, but the realization of what's important has shifted too, as Kulash mentions. "[Back] then, I worked more towards an end point. The song "Get Over It" [from the band's 2002 self-titled debut] was a pretty intentional act," adding that the world didn't have enough stadium rock at that moment. "Everything was either rap, metal or The Strokes, and I was like 'Where's the Queen and Cheap Trick?'" 
Surely "Get Over It" worked, and the band had a big hit on their hands, landing commercial spots every which way. But going back to listen to that song now, it's miles apart from the OK Go of today on virtually every level. "I feel a lot more expressed in the music I'm writing now," Kulash adds, saying that the new material is "a lot more reflective of what I'm actually feeling and what I'm thinking." 
Actual recordings aside, OK Go as a creative entity are more widely recognizable and lauded for their music video work. The group won a Grammy in 2007 for their choreography-on-treadmills themed "Here It Goes Again" clip, which saw the first of the band's art video forms, and presently has over 21 million views on the band's Vevo page. Since then, the band has tried to up the stakes each round, it seems, most recently with "The Writing's On The Wall" cleverly creating a dynamic twist on the music video form. All of the band's previous video elements come together here—camera trickery, text, colour, shape and mixed media, ending in a one-shot take that is Andy Warhol meets Michel Gondry. 
But even if his band gets lumped as "the one with the crazy videos," Kulash isn't concerned about that. "It frustrates me that the world seems so hell-bent on seeing it that way. It seems so counter-intuitive to think that there's one type of our creativity competing with another type of our creativity. It's crazy." 
Kulash does have a point, given the innumerous marketing and fan-reaching methods available to artists, at this point in the game any artist is happy to be doing what they're doing in the creative field. "For us this is all stuff that we make," he says. "It's all part of the same ball of creativity and part of the same project of chasing our ideas."
Kulash has exhausted the music video/music dynamic so much; he expresses an analogy regarding the subject to that of a chef. "Yes, we're world famous for our desserts. Everybody knows our desserts around the world and loves our desserts, and that's incredible," he says. "But it doesn't mean people don't come in and enjoy the main courses too. If people come in the door and buy the desserts, maybe they'll buy the main course, maybe they won't. There are no bad customers here."
OK Go are aiming to be viewed more as a creative collective, a force to be reckoned with in the music scope of today, innovating the music video form, and creating some killer pop-rock jams as well. They don't really care what you know them for, so long as they can keep having a good time doing what they're doing.