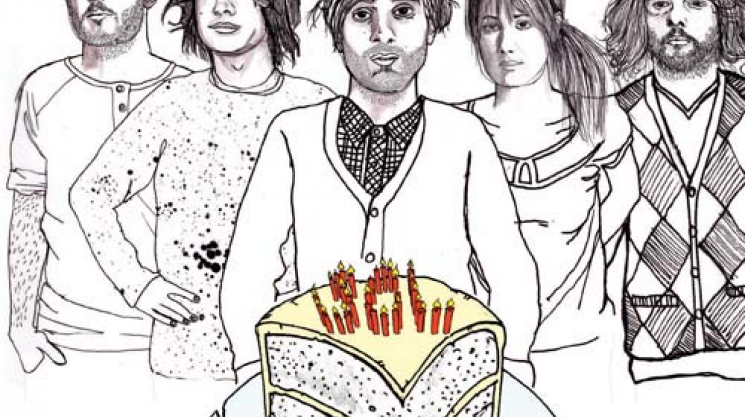 It's nighttime in Brooklyn and Ted Malmros and Eric Edman, the bassist and drummer for the Swedish pop-rock band The Shout Out Louds, are going to work. They come down the stairs at the Hotel le Jolie, a quaint hotel in Williamsburg overlooking the Brooklyn Queen Expressway, and we meet in the hotel's common area to chat. It's one of many chats the band members have been having during their weeklong stay in the city. Adam Olenius, the band's front man, and Bebban Stenborg, its blonde keyboardist with her Sixties-era beauty, have holed themselves away in preparation for the night's show. (The show, they insist, was intended to be a secret, much like the show they played the previous night in Pianos, a small bar in the Lower East Side. But it was outed by the popular music blog Brooklyn Vegan.)

When we sit in the bright orange seats in the hotel's empty common area, the two tall Swedes are visibly tired. Drummer Eric sits slumped over, and bassist Ted is perked up and smiling, but in a way that suggests the corners of his eyes may collapse in on themselves any second. As the name of their third album, Work, suggests, their latest North American tour and all the appearances, interviews and other trapping—like the six-hour-long Spinner session they record the next day—are all just long days (after days after days) of, well, work. And though they've fully embraced their vocation and started calling a spade a spade, the idea has perplexed many. "We did a lot of interviews in Germany," says Ted, "And they always said, 'You named your album Work. Why? It's so bad.' And we were like, 'Is it?' I feel sorry for people that hate their work so much."
Work followed the band's seven-month hiatus after touring for their second album, Our Ill Wills. While Ted and Eric stayed in Stockholm with guitarist Carl von Arbin, Adam flew to Melbourne to live with his girlfriend, whom he'd met on tour in Australia, and Bebban retreated to see her boyfriend in Los Angeles. After working together for two years releasing back-to-back albums and touring, the hiatus was a much-needed break. The bandmates have all known each other for years—Ted and Bebban even went to kindergarten together—and while they would constantly hang out during the Shout Out Loud's inception, the excitement began to wane in the face of building their own lives and families, pushing them to take the break. "So when we meet now and we go on tour, we're really excited to see each other," says Ted.
It wasn't long before Adam would begin writing songs and recording demos to send to his partners halfway around the globe. But though he sowed the seeds of a new album—Work's first single, "Walls" was written in Melbourne—it didn't immediately spring to life. "Adam sent some songs, and it was really difficult to give him feedback," says Ted. If they liked what they saw but they didn't reply immediately, it made Adam nervous. On the other hand, "There was one song that nobody really liked," says Ted, before Eric shakes his head keep Ted from revealing its name. "We were just like, 'Oh, uh, we don't know what's going on with this one…'"
When Adam and Bebban returned to Sweden, the quintet came up with the concept of their new album. The theme of Our Ill Wills was a longing for travel (thus the maritime signal flags that adorns the cover), and it was followed by dispersion to far off countries and hemispheres. But when the band reconvened, it was for their music, their calling, and the project that had become their living. During their first two albums, the band held no expectations. "We didn't have any plans," admits Eric. But after time apart, something changed. "When we met again, booking long rehearsals five days a week, I think that set the vibe," says Ted, of the albums distinctly workhorse rock sound.
But the wanderlust persisted into a want to for a new sound— with a non-Swedish producer at the mixing board. Though the Shout Out Louds follow a vague national tradition of making music that's at once melancholy and unquestionably pop (think ABBA—if you aren't already), they always felt a disconnect with Swedish music. "We never really felt like we were a part of the Swedishness of it," says Ted, "It's a little sweet, a little twee." And after the success they've seen in America, their largest market (they still get calls from family members when their music shows up on re-runs of The OC), it's no surprise that finding an American producer turned out to be a synch. The very first they contacted was Phil Ek, the popular producer behind Built to Spill, The Shins, and Fleet Foxes. It was a perfect match. "We really love Built to Spill," says Ted, "It's a band favourite."
Phil Ek's clean, simple aesthetic was the exact departure the band had in mind after Our Ill Wills, produced by their friend Björn Yttling of Peter Bjorn and John, who gave the album an ornate orchestral sound. "We got carried away in the studio," says Ted, "But this time, we liked being in the studio, just the five of us." Work retains the band's signature mix of energy and introspection, its catchy hooks and melancholic lyrics sung in Adam's falsetto—perhaps instinctively shaped by vemod, a Swedish word for the sort of happy-sad feeling of inevitably leaving something behind when moving forward. And this time, the band has left behind its elaborate instrumentation, now stripped down to something more straightforward, something manifestly mature—a sound that's settled into its place. "This is work, and for me, that's a positive thing," says Ted, "This is our nine to five."