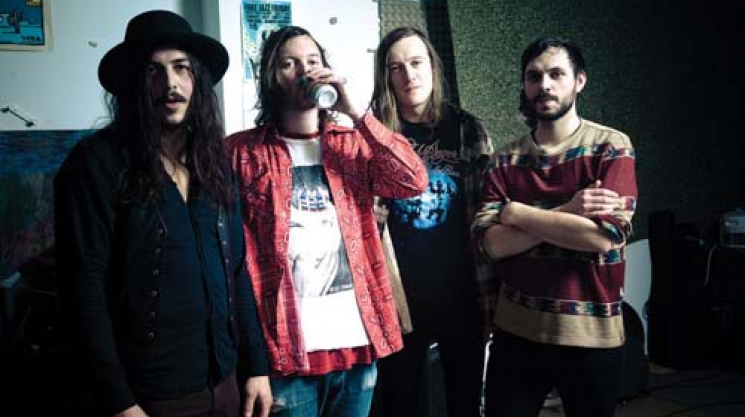 Vancouver used to suffer from a small town complex. For a city of its size, it always felt kind of insular, isolated, even low key. You'd see the same people every day, there'd be little or no hustle and bustle downtown, the night life was always shitty and the music scene was so underground and cliquey it almost
seemed covert.

With the arrival of the Olympics however, Vancouver has finally begun to shake off its personality disorder. The doors to the city are well and truly open and now more than ever, local as well as international culture is being embraced on a citywide level. There are more people on the streets, there are live performances during the day and more and more people are turning out to see bands play. Leading the musical renaissance is a mostly Vancouver-born foursome with their sights set well beyond the British Columbia frontier. "We don't want to be big in Vancouver," declares James Younger, guitarist and part-singer of Sun Wizard. "We want to be big in New York…England…Everywhere!" interjects chief vocalist Malcolm Jack.
James, Malcolm, Ben and Franky are Vancouver's shining promise of gold. Since first becoming serious as a band eight months ago, the 20-something four-piece have seen their stock positively soar. And it looks set to continue doing so, too—Sun Wizard built their empire out of the most reliable building blocks possible—hard hitting hooks.
"I never really thought about being in a band that wasn't trying to be a pop band, driven by choruses," explains Manchester born James. "All bands in the UK want to do is get in the charts–why would you want to do anything else? In the UK it's much more of an acceptable thing to do, but over here it's kind of frowned upon… We want to get rid of that."
By combining the stadium-sized choruses of favourites Oasis, with the more personal, heartfelt dynamic of singer/songwriter experts like Neil Young, Sun Wizard go some way to doing just that. While few bands are able to locate and apply their own blend of hedonistic rock and introspective songwriting, Sun Wizard do so with ease, finding their own brilliant space between the smart, the literate and the downright catchy. The key to the band's formula is their unpretentious approach to music. Amongst other stadium-filling icons, the band confesses a love of Bryan Adams and openly admits that BBC's pop radio station Radio 1 "is on it." And their debut offering, last year's Maybe They Were Right EP, is as honest and shamelessly pop-filled as they come.
Recorded during an irresistible Vancouver summer, the accomplished six-tracker is a breezy ode to the wonders of life around the BC countryside. "Sunlight's golden, rivers run free/ Stop taking life so seriously," harks the lead title "Glorious." "We wrote all our songs in the summer when we were doing all we could to not go to bars in town and stuff like that," explains Malcolm. "At that time of year," continues James, "there really is nowhere more beautiful in the world. You can spend a day swimming in a lake before hopping in a hot tub, then just walking home. We're always looking to get out of the city." For an EP brewed within a city environment, Maybe They Were Right rings with an authentic folk aesthetic. The small-town nature of Vancouver may have had its side-effects, but the fact that the great outdoors have always been so immediately accessible is an incredible thing—and an idea that really helped shape Sun Wizard's EP.
Unfortunately though, an arsenal of folk-tinted brilliance still isn't all you need to make it these days. Indeed Sun Wizard must encounter the same problem that faces every band from Vancouver—somehow getting noticed outside the city. "It's definitely really hard to break free of Vancouver," bemoans James, "Its like Twin Peaks a bit—you kind of get stuck here. You might find that—you come to the city and you get stuck here."
Just as most bands touring the US have traditionally avoided the short trip over the border from Seattle, Vancouver is likewise hardly a thriving hunting ground for talent scouts. "There's a big bridge between Seattle and Vancouver," James continues, "You'll go down there and see someone like Stephen Malkmus is playing and you'll be like, why isn't he playing here? A lot of it is because of visa restrictions and liquor licenses."
Nevertheless, James and Sun Wizard are confident in their ascent into wide popularity, "As a city, Vancouver is getting bigger, musically. Anyway, if you're worried about getting noticed then you're probably not good enough," he offers flatly, "I'm optimistic about music. I think if you have it, if you're good enough, they'll come to you."
This is an idea the boys are trying to put into practice. With the waves only just being felt on the back of their first EP release, Sun Wizard have already been back in the studio recording new material, eager to press forward, try new things and better themselves. "We've been playing the same stuff for three months now so we want to get on to some new stuff," Malcolm insists. "We want to have an album out by summer." Sun Wizard's hard working ethic should stand as an example to a lot of Vancouver bands that have yet to tap into their full potential. "A lot of people in Vancouver are in bands but not necessarily ones that are into rehearsing four times a week," offers James, "They just kinda do that on the side." Here's hoping that more artists take a leaf from Malcolm, James, Franky and Ben's book then, and realize there's never been a better time to be in a band in Vancouver.