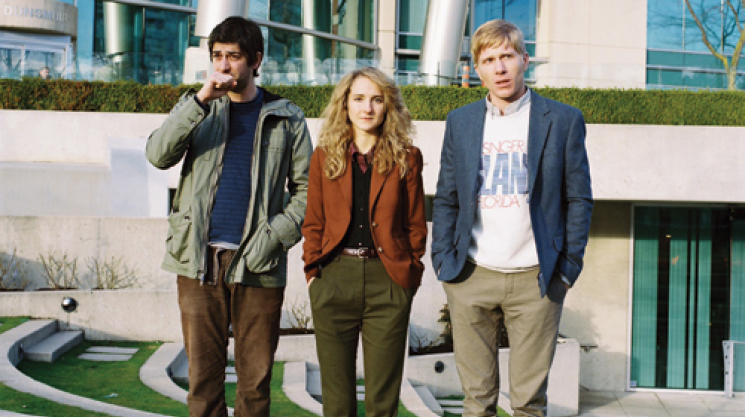 ADVANTAGE: SAILORS
The story behind the relatively new retro-pop outfit, Tennis, may be charming, but don't call them a buzz-band.
It begins back in Denver, when Patrick Riley and Alaina Moore met in their junior year of college, both studying philosophy. The landlocked Riley already had aspirations of becoming a sailor — and upon graduation, would realize his dream.
"I at first, had no intention of joining him because the ocean is probably my greatest fear," recalled Moore. "I still to this day can't swim, but I learned that actually would be no obstacle to me learning how to sail and he convinced me with visions of tropical paradise."
Aside from a week-long sailing course, Moore and Riley were self-taught sailors who spent their time on land devouring how-to books and quizzing each other on sailing vernacular and various boat skills.
Saving throughout college, the couple graduated in January 2009 and immediately set off on a seven-month voyage along the north Atlantic coastline in their 30-foot Cape Dory boat. The trip was a chance for adventure before the two would have to answer the inevitable calls of post-university adulthood. Sailing gave Moore and Riley a chance to throw away their calendars and embrace the minimalist lifestyle that boat living required.
With no instruments on board the boat, days at sea were not spent writing dreamy love songs, but once they returned, and got married, making music became another activity for Moore and Riley to do together. "We could have very well done any other hobby, like painting or something, but we thought it would be fun to make music and everything we wrote ended up reminding us of our trip," said Moore. Still having no future aspirations as a "real" band, the couple returned to their jobs.
It wasn't until a friend posted a Tennis song to his small Seattle-based blog that the newlyweds would have to navigate a new course for their future. Almost instantly, the tracks were being posted everywhere.
"We didn't really understand how music blogs worked because that whole phenomenon kind of took place and exploded while we were on the boat and didn't have Internet access and were very disconnected," said Moore. "The word blog just meant 'diary' to us. Then we were totally defined, against our will as a buzz band. We got like really quickly categorized," added Riley.
Finally realizing that the whimsical, love-filled Tennis tracks could be another outlet to fulfill their wanderlust, the band started to take the project more seriously and signed with Fat Possum Records. Deciding on this new course, they quit their day jobs, and released Cape Dory, in January of this year.
At the beginning of their sailing adventure, Riley recalls being advised to have as little plan as possible being that you're always at the mercy of external forces. "But that's exactly the way it is with the music industry. Nothing's changed. We can't have a plan," he noted.
"We kind of just take the temperature of our surroundings," said Moore. "What kind of response are we getting? Should we take the next step? That dictates what the next step would even be. It's been a lot of work and it's a weird life path digression at first. That's the dream you grow out of when you're 15, and then here we are college graduates. We already went on our sailing trip which was like, that bohemian moment where you just throw responsibility to the wind and now suddenly we're in a band. I feel like we keep putting real life, adult decisions off to the side. But actually, this has kind of become a real thing."
With the release of Cape Dory, Tennis are currently on tour and have added drummer James Barone to the band. Touring until SXSW, Tennis plan to take their boat on a short trip south in April. The next big trip is set for right before 2012.
"We plan on being on our boat for 2012," said Moore. "We're not that apocalyptic, but we like to buy into it because it makes us feel like adventurers," added Riley.