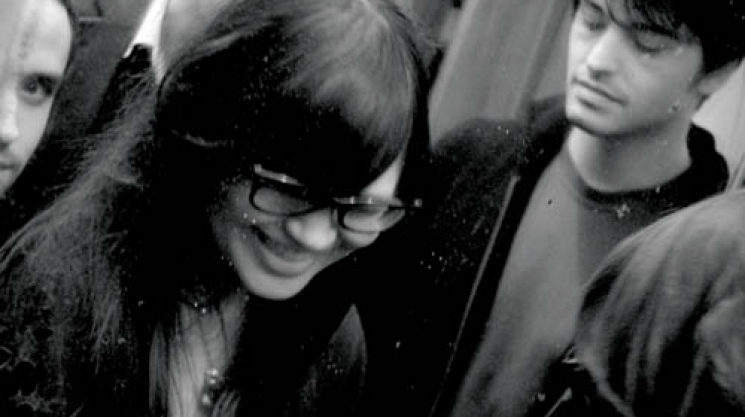 "Good bands will find a way to make it work," says an excited Kip Berman on the telephone from his self-proclaimed "dirty" home in Brooklyn. Kip is the kind of young man you would dream about as a teenager in the Nineties who would swoop into your town with his collection of Sonic Youth cassettes and his love of all things precious. His band The Pains of Being Pure at Heart is the kind of band you wished existed your entire life, and he feels the same.

"I don't ever want to be that guy in a band who loves his music too much but I'm probably like, the world's biggest Pains of Being Pure at Heart fan. If I wasn't in this band, this would be the band that I love. This is the band that I would have loved in high school when I was sitting around with my friends (and we were sort of goth) sitting in all night diners and talking about anarchy all the time. This would have been the band that I was totally in love with. So it's really cool to hear people respond really positively. But I don't want to say how much I love my guitar sound because I don't want to be like that guy from the Killers who got in trouble for saying that he made the greatest album of all time."
But it's quite possible that he did. He found a way to make it work. Drums heavy on the fills, bass guitar that drives with straight time, pretty keyboard pads, pretty girl keyboard player, male/female vocals, a guitar sound that's a simple, punchy Fender Jaguar referencing early jangle pop from the UK (but with more definition) and perfectly placed mini-solos. To a select few, The Pains of Being Pure at Heart DID make the greatest album of all time, and Kip Berman knows who these people are.
"We started as kind of a joke, and we played our first show at this warehouse party and this dude who was a little older came to it and he used to work A&R at Elektra and he walked up afterwards and was like 'So…. do you guys wanna get famous?' and we were like 'To twelve people, yeah!' and he was like 'Then have fun!' and chuckled to himself. Our only goal was, and still is, to be really important to a few people. Given the choice between being kind of well liked by a lot of people or really loved by a couple of people we always choose the couple because that relationship is so special to me."
"We're a pop band and we write pop songs," our hero continues, "and even though it's easy to cite influences that we have and different bands that we like a lot (and that's totally valid), you have to point out that at it's core it's just pop music and it's not like this super heavy and elaborate shoegaze stuff. I mean we rip off really early My Bloody Valentine rather than later My Bloody Valentine. What do all these Brooklyn bands have in common? Well, they all sound different but they all draw on similar inspirations and we all have similar record collections at home but they kind of take it in different places. We don't really sound like Black Tambourine, but we like Black Tambourine a lot so I can't help but think that there's got to be some element of their music in ours."
Which of course makes it no surprise that Mike Schulman, the drummer of Black Tambourine and co-founder of Slumberland Records gobbled up The Pains of Being Pure at Heart pretty damn quickly. "It's really cool because other bands on the label are bands we're fans of, so it actually feels like the label means something. Slumberland has its own aesthetic, it's really strongly associated with a type of music. Mike Schulman, who some people refer to just as Mike Slumberland, is really great. We'll say 'Can we do a seven inch from the album?' and he's like 'Yeah…' 'Can we put it on blue vinyl?' and he's like 'Yeah.' 'Can we do another one on red vinyl… like blue and red???' and he's like 'YEAH!' He's really supportive and he's really excited about us and he's not sitting there and trying to cut every corner."
Good bands may always find a way to make it work, but that may involve finding an audience outside their home base. The Pains of Being Pure at Heart have found open arms of joy amongst the populations of the UK and Sweden (not unlike Canadian acts Martha and the Muffins and Danko Jones respectively). Listen to Kip Berman's band and it will take only a few moments to realize why. Fresh off tours of both countries, Kip explains the journey. "Sweden is such a bizarrely alternate universe for pop music. Like, it's actually popular. The music we make is the music there that normal people listen to and not just what weird dirty people listen to. It's culturally receptive to The Pains of Being Pure at Heart. It's really cool that there's a place on earth where cool kids in clubs go out dancing to Orange Juice instead of Justice. Literally you'd go to a club and everyone there is like 19 and cool and amazing looking and totally stylish and they're dancing to like Orange Juice or something like that. Not like what people would dance to in Vancouver or New York. The biggest show we've ever played was in Stockholm. We've never played in front of that many people before. It's really shocking to go halfway around the world and find more of your fans than you would 20 minutes from your house. It's really cool how the internet allows people to find out about stuff and helps bands that obviously don't have the resources to go out and tour the world. It's wonderful that people can hear our music without having to special order us or write us and ask us to make a tape of it or something. Metallica gives a hard time to people with the idea of downloading music for free and depriving musicians of whatever, but it's totally the opposite for a band like us. It enables such a wider audience of people to enjoy us and pass along the music to their friends. It's been really helpful to us that people even care enough about us to leak our album. One of my friends when we were over in England was like 'Your album leaked' and I was like 'Coool!' Someone cares enough to actually leak our album!"
You heard the man. Get it, rip it, share it, and love it with all your…er… heart.